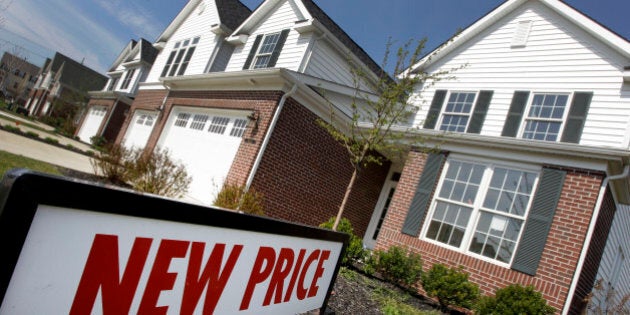 The average price of a house in Canada passed the $500,000 mark for the first time in February, according to data from the Canadian Real Estate Association (CREA).
The average price of $503,057 was up some 16 per cent from a year earlier. Sales volumes were up by 18.7 per cent.
But virtually all the growth came from the hot housing markets in Toronto (prices up 14.9 per cent) and Vancouver (prices up 25.8 per cent in a year).
"Stripping away British Columbia and Ontario markets, average existing home prices were down by 1.4 per cent year on year," TD Bank economist Diana Petramala wrote.
Many energy-exporting areas are seeing falling home prices, with Saskatoon leading the way, down 6.8 per cent in a year. Prices in Edmonton are down 3.3 per cent, and Calgary house prices have seen no change compared to 12 months ago.
But price strength in the Toronto area is spreading to surrounding cities in southern Ontario. Bank of Montreal economist Doug Porter says numerous southern Ontario cities are now "seller's markets," including Hamilton, Kitchener, London, the Niagara region and Windsor. The chronically economically troubled Windsor has seen house prices rise 15.4 per cent in a year.
"The strong gains likely reflect folks moving ever further out from Toronto in search of affordable housing," Porter wrote, while some other Ontario cities "are also finding a lift from the modest, and long-awaited, recovery in manufacturing activity."
CREA's forecast for home prices in 2016 and 2017 (click for full size):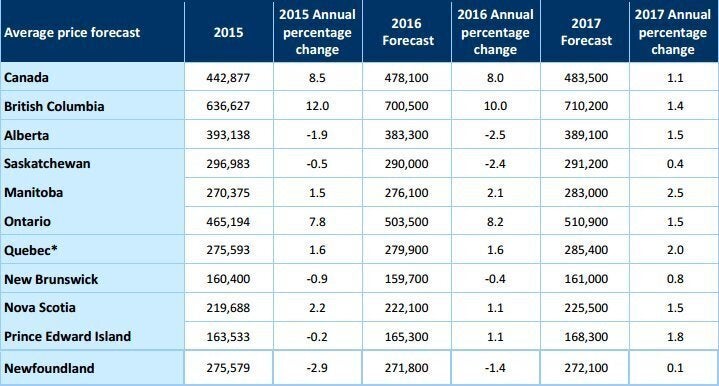 More Of The Same Ahead, CREA Predicts
Although CREA had initially forecast that Canada's housing market would "rebalance" this year and some of the heat would come off the Ontario and B.C. markets, it's now changing its mind.
"Many of the defining themes among Canadian housing markets last year have persisted, and in some cases intensified, in early 2016," CREA wrote in its forecast.
It sees "very tight supply leading to strong price gains in British Columbia and Ontario – particularly in the Lower Mainland and in and around the Greater Toronto Area. Price gains in these regions are expected to continue to stand in sharp contrast to
moderate price declines among housing markets whose prospects are closely tied to oil and other natural resource prices. "
CREA now expects the market to "rebalance" in 2017.

Canada's Fastest-Growing Metro Economies
Popular in the Community