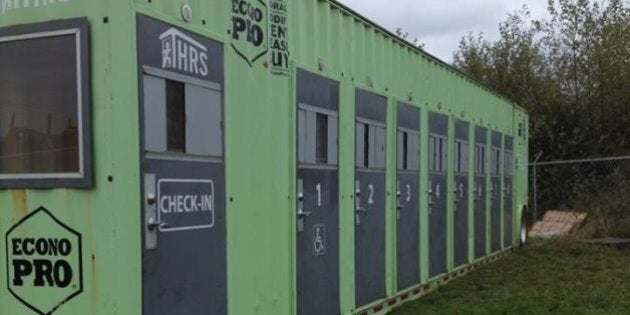 As temperatures drop below zero, homeless advocates around B.C. are thinking inside, as well as outside the box to come up with solutions for housing the province's most vulnerable this winter.
On the east coast of Vancouver Island, Paul Mason, coordinator with the Campbell River Housing Resource Centre, has secured a shipping container that will house members of the city's homeless community until April 1, 2014.
The project is the first for the centre, a Campbell River Family Services program that began operating in September, and the shelter is a temporary measure as it works to obtain a permanent space for future cold seasons.
"This is a pilot project, it's never been done on the Island," Mason told The Huffington Post B.C.
The container has been converted into eight four-by-eight-foot units with bunk beds that can sleep two at a time. The rooms have been outfitted with heat, lighting and clothing hooks, and all users share a single bathroom and storage space.
Check out images of innovative housing solutions in Metro Vancouver and elsewhere. The story continues below the slideshow: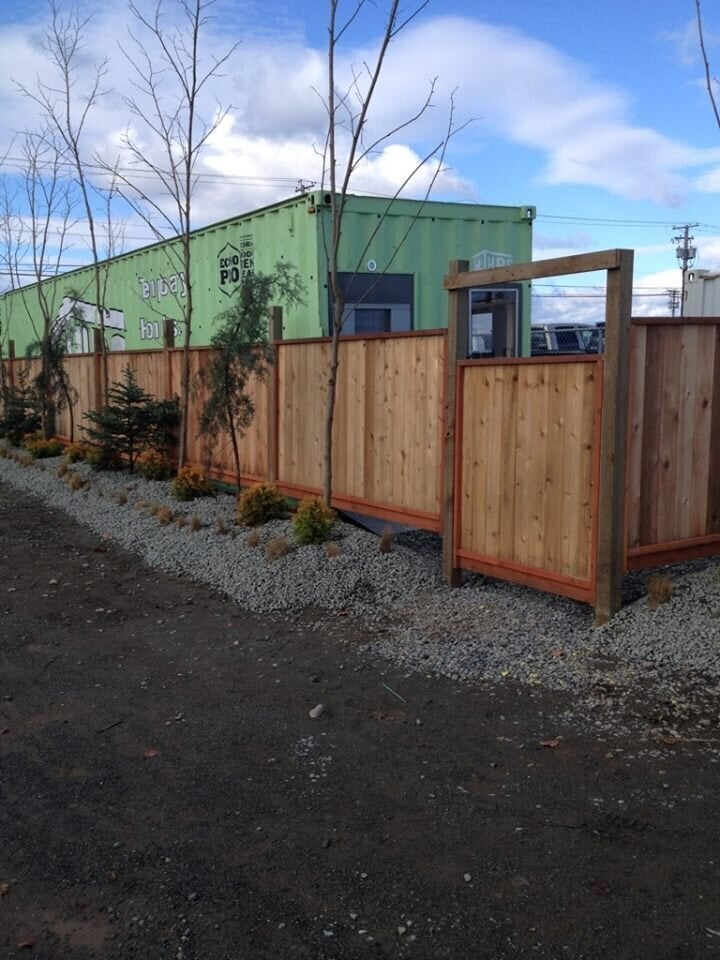 Innovative Housing Solutions Around Vancouver
People access the space by showing up at 7 p.m. and rooms are handed out on a first-come, first-serve basis. They stay until 7 a.m. the next morning, when they can walk across the street and enjoy a hot breakfast cooked by the Radiant Life Community Church.
The container, which was originally proposed to assist Vancouver's homeless by designers at Langley's Shadow Lines Transportation Group, was previously used as temporary housing for flood victims in High River, Alberta and as a homeless shelter by the Salvation Army in Chilliwack from January to March 2011.
Maj. Larry Farley, officer in charge of the Salvation Army in Chilliwack, said the container was no longer needed after the organization carried out some renovations to its emergency homeless shelter and made more room for people inside.
"The container was an excellent short-term facility for us," he told The Huffington Post B.C.
"It gave some privacy to the individuals that were there, it was a fenced-in facility so that they were safe, they were out of the cold, and it was really for us a short-term solution to a problem for the homeless in Chilliwack."
Now in Campbell River, the container has yet to fill up for a night (only as many as 12 have slept in it at one time) but Mason said that will likely change as the weather turns colder.
The container also provides shelter for people where other facilities don't. The city's Evergreen House shelter, which is run by the Salvation Army, only permits people who are not under the influence of drugs or alcohol, and as many as 180 people were turned away in 2012, The Campbell River Mirror reported.
The new shelter won't turn anyone away for those reasons, and Mason said it's an improvement over last year, when an extreme weather facility located in the city's Lighthouse Resource Centre provided just a single room with mats on the floor.
"You had 12 to 15 people all sleeping literally beside each other, which absolutely isn't the healthiest scenario," he said.
Having your own room is "much healthier, and I think a little bit more dignified too."
On the mainland, Abbotsford continues to grapple with homelessness after a summer in which city officials dumped chicken manure and allegedly slashed and pepper sprayed tents at a camp on Gladys Avenue.
Six homeless people have filed a human rights complaint against the city over those actions and a number of people have also filed lawsuits alleging that police damaged their property.
The ongoing tension between the city and its homeless community has prompted 5 and 2 Ministries, a church that serves Abbotsford's underprivileged populations, to partner with Fraser Valley Atheists, Skeptics and Humanists to build small plywood shelters as an alternative to sleeping in tents.
The doghouse-like shelters are 6.5-feet long and three feet wide, and mounted on wheels so that their occupants can move them wherever they wish to camp.
5 and 2 Ministries pastor Ward Draper said that five shelters have been built so far and at least 12 more people have requested units.
"(It's a) drastic improvement over a tent because you can insulate it better," he said. "With a fabric tent, I mean, the wind blows right through. It's hard for wind to blow through wood."
While popular with the homeless, it's not certain what the City of Abbotsford thinks of the mobile structures.
The city did not return a request for comment by deadline, and Mayor Bruce Banman told CTV News in October that he didn't have enough information about the shelters to support them.
Vancouver's homeless will have a number of places they can stay this winter. The city will offer 75 beds between its Homeless Emergency Action Team (HEAT) shelters at 21 East 5th Avenue and 862 Richards Street, as well as another 40 beds at a shelter at 201 Central Street, Coun. Kerry Jang told The Huffington Post B.C.
The difference this year is that the city will also transition stable shelter residents into interim housing at a former Ramada Hotel at 3475 East Hastings Street before being moved into permanent housing. Forty spaces will be available at the Ramada for this purpose.
"What happened before is you moved someone into a shelter, they all filled up in the first week, and then they all stay there for the entire winter, and then we move them once we have capacity," Jang said.
"What we're doing now is flowing people through when they're ready, so you could be opening up beds continuously throughout the winter."
The city will also open a women's shelter after the annual homeless count found that more women were sleeping outside than before, The Globe and Mail reported.
Details, including spaces and the shelter's location, have yet to be announced.