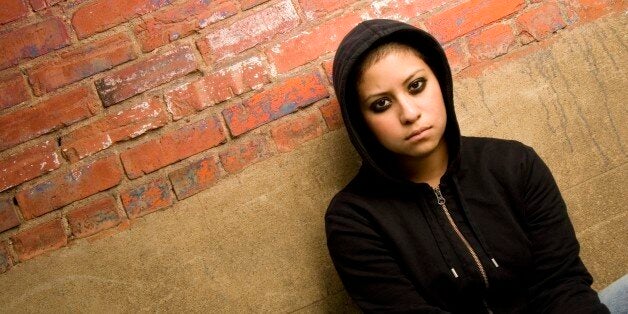 It was like every high school party I had ever been to -- except most of the kids here were homeless and the rest were about to experience being homeless for the night.
And I couldn't tell the difference.
The music was blaring, kids were slouched on the couch hugging, some huddled on the floor laughing, a few in the kitchen making sandwiches and a couple on laptops in the corner. I searched for some distinguishing characteristics. Nothing.
Every night, up to 70 youth make their way to 360⁰Kids, the only homeless drop-in centre north of the Toronto-York boundary. And every night, when the doors close at 8 p.m., they join an estimated 300 youth between the ages of 16 and 24 that are homeless in York Region.
As they make their way to alleys, parks, cardboard beds, a friend's couch or a shelter, the rest of the Young Leaders get a glimpse into what many youth go through on a night-to-night basis as a way of raising awareness and funds for programs like this drop-in centre.
My group of four is the given the scenario that we are a single teen mother, just evicted from a rental basement and have to make our way to Blue Door Shelters in East Gwillimbury, the only family shelter in the region. It's first come, first serve, so we must hurry -- they turned away about 5,000 people in 2014 and 4,000 in 2015 because there were no open beds.
We get one bus ticket and $5 each for the night. We make our way to the VIVA bus shelter -- it is chilling cold, and the moon hangs in the black sky. Just footsteps behind me as part of the group is my younger brother, his friend and another boy. I gesture for them to hurry up so we don't miss the bus. As the oldest, I am forced to lead.
My brother is tired and frustrated, I feel like crying, and this is just an experience -- it's not the real thing.
The VIVA bus is warm and empty except for a young man and woman holding a large bag of Mary Browns fried chicken. They smile, then get back to their small talk. Michael Braithwaite, executive director at 360⁰Kids and our staff guide for the night, tells them that we are headed to Blue Door as part of a youth homeless experience.
The two individuals look at each other and continue to smile. "That's where we're headed," said the man, as he fumbles with the paper bag.
The woman says they are travelling from Toronto, where all the shelters were full. She tells us that Blue Door has provided them with a bed many times as they try to manage rent and bills on two unstable jobs.
"I was in foster care all my childhood. When I walk into homeless shelters, I know most of the people there were once in foster care, too," says the man.
"70 per cent," Michael says. "70 per cent of our homeless youth were once foster children."
I am fading in and out of the conversation -- lost between the hum of the bus and the fact that it's after 10 p.m. On any regular night, I'd be getting ready to go to bed and thinking about school the next day. Tonight I'm trying to get out of -20 degrees Celsius and find us all a bed.
The couple seems stunned and appreciative that we are experiencing this night. "Imitation is the greatest form of flattery, right?" the woman says.
We get off the bus and after a long walk down a highway with no sidewalk or street lights, finally arriving at the shelter. I wonder how anyone in crisis would ever find this place. The scent of coffee welcomes us.
One of the staff asks our age. You must be at least 18 years old to stay here overnight because it is an adult shelter. Anyone under 16 must be in the care of children's aid or travel to one of the region's youth shelters located in Newmarket and Sutton.
No time to debate -- we can't stay the night. My brother is tired and frustrated, I feel like crying, and this is just an experience -- it's not the real thing.
It's 1 a.m. and the last bus back to Richmond Hill leaves in 40 minutes. We still have a long walk ahead of us. The bus ride back is lonelier. My brother and the others fall asleep and I feel my mood blacken like the sky. How would I even survive one night on my own? Forget my laptop, cell phone, prom dress, university entrance and dance classes. What about just needing to eat, sleep, bathe and survive?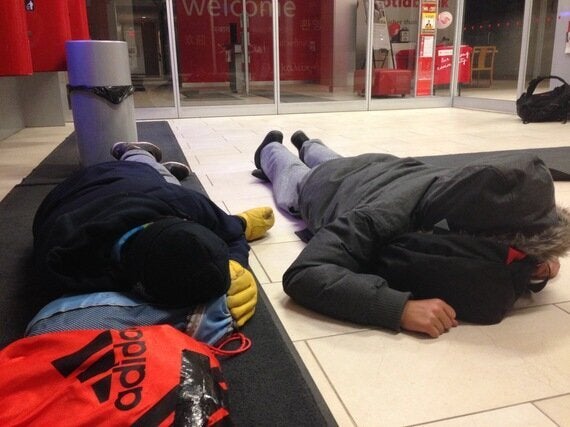 I wake them all as our stop approaches and we find shelter in a Scotiabank vestibule before the official end of our experience. The bank's slogan is painted on the wall above my brother's sleeping head, "You're richer than you think."
The next day at school, my locker neighbour opened her locker. It was jammed full with clothes and boots. She looked at me and smiled. I wondered if she was couch surfing. Right next to me. Just like me. And I still couldn't tell the difference.
Follow HuffPost Canada Blogs on Facebook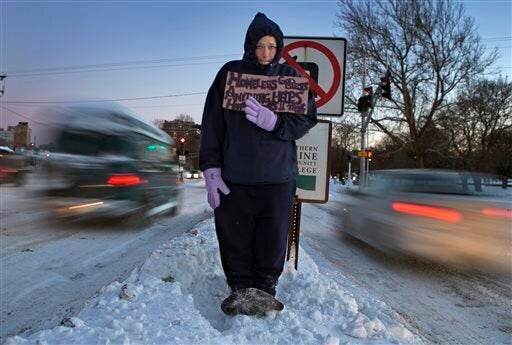 How To Help Homeless People This Winter