Turtle chocolates are a favourite of many during the holidays. Since December is a time for indulgence, I wanted to try a healthier version of this sweet treat.
There are three simple ingredients: dates, pecans, and chocolate. And unlike most homemade Christmas treats, you don't even need to turn on the oven or use piles of dishes and utensils (like I always do :-)).
These little delights make great Christmas gifts!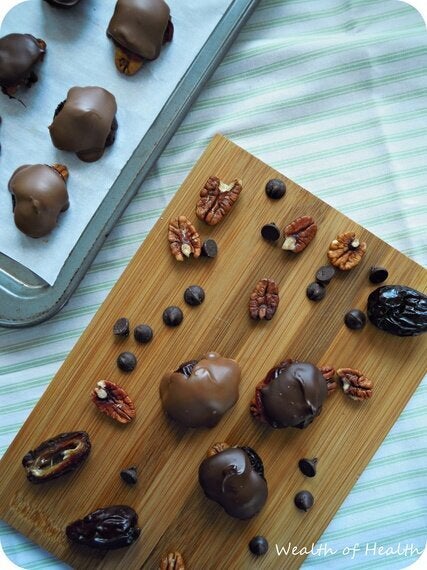 Homemade Chocolate Turtles
3/4 cups chocolate chips, melted (your choice: dark or milk)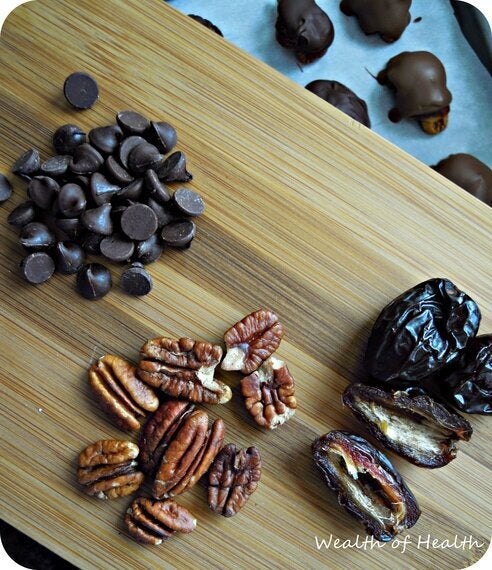 1. Cut dates in half lengthwise and remove pits. Shape each piece into a circle with your fingers. Place the date circles on a parchment paper lined baking sheet, sticky side up.
2. Press two pecan halves into the center of the date circles.

3. Melt chocolate chips in a double boiler or in a glass bowl in top of a saucepan with boiling water.
4. Spoon half a teaspoon of melted chocolate into the center of the pecans. Place in the freezer for five minutes to harden.

5. Once the chocolate has hardened, flip the turtles over so that the pecans are on the bottom. Coat each turtle with a spoonful of melted chocolate. Repeat with remaining, and let cool in freezer for 10 minutes until the chocolate hardens.