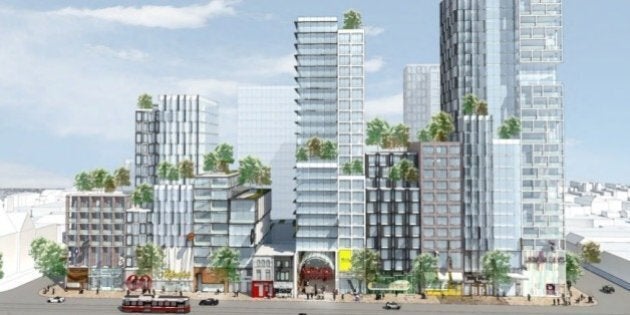 Toronto's beloved Honest Ed's will soon be no more, but many may be surprised by what the developer hopes to put in its place.
Westbank Properties unveiled its plans for the site at Bloor and Bathurst Streets at a public meeting Tuesday night, and they don't include faceless condos. The ambitious proposal involves 1,000 rental apartments, a permanent public market and small retail spaces that will try to copy the look of those already in the neighbourhood, according to the Globe and Mail.
Architect Gregory Henriquez told the crowd the new plan is an attempt to capture Honest Ed's "bazaar" feeling, and to remake the neighbourhood into a hotspot for culture and dining once again.
While Honest Ed's itself would be torn down, initial drawings pay tribute to its eccentric look with colourful signs hanging off the storefronts that sit at different heights and look like they were all added at different times.
Henriquez said he wants the space to look intimate, "instead of it being a homogenous big box with things emerging from it."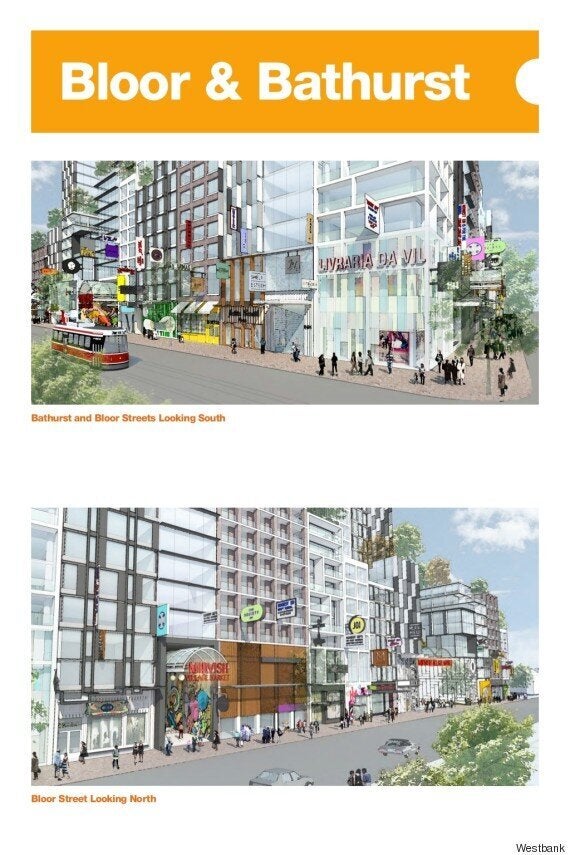 The entire development would consist of 55 buildings of different heights, ranging from 2.5 to 29 storeys, which would be connected by corridors, the Star reports. The plans also include 57 live-work spaces and 35 artist studios.
Westbank also plans to work with local co-working organization Centre for Social Innovation to fill a laneway at the south end of the site with food trucks, pop-up shops and start-ups.
Most of the homes and business buildings on Markham Street, on the west side of the site, would stay intact and become "destination restaurants" served by a bike valet service that is linked to an underground bike shop. The whole street, including the sidewalk, would be paved, with an 11-metre stretch for patios, according to the Globe.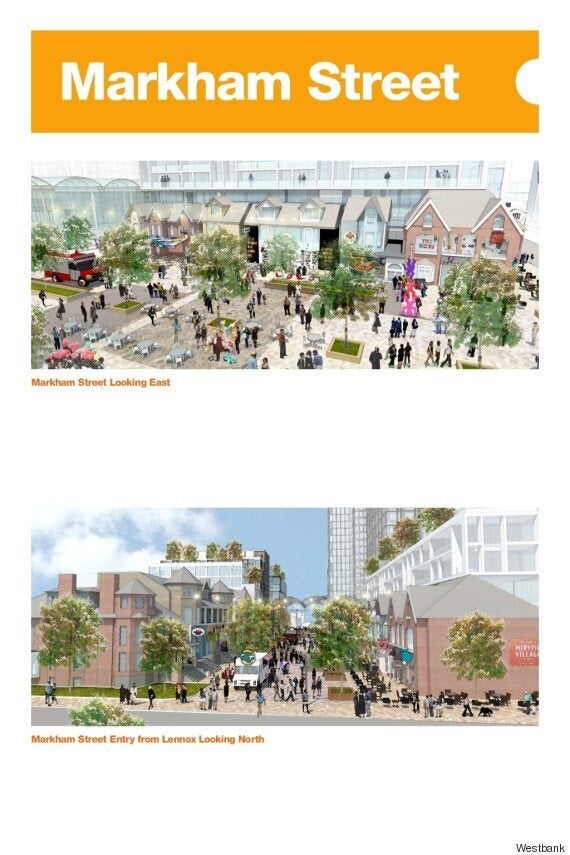 However, the iconic lit-up sign won't be preserved, according to BlogTO. It's in poor condition and no one knows what will happen to it.
The design is a work in progress, and the developers haven't yet made an application to the city.
What do you think of the proposed design? Let us know in the comments below.