Parents may notice something missing the next time they pick up a box of Honey Nut Cheerios for their kids.
General Mills Canada has removed Buzz, its iconic mascot, from the front of Canadian boxes in an effort to raise awareness of disappearing bee colonies around the world as part of its #BringBackTheBees campaign.
Its aim is to give away as many wildflower seeds as there are Canadian residents.
"This is the first time in the brand's history that we've taken 'Buzz' off the box," General Mills Canada director of marketing Emma Eriksson told AdWeek.
"With ongoing losses in bee populations being reported across Canada, we wanted to leverage our packaging to draw attention to this important cause and issue a call to action to Canadians to help plant 35 million wildflowers—one for every person in Canada."
Entymologist Marla Spivak noted in a 2013 TED Talk that bee colonies started dying off around 2006.
At the time of her talk they were down to a global population of 2 million, compared to 4.5 million in 1945.
And there are manifold reasons for this: farms are using pesticides that can kill bees when they consume enough of it. Agriculture has also started using more synthetic fertilizer and effectively "eliminat[ed] the flowering plants that bees need for survival."
Honey Nut Cheerios hopes to turn around this trend by encouraging people to grow wildflowers.
It has partnered with P.E.I.-based company Veseys Seeds and is asking people to plant as many as possible this spring.
The company has so far given away just over 25 million, for 73 per cent of its 35-million-seed goal.
#BringBackTheBees ends in July.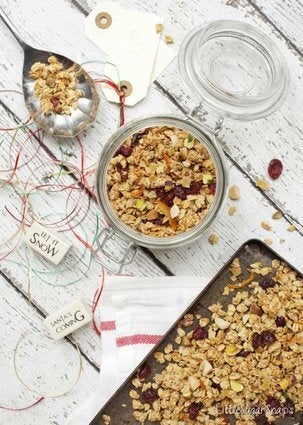 28 Cereal Recipes
Popular in the Community