Websites such as Honeyfund, GoFundMe and Honeymoon Wishes make it easy to raise cash for a post-wedding getaway. The sites charge fees for their services — as much as 10 per cent of the total amount collected. But despite the cost, more have warmed up to the idea of a honeymoon registry as people marry later in life and already have the toasters, towels and other goods found in a traditional registry. It can also be a more polite way to hint to guests that money is wanted without breaking wedding etiquette.
"I didn't feel right saying, 'Hey, give me cash,'" says Nicole DePinto, who raised $2,900 on crowdfunding site GoFundMe for an Icelandic honeymoon with husband Anthony.
Sites that help couples raise cash for honeymoon has seen their popularity soar recently. Users of Honeyfund, for example, raised $90 million last year on the site, a 50 per cent jump from the year before, says co-founder and CEO Sara Margulis.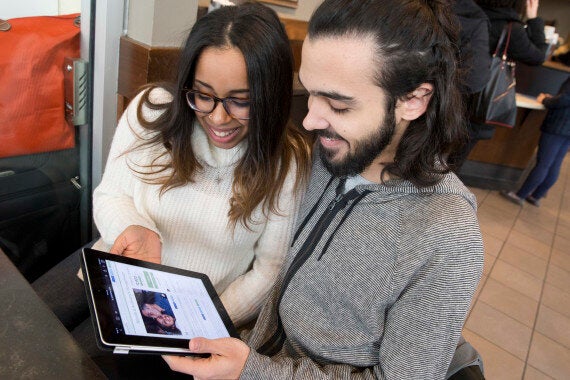 Websites such as Honeyfund, GoFundMe and Honeymoon Wishes make it easy to raise cash for a post-wedding getaway. (Photo: AP)
Last year, 22 per cent of people said they used honeymoon registries, according to a survey of 6,500 individuals conducted by wedding-planning site The Knot. That's the same amount as the year before, but it's up from 17 per cent in 2013 and 13 per cent in 2012.
DePinto made the honeymoon a major part of her October wedding party, asking the 100 guests at the reception to vote on where they should go: Greece, Iceland or Japan.
Most guests gave the couple cash-stuffed envelopes at the wedding, but the 14 donations on GoFundMe were enough to pay for the hotel and December flight to Iceland. Out of the $2,900 raised, more than $230 went to GoFundMe for fees. The couple also had a registry at Target, but there wasn't much on there since the couple had lived together for three years.
"In that time we've acquired tons of pots, plates, towels, throw pillows and bedding," the Union City, New Jersey, couple wrote on their GoFundMe page.
Don't expect strangers to donate
Asking for a cash gift in an invitation is a wedding faux pas, says Kristen Maxwell Cooper, deputy editor at The Knot. But passing around a link to a honeymoon registry works because couples can explain to guests exactly where the money will be spent, she says.
Couples have a few options to turn to.
Crowdfunding site GoFundMe is more popular for other personal campaigns, such as raising money for medical emergencies or paying for a pet's surgery. But the site does have a weddings and honeymoons section where users have raised $4 million since GoFundMe was launched six years ago, says media director Kelsea Little, a tiny part of the $2 billion that users have raised for all GoFundMe campaigns. Anyone can see a GoFundMe campaign, but don't expect strangers to hand over cash for your honeymoon. Only friends and family will likely donate, says Little.
"It's a common misconception," she says.
"It's now socially acceptable."
Honeyfund, meanwhile, is more focused on honeymoons. Couples can list exactly what they will use the cash for, such as the hotel room, massages, car rentals or sightseeing tours.
To jump into the trend, major resort operators and cruise lines are using Honeymoon Wishes to power honeymoon registries on their sites. At Carnival Cruise Line, for example, couples can ask their wedding guests to pay for scuba diving excursions or horseback riding on the beach. The money goes straight to Carnival and couples can redeem the gifts when they get to their trip, says Nancy Williams, the business development director at Honeymoon Wishes. Couples can also go to Honeymoon Wishes and build their own honeymoon, without being attached to a certain resort.
"It's now socially acceptable," says Williams.