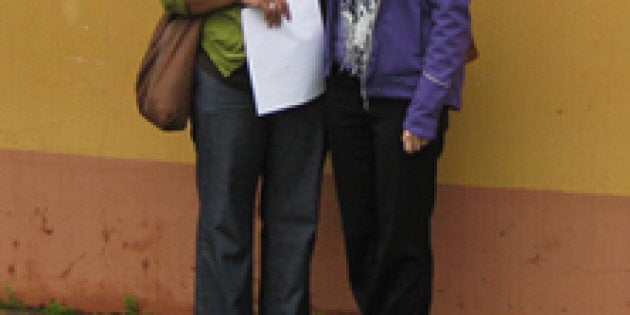 "Good intentions are not enough. You have to learn to listen to people and involve them in initiatives that they define as crucial to their future."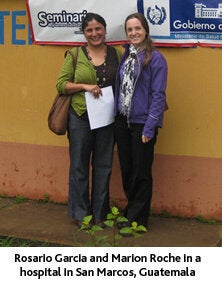 This powerful statement is from one of the people I work with most closely on my Grand Challenges Canada project - Rosario Garcia, our local Guatemalan Principal Investigator. When I'm not able to be in Guatemala, she acts as my eyes and ears on the ground. In fact, she is really the driving force behind this project. She is a nutritionist with a Master's of Arts Degree in social change, making her the most qualified person imaginable to take on take the voice of the mothers to the health providers serving them.
For Rosario, listening to people and involving them in the initiatives that they identify as important is a given when you see people as the key agents of change in their own lives. This is something she learned to do many years ago.
While she had always had an interest in social change and social justice in Guatemala, Rosario's passion for community-based work really took root when she undertook a practicum in Alta Verapaz, a rural department about three hours north of Guatemala City. It allowed her to connect with a part of the country that she hadn't known, a place of incredible people and cultural wealth. "It is an area full of colour with stunning natural resources," describes Rosario. "But it also an area marked by injustice, racism, machismo and severe poverty."
Hunger and malnutrition, along with their underlying causes, are a daily reality for families in this region. But "despite material deprivation, these families reached out to others, sharing the little they had," says Rosario.
"They were also very keen to build a better life for themselves and their children," she adds. "I was lucky to work with people committed to helping these families get ahead." And Rosario was inspired to do her part as well to bring about change for these women. For the past 16 years, she has been applying her expertise and commitment to community-based mother and child nutrition and food and nutrition security.
Now living in Xela, Guatemala, Rosario's conviction that the mothers, health workers and midwives she works with are the greatest agents of social change and health has only deepened over the years. They have become an inspiration in both her personal and professional life.
But how can we tap this transformational power? By listening and by facilitating a pro-active and meaningful role for these people in initiatives to improve their lives.
It was while studying for her Master's Degree that Rosario began to focus on developing more inclusive processes for ensuring adequate nutrition - processes that grow out of the expressed needs and visions of often-underserved populations. And she continues to put this approach into action through Grand Challenges Canada.
We started the project with a specific question we wanted to ask: what's the best way to deliver zinc and oral rehydration salts so that caregivers can effectively treat diarrhea in young children? Thanks to Rosario's keen insight and her training of the research team, the mothers and health workers we are speaking to are telling us so much more than simple answers to our initial research question.
We're listening. Carefully. And what we're hearing are the obstacles that families face in getting treatment for diarrhea, some of the missteps in our 'tried and true' health care messaging, and the importance of building networks of mothers and other community members to help them carry out their role as local agents of change.
The wealth of information we're gathering will help all of our partners design programs that will meet these women's needs in being supported and respected as mothers when their children are sick.
As Rosario continues to dedicate her focus on these agents of change, I'd like to suggest she also take a minute to look in the mirror. Because she herself is one of those agents, and one that I am very privileged to work with.