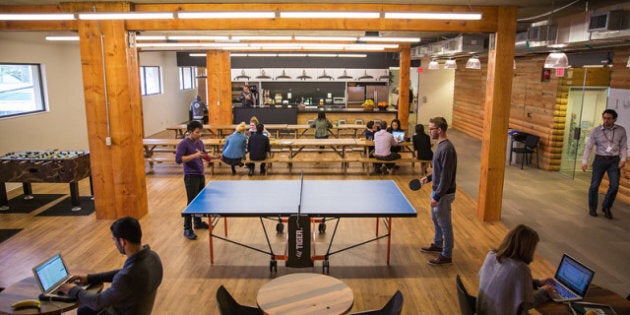 Social media wizards at HootSuite have a brand new dog-friendly space to lure talent to its Vancouver office.
HootSuite showed off its new 33,000 sq.-ft. nest for its "owls" to media on Thursday. The office is casual, open, and obviously West Coast-inspired with log stump stools, wood cabin panelling and Sitka tree decals.
"We're pretty happy about it so far," said CEO Ryan Holmes about the company's move into the city's trendy Mount Pleasant neighbourhood.
Log cabin-style wood paneling, custom murals, and hip lighting outfit the former police station building. Office perks include a 24-hour gym, exercise studio, and nap room; amenities that did not exist at its former home. Renovations cost just over $1 million.
HootSuite's former office in Railtown was just too crowded since an average of 10 new people got hired each week since 2008
"I remember sharing different desks with interns, there would be three people to each desk," said community manager Connor Meakin who has been with the company since its beginning.
As a temporary solution to their growing pains, the company leased space in four buildings to house its staff before they found their new home.
HootSuite is "very much about the work life balance," said communications manager Sandy Pell. With the average age of its staff around 29, the free wine and beer on-tap is sure to keep its young staff happy.
Take a tour of HootSuite's new office here: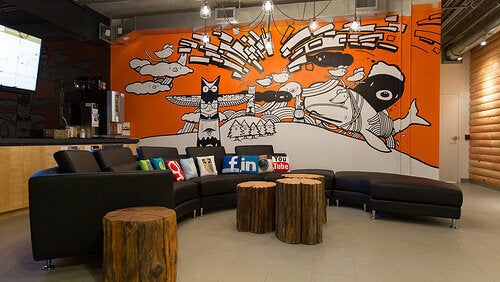 HootSuite Vancouver Office Tour