If you're late to jump on the food trend bandwagon, then prepare to be bowled over by this one. One of the hottest trends out there is food bowls. And the trend toward healthy bowls is one of our favourites!
We're all about ease and simplicity when it comes to mealtime. And what could be easier than a recipe that combines your protein, grains and vegetables in one dish? The trend to eat out of a bowl is widespread. It can be seen in restaurants, on take-out-menus, and home kitchens from coast-to-coast.
So if you're looking to eat healthier, and cut down on the after-dinner-dishes, then check out this round up of our favourite hearty and healthy bowl recipes.
Coconut Rice Bowl with Ginger & Tofu Slaw
We can't put down our chopsticks with this tasty number -- with a delectable ginger peanut sauce, this Coconut Rice Bowl with Ginger and Tofu Slaw makes for a mouthwatering meal.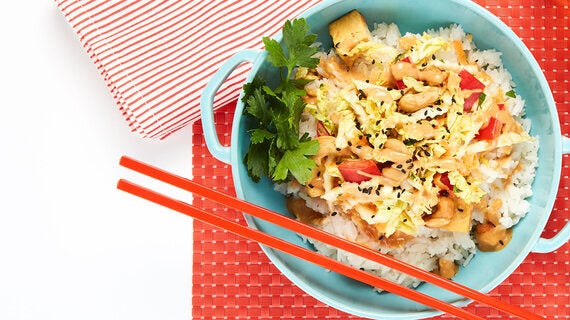 Easy Teriyaki Salmon Rice Bowl
Check out this incredible Japanese-style Teriyaki Salmon Rice Bowl, an easy, healthy and extremely tasty meal. The homemade teriyaki sauce (it's easy, we promise) is lustrous and lends a sweet and tangy glaze to the tender roasted salmon. Paired with sautéed spinach and creamy avocado, this hearty-yet-healthy salmon is superb.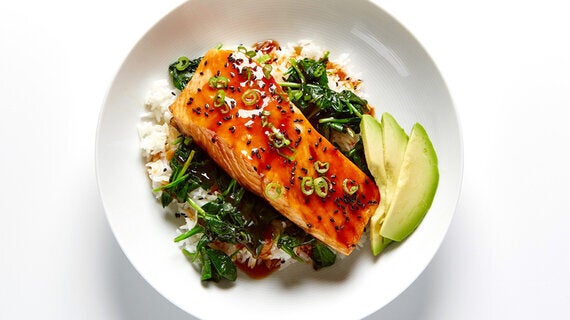 Forget Spam, poi and pineapple. Poké (pronounced poh-kay) is a Hawaiian staple that is quickly making its way to the mainland. While traditionally made using ahi tuna, mainland Pokérias (no, not a real word but sure to catch on) are chopping up octopus, salmon and scallops as well. The fish is marinated in soy sauce and sesame oil and then can be tossed with everything from green and white onions, edamame and wasabi to sesame seeds, macadamia nuts and jalapenos. Poké can be served with tortilla chips, piled atop a bowl of rice, noodles or kale, or simply snacked on with a spoon.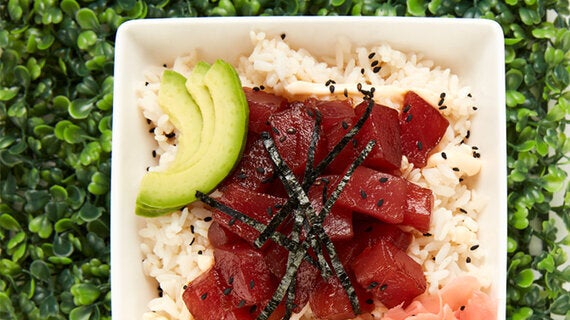 Roasted Sweet Potato Quinoa Bowl
This healthy and hearty Sweet Potato Quinoa Bowl, a creative combo of protein-packed quinoa, roasted sweet potatoes and avocado, is drizzled with a maple dressing and topped with roasted almonds, an egg and leafy sprouts.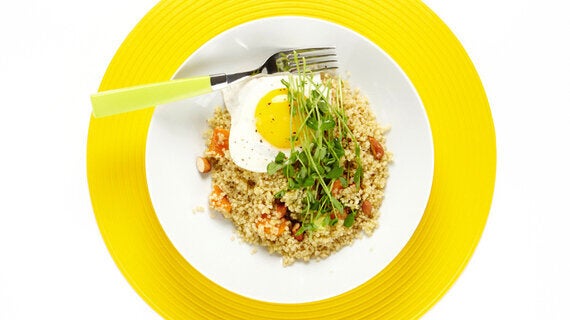 Sushi Salad Bowl with Tofu and Brown Rice
Training to become a sushi chef can take up to 43,800 hours. Making this delicious Sushi Salad of brown rice, marinated tofu, avocado and edamame, all tossed in a ginger wasabi dressing will take you less than 1 hour. We don't know about you, but we aren't going to roll our sushi...we're going to bowl it.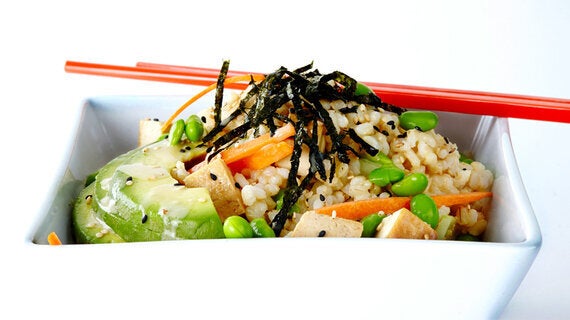 Follow HuffPost Canada Blogs on Facebook