A shocking photo by a European photographer has given the world a good reason to fear for the health of polar bears — but people shouldn't necessarily jump to conclusions, says one expert.
The photo was taken in Norway's Svalbard region, a group of islands in the Arctic Ocean where tourists often go to see polar bears in their natural habitat.
While she often sees fat males who spend all year on pack ice, "many times I have seen horribly thin bears, and those were exclusively females — like this one here," she wrote on Facebook.
Langenberger went on to say that sea ice retreat "further and further north" is forcing female polar bears to look for food on land, where they have their young, and where it's tougher to find nourishment.
She also said a number of the mothers are losing their cubs within two years.
While she admitted that she had no scientific data to support her observations, Langenberger questioned whether Svalbard has a stable polar bear population.
He said the bear was more likely old, sick or hurt — not starving because of a lack of prey or ice.
"A difficulty hunting could be involved," Stirling told the website.
Other alarming images of polar bears
Information provided by the Norwegian government doesn't show much certainty about the health of Svalbard's polar bear population.
The government estimates that, as of 2004, there were nearly 3,000 polar bears in the Svalbard and Barents Sea region.
In addition to Langenberger's disturbing image, National Geographic photographer Paul Nicklen posted this photo of a dead and emaciated bear — also taken in Svalbard — on Sunday.
"In all of my years of growing up in the Arctic and later, working as a biologist, I had never found a dead polar bear."
Science is showing plenty of signs that climate change is altering the Arctic.
Sea ice has retreated so much, in fact, that National Geographic has had to keep changing its atlas in response to the trend.
There are signs that melting sea ice has made the task of hunting more difficult for polar bears.
A study published in academic journal Polar Biology found that a bear had made a world record-setting underwater dive of three minutes and 10 seconds, as there weren't enough ice floes to give it cover as it hunted seals.
Prior to that, bears had only been seen making dives of around 30 seconds, The Washington Post reported.
Warming waters also appear to be pushing certain species north, bringing polar bears into contact with prey they haven't met before.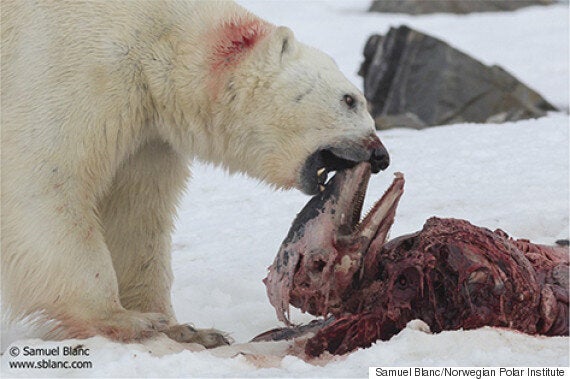 Dolphins had been seen in Svalbard before, but not that far north in the winter or spring.
Researchers writing in academic journal Polar Research said that dolphins had likely been pushed to the region in the early spring due to a lack of sea ice in the "period prior to our observation."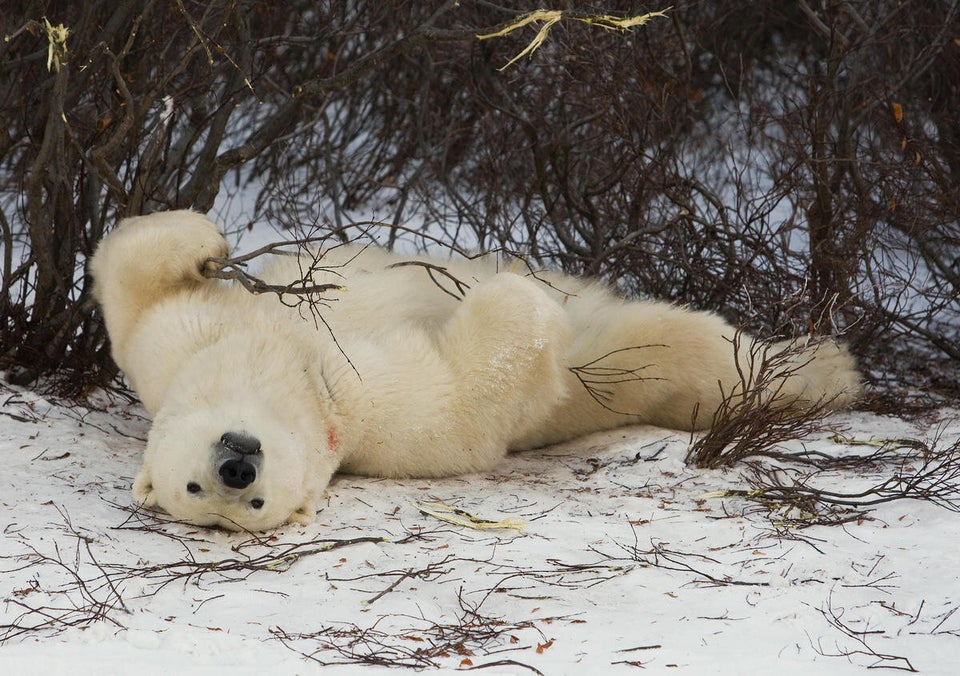 Polar Bears In Canada