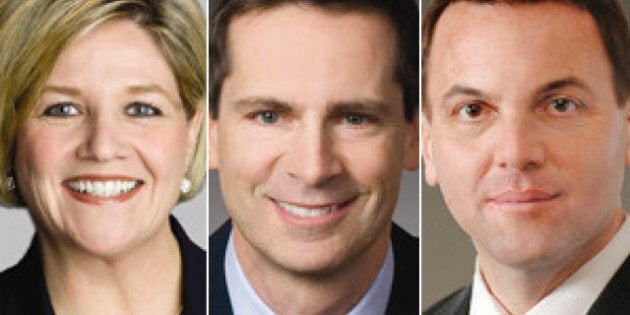 With the kick-off to Ontario's 40th general election on Oct. 6, The Huffington Post Canada kicks off its coverage with lively, ongoing debates between three of the smartest and most plugged-in politicos in the province: John Duffy arguing for the McGuinty camp; Jason Lietaer (@jasonlietaer) in Hudak's corner; and Heather Fraser (@ottawafraser) duking it out for Horwath. Check in with HuffingtonPost.ca every weekday for the freshest and best election coverage on the web.

As we head into the final weekend of the campaign, most Ontario voters will be taking a good, long look at both their local candidates and those for premier.
They've got one known quantity running for the top job, and two new faces. There will be tons of discussion around supper tables that will come down to two main questions. First, do I want a change? And if yes, to what? Or who?
A referendum on the incumbent takes many forms. But it almost always comes down to some version of the old Reaganism: are you better off than you were just four years ago? For Ontarians -- by almost any measure -- the answer to that question is no. But that's not the whole story. There was a lot happening over the past four years. A global economic crisis. Canadian dollar appreciation. Sovereign debt issues. Will Mr McGuinty be blamed for the results?
The Liberals are hoping they aren't. Mr. Hudak and Ms. Horwath are betting he will.
I heard Mr Hudak give two jobs speeches in two days. They were two of the best speeches I've ever seen him give. They were substantive. They outlined a road ahead. What they didn't do? Throw in some new promises thrown together on the back of a cocktail napkin.
Time will tell if Mr McGuinty's gambit of changing his platform on the fly will work. For my money, I think most Ontarians want to see a leader who knows where he or she wants to go.
Over the weekend and into the beginning of next week is when the big issues take over. Reporters and campaigns move away from the small stuff and into big questions: who do you want running the economy? Who will create jobs? What will you do to make my life easier?
I get the sense the Liberals are scared about what they see coming. I'm not sure when they drew it up they thought they could win this thing on jobs. I'm told by reliable sources they were going to campaign for the last week on education. Over the weekend, that changed. In my experience, it's never a good idea to make it up. People can tell.

With less than a week to go, it's decision time for voters. Over the coming days, the campaign will be full out. The telephone will ring and ring. Campaigns will be on the doorstep. Advertising will be at its peak and families will be talking about who they trust to run the province.
Mr. McGuinty is hoping that people won't vote on his record and that they won't notice his sudden course changes following the debate. I guess you can say he has a hopeful campaign after all -- but not in a good way. Mr. Hudak is hoping that people will be so desperate for change that they will vote for a man and a party that they still aren't completely comfortable with.
If she stays on the smart course she's been on, Andrea Horwath will continue to campaign in growth ridings about her message for positive change. She needs to continue to show voters that she ready to be the next premier and that if elected, she will make principled, practical, and positive choices (who doesn't love a little Friday evening alliteration?) that will make their lives better and more affordable.
In my post-debate post I said that Horwath did well on both technical merit and artistic impression. Both are very important in this last week. Voters want to vote for a plan that puts them first and they also want a leader they can trust to deliver with compassion and honesty.
Horwath and the NDP offer a real choice for voters. Both Hudak and McGuinty favour across-the-board blank cheques for corporations that ship jobs out of Ontario. Horwath wants to create jobs by rewarding businesses that create jobs. Hudak and McGuinty seem okay with skyrocketing hospital CEO salaries, while Horwath would cap hospital CEO salaries and redirect that money to front line care. Hudak and McGuinty seem fine with increasingly unaffordable everyday costs, while Horwath and the NDP will take the unfair HST off of gas, electricity and home heating.
When voters are talking over the weekend -- even while chatting with canvassers and being bombarded by advertising -- the choice will become crystal clear.

Well, I'm not sure how much I can add to this, as it seems we're largely lobbing message tracks at one another today.
This is indeed a pivotal weekend. Over the past few elections, we've come to know just how important weekend time for reflection is in making voting decisions.
One of the things I'll be reflecting upon is Ms. Horwath's somewhat ambiguous statement to the Toronto Star about the need for "consensus" in the event of a minority government -- one in which she presumably holds the balance of power. She will be under pressure in the days ahead to provide greater clarity. I'd imagine she'd rather not leave NDP voters with the impression that she's planning on supporting a Tim Hudak administration. It will be interesting to see the line she walks.