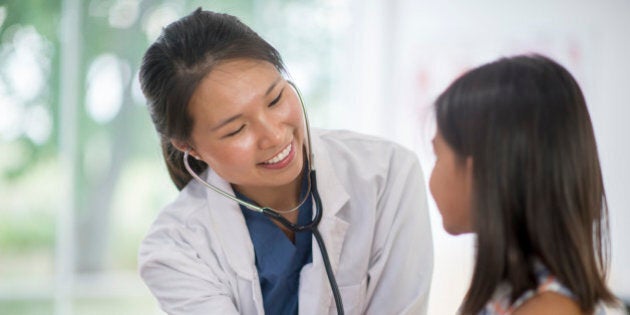 For the past 23 years, it's been my pleasure to be a preceptor with the Rural Ontario Medical Program based out of Collingwood. As a preceptor, I have had the honour of supervising a wide variety of Medical Trainees, from first year Medical Students, all the way up to those in their last year of Residency.
I often find I learn as much from them as they learn from me (it's good to be questioned by students about why you do things the way you do). I clearly have some experience on my side, and they have more recent book knowledge. It's a great combination for patient care.
Unfortunately, I can see that we are once again heading for the same situation as the late 1990s/early 2000s, when many medical trainees stopped going into comprehensive family medicine. The reasons then were due to increased workload, better opportunities in other specialties and an extremely poor relationship with the government of the day.
At one point, only about 25% of graduates from medical school applied to Family Medicine Residencies. To suggest that there was a crisis in family medicine would be dramatically understating the issue.
However, the Conservative government of Mike Harris finally realized you need to co-operate with doctors if you want to improve patient care. In 2000, Health Minister Elizabeth Witmer rolled out something called Primary Care Reform (PCR) in co-operation with the Ontario Medical Association (OMA). This, over the next few years, led to a revitalization of Family Medicine, and now, close to 40% of medical school graduates are once again choosing Family Medicine as their specialty.
While not the sole part of the PCR, a major component was a new model of paying physicians known as capitation. Capitation is essentially salary plus performance bonuses. Family Physicians would be paid a certain monthly rate to look after their patients, regardless of how often they saw them. They get bonuses based on how many complex (eg. Diabetic) medical cases they take on. This was in stark contrast to the old system known as Fee For Service (FFS) where physicians were essentially paid piecemeal (only got paid when they saw a patient).
The capitation based models were extremely popular with both Family Physicians and government. For Family Physicians, it allowed them to spend the time needed with patients during just one visit, instead of requiring multiple visits. For the government, it provided a predictable funding envelope. I appreciate this will come as a surprise to a couple of the frequent critics of my articles (in the comments), who have long implied that I was critical of Health Minister "Unilateral Eric" Hoskins because I was allegedly supporting the FFS model, but I actually have been in a capitated model since 2004.
Did PCR work? In 2001, the population of Ontario was 11.4 million, and almost 3 million people didn't have a family doctor. In 2016, the population of Ontario was 13.9 million, and only 800,000 did not have a family doctor. So over 4.5 MILLION people got a family doctor.
Then along came the hapless "Unilateral Eric", and his widely disliked sidekick, Deputy Minister Bob Bell. "Unilateral Eric" likes to claim that he himself is family doctor. The reality is that he has NEVER provided the cradle to grave care that comprehensive family doctors in Ontario do on an ongoing basis. He does work a day a month at a walk in clinic, and I understand he donates that income to charity - which is good of him, but it's hardly the same as what comprehensive family doctors do.
Bob Bell for his part, likes to boast about how he used to be a family doctor back in the 1970s, but he seems to be unable to grasp that family medicine might have evolved since then.
Acting with the same level of competence as Tweedle Dee and Tweedle Dum, the infelicitous duo of Hoskins and Bell unilaterally cut the number of family physicians who could apply to capitated funding models. Again, this is likely a surprise to a couple of the critics of my columns, who have long been demanding that physicians go on salary. Surprise, it was Hoskins and Bell who unilaterally stopped the salary style models, not the OMA. They also unilaterally cut some of the performance bonuses (for things like diabetic care, medical education and so on).
The result was clearly predictable to anyone who understands Family Medicine in the 2010s. Over the past three years newer graduates from Family Medicine programs are avoiding comprehensive care. Many of my trainees are choosing to work solely in areas like emergency, anaesthesia, sports medicine or others. And while there is a need for doctors in all fields, the reality is that it's comprehensive Family Medicine that leads to health system stability.
In response to this, the dolorous duo of Hoskins and Bell unleashed something called the New Graduate Entry Program (NGEP) to provide new family medicine graduates with what they claimed was a capitated funding model. Alas they attached so many conditions including a morass of bureaucratic oversight that I understand only two new graduates have taken them up on this offer.
However, they still have the ability, and opportunity to begin to correct one of their most egregious mistakes. A new crop of Family Medicine Residents will graduate on July 1. Hoskins and Bell can unilaterally reverse the cuts to the capitated models and performance bonuses. No one from the OMA will complain.
It's time for them to recognize the important role of comprehensive Family Physicians, and support that with actions, not just words.
Follow HuffPost Canada Blogs on Facebook