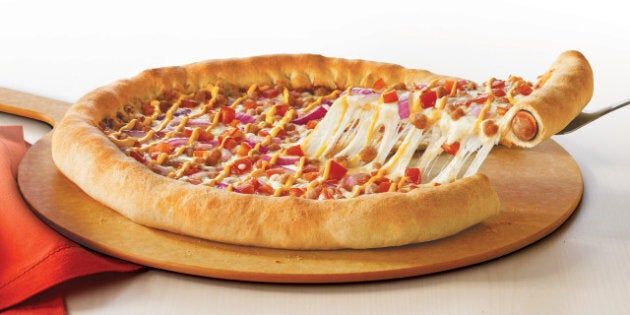 Each week, the Huffington Post Canada's Living team will try out something that has sparked our curiosity, and as long as we live to tell the tale, we'll let you know all about it.
Test Drive Subject: Pizza Hut's Hot Dog Stuffed Crust Pizza
Price: From $17.99 (for the Ultimate pizza)
What It Is: Well, the description is pretty apt, so just the details really remain. And here they are: an Angus beef hot dog is placed inside Pizza Hut's stuffed crust (which usually is filled with cheese) and served up in a medium or large pizza with your choice of toppings. This all starts at Pizza Huts across Canada on October 15, but The Huffington Post Canada got a sneak taste (along with hundreds of other Torontonians) at Yonge-Dundas Square in Toronto on Friday.
The only way to test a pizza is to eat a pizza, and that's exactly how things went down. What began as a couple of slices by the corner of Yonge and Dundas St., turned into three, medium-sized hot dog stuff-crusted pizzas carried to HuffPost Canada's downtown office. There, slices were devoured, crusts were dunked in ketchup (as well as a honey mustard sauce) and thoughts were shared in between mouthfuls of dough, sauce and meat.
SEE: A shot-by-shot slideshow of just exactly what a hot dog-stuffed crust pizza looks like. Story continues below: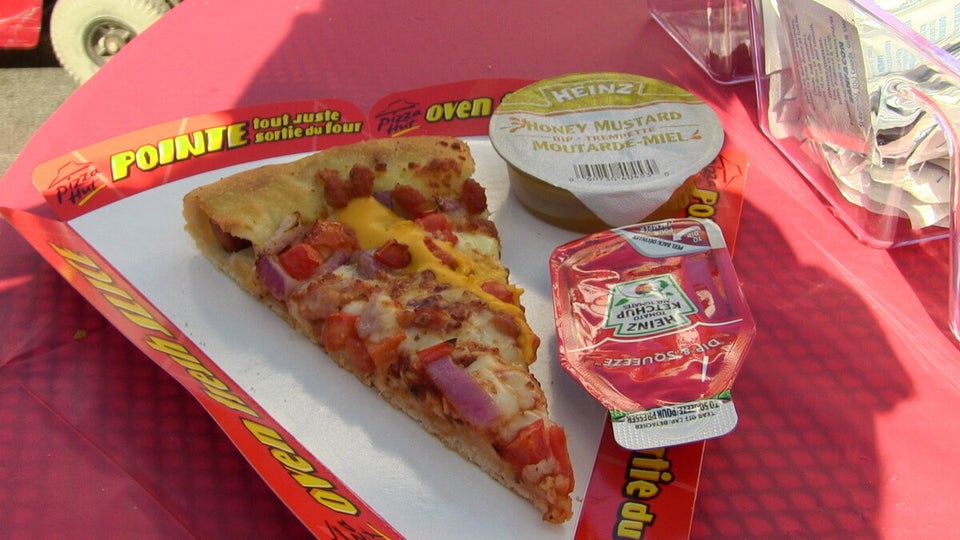 Pizza Hut's Ultimate Hot Dog Stuffed Crust Pizza
If Pizza Hut was looking to take their stuffed crust concept to the next level, then they've succeeded. The beef hot dog is flavourful and pairs well with the crust's dough. It's less of a corn dog and more of a hotdog wrapped in puff pastry, both in terms of taste and presentation. It's easily the best part of the pizza, and enough to make crust haters think twice about ditching the dough.
Less successful is the actual pizza. Pizza Hut says their "Ultimate" pizza was created with toppings designed to complement the hotdog. On paper, the combination of bacon crumble, diced tomatoes and red onions along with a drizzle of jalapeno nacho cheese sauce works, but in practice it falls a bit short. The cheese sauce is — believe it or not — excessive, and doesn't blend well with the diced tomatoes. The bacon doesn't add much in the flavour department, but does give some textural depth.
Not everyone in the office was willing to try Pizza Hut's newest pizza fusion. One editor even described it "wrong," which is probably the biggest thing we have to warn you about: People will judge you for your willingness to try new things. They will judge you hard for your acceptance of hot dogs and pizza belonging together. You may even lose a few friends in the process. Granted, that's what ordering in is for, so feel free to leave your food-fusion hating friends at the restaurant.
The pizza pairs surprisingly well with a beer, ideally a lager. What doesn't work is the packaged honey mustard dipping sauce, which is more of an unappetizing golden-yellow goop. There's also some Heinz ketchup that comes in a dip tray, but both are on the sweet side and don't do much for the stuffed crust, let alone the pizza. Best to stick with the classic dipping marinara sauce for this one.
If you're not a fan of the Ultimate pizza but want to try the hot dog crust experience, you can order the crust as part of any pizza. It's the same price as their regular stuffed crust with cheese, but those willing to give it a chance only have till November 25th to try it out. After that, pizza lovers will have to wait until the Hut's newest invention.
Have a suggestion for a Test Drive? Tried something you loved or hated? Let us know on Twitter at @HuffPostCaLiv, or in the comments below.
SEE: The products we've tried out in the past: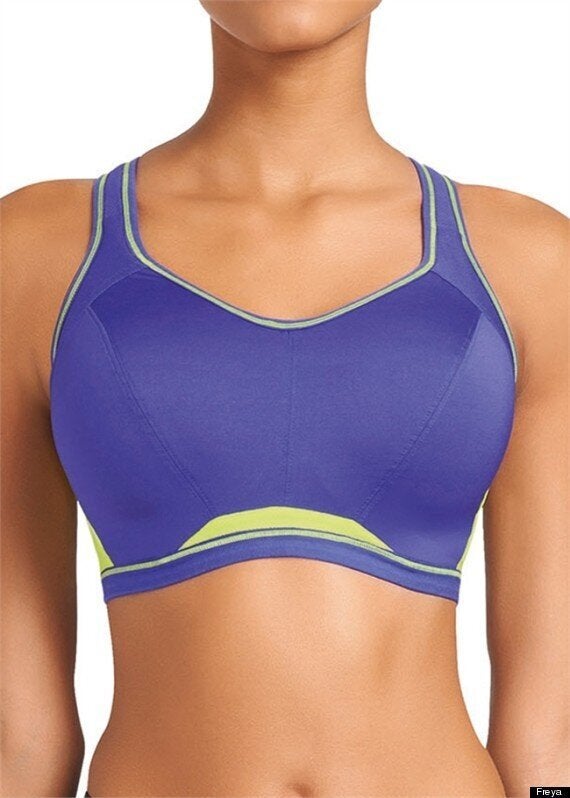 Products We Have Tested
Popular in the Community