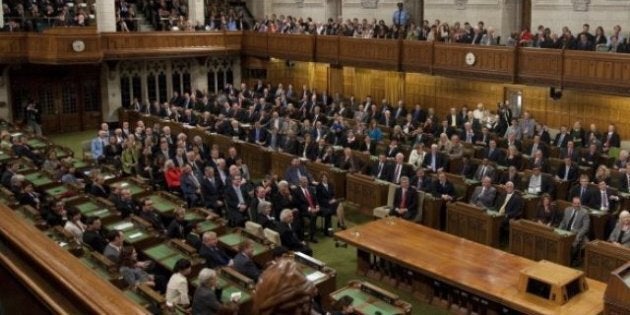 Quebec came out the big winner Thursday when the Conservative government release its new bill redistributing seats in the Commons, but the Bloc Quebecois says it is still not enough.
The 'Fair Representation Act' will add 30 more seats to the House of Commons giving Canada's fastest growing provinces more MPs. Under a revised formula, Ontario would get 15 seats, British Columbia six seats and six seats to Alberta.
The Commons, according to this formula, would grow from 308 to 338.
The Tories plan, however, also includes three seats for Quebec, a province whose population isn't expanding while leaving the other three provinces still the only ones under-represented — if only less under-represented than before.
"Our goal, and supposedly the stated goal of the government was to get as accurate rep-by-pop as possible," said David Christopherson, the NDP's democratic reform critic.
"(The Conservatives) are offering less seats (to B.C., Alberta and Ontario) in this bill than in their last one but we are trying to stay positive. Rather than just slamming them, we think there are some deficiency in the bill, we like our bill still but we think there is room for discussion," he told The Huffington Post.
Louis Plamondon, the Bloc Quebecois' democratic reform critic, however, argues the province is being short-changed since its political weight in the Commons is being diminished. Quebec seats, Plamondon argues, should not be based on how many people actually live in the province but rather on maintaining its current political say.
"We have 24.2 per cent of the seats currently (in the House of Commons). If we keep 24.2 per cent of the seats and there are 338 seats, we should have eight more seats," he told reporters Thursday.
"With the recognition of Quebec as a 'nation,' this must signify something and Quebec's political weight must not diminish, » Plamondon adamently said.
Quebec currently accounts for 23.22 per cent of the country's population and has 24.59 per cent of the seats in the Common. The Tories' formula would give it 23.28 per cent of the seats in the House.
The NDP, which has the bulk of Quebec MPs with 59 of the provinces current 75 seats, isn't sure what to think about the Conservative government's plan.
Interim leader Nycole Turmel told reporters the party will take the time to consult with provincial premiers and Canadians before pronouncing itself.
Turmel, however, was pleased that the government had followed the NDP's example of providing a mechanism by which B.C., Alberta, Ontario and Quebec would get more seats.
"The Conservative bill tabled today would see fewer seats go to B.C., fewer seats to Ontario and fewer seats to Quebec than under our proposal," she said.
But Christopherson added that now that the Tories had inserted three seats for Quebec, the NDP saw it as a "positive move" and the first step towards a bill that everyone, political parties and provincial governments could all live with.
Liberal MP Denis Coderre also said he supports giving Quebec three seats.
"It's a good thing," he told reporters Thursday.
But for Plamondon, whose party now only has four seats in the House, the fact that Quebec will now have fewer seats proportionally in the Commons is unacceptable especially because inequalities are already built in the system giving places such as Prince Edward Island with 135,000 residents four MPs or Nova Scotia, ten ridings that are far smaller than the national average.
Lowering the proportion of seats that Quebec currently has in the Commons would make Quebec "a province like any other," Plamondon said.
Tourism Minister and Quebec Conservative MP Maxim Bernier responded to the criticism saying that "Quebec represents 23 per cent of the population and Quebec would get 23 per cent of the seats."
"The formula is fair towards all Canadians and we are getting everyone closer towards proportional representation," he said.
Democratic Reform Minister Tim Uppal repeated those statements when he made his announcement earlier Thursday in the riding of Brampton West, the largest in the country with 170,422 constituents.
"The fact is no province that is fairly presented today should become under-represented as a result of this formula," Uppal later told
HuffPost. "So we've ensured that no province would be unfairly (treated) or penalized because of this formula and that's why Quebec has been given three seats to bring them back up to equal representation by population."
"This formula it is principle and it is fair for all provinces, that's what is important. It is responsive to population growth and trends and it moves every province closer to representation by population," the minister added.
As The Huffington Post earlier report, the idea of giving Quebec more seats has been extremely controversial within the Tory caucus, with many former Reform MPs adamantly opposed to giving the francophone province any more seats without a population increase.
Prime Minister Stephen Harper called a meeting of his Priorities and Planning cabinet committee Monday before a special caucus meeting that evening to address his MPs' concerns.
Uppal, on Thursday, danced around the question saying his caucus colleagues support the principle of moving all provinces closer to representation by population.
A previous version of the table, tabled in 2010, gave Ontario 18 seats, Alberta five seats, B.C. seven seats and budgeted none for Quebec.
The Minister said that was because the figures used old population data.
He said he wasn't concerned there might be a backlash over the perception the Conservatives are pandering to Quebec, and, he noted, the Tories' said they would address Quebec's concerns in their election platform.
"Caucus fully supports a principled approach that is nationally applicable and moves every province closer to representation by population," he said.
Adding 30 more MPs, however, won't be a cheap task.
Uppal acknowledge the cost would be upwards of $14 million dollars a year with another $11.5 million spent additionally during federal election to run contests in each new riding.
The Canadian Taxpayers Federation, however, estimates the cost of adding 30 new MPs to the federal payroll and staff their offices is closer to $18.2 million annually.
Gregory Thomas, the Taxpayers' federal director, said approximately $4.7 million would go toward salaries (MPs make $157,731 a year), $8.5 million would be spent on office budgets (roughly $284,700 per MP), another $764,000 in accommodation and per diem costs (MPs can collect about $25,468 a year) and another $4.26 million in House of Commons expenses such as furniture, phones and travel.
The $18.2 million figure doesn't include any additional costs Parliament might incur from having new MPs access such services as the Library of Parliament and its researchers, Thomas notes.
"What you notice is the bigger the institution grows the bigger the whole supporting infrastructure seems to bloat out to accommodate it," he said.
Still Thomas believes the new MPs are worth the extra expense.
"It is worth it to have the population democratically represented," he said.
Uppal and other parliamentarians agree.
"Yes, there is a cost to this but the important thing is that Canadians expect fair and equitable representation in their democratic institution.
It would be unfair to not do anything and leave provinces, like Alberta, B.C. and Ontario, … increasingly under-represented," the minister told HuffPost.
Christoperson said he knows Canadians are concerned about the extra costs but that that has to be weighed against the concerns of Canadians who feel they are not getting the representation they deserve.
"Canadians know that democracy is not cheap, it is not fast and it is not always neat," he said.
It would certainly have been cheaper to redraw the existing electoral map and redistribute seats to the faster growing provinces, but with Constitutional rules that ensure PEI, Nova Scotia, New Brunswick, Newfoundland and Labrador, Saskatchewan, Manitoba, Quebec and the Territories can't have any seats taken away from them, that solution is impossible.
Still, Liberal Interim Leader Bob Rae indicated Thursday he thinks a solution like it, should be studied.
It doesn't make any sense that every time there is a census, the Parliament of Canada adds new seats to the House of Commons, Rae said.
"Eventually we're going to get squeezed out of this building and we're going to get out into the street."
"Would it be beyond human possibility that the House would actually decide on a fixed number, say, whatever the number would be — 300 or whatever number you come up with and say we ought to be able to divide up 300 recognizing the principles that I've just described, that representation by population is important, recognizing the needs of other provinces is important, particularly though also recognizing the considerations that we need to have to Quebec's position in the Federation," he said. "I hope that the House — the committee will be at least given the opportunity to consider the possibilities of looking at what would it mean to go to 300 and how would we go about doing that?"
Even with the government's bill, the minister acknowledged that most of Canada's provinces will remain vastly over-represented.
The 'Senate Floor' rule ensures Prince Edward Island, which has four ridings of approximately 34,000 people can't have less than seats than the number of senators, four, which it has in the upper house.
'Grandfather clauses' ensure no province can have less than the number of seats it had in 1985.
"The seats for many provinces are guaranteed in the Constitution and so the only way to bring all provinces closer to representation by population is to add seats to the under-represented provinces," Uppal said.
That's the sad part, according to the Canadian Taxpayers Federation's Gregory Thomas.
"We are saddled with an un-amendable constitution. If everyone was fairly represented, you would need 900 MPs," he said.
The cost of redrawing Canada's electoral map will be roughly $13 million, according to Elections Canada estimates.
Usually boundary commissions are set up in every province where seat changes are coming after the Canada's chief statistician has signed off on the most recent population numbers.
That, however, may not be needed since the Tories have changed the formula to base it not on census numbers but on population estimates, something the NDP says it wants to investigate.
"The question for us is, is it an improvement and if so, why wasn't it thought of before? Or, did they put this in so when you do the math equation, the number comes out with what they want on each," Christopherson said. "We don't know."
The membership on the commissions will be determined by the chief justice of the province who will appoint the chair of each three-member commissions and the Speaker of the House of Commons, Conservative MP Andrew Scheer, will appoint the two remaining members on each commission.
Uppal Thursday pledged that the process would be free of any political interference.
"It will be a non-partisan independent commission that looks at the actual riding redistribution," Uppal said. "I am fully confident that the Speaker of the House of Commons will appoint someone who is objective and non-partisan."
The commissions will draft a preliminary map of the new riding redistribution and will take into account different factors such as keeping small communities intact. The public will have a say through public consultations and MPs will also be able to study the proposed map and make recommendations.
"But the commissions being independent are not bound by any recommendations made by Parliamentarians," Elections Canada spokesman John Enright said.
The process is expected to take about two years.
The formula for re-distributing seats has been updated four times: in 1946, 1952, 1974 and in 1985.
Like Huffington Post Canada's Ottawa Bureau Chief Althia Raj's reporter page on Facebook and follow her onTwitter for all the latest news from Parliament Hill.
althia.raj@huffingtonpost.com