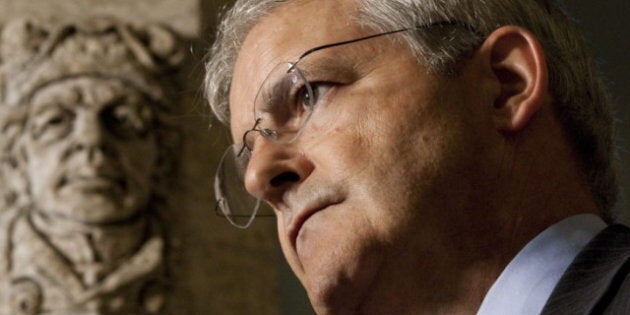 The federal Liberal Party wants to take seats in the House of Commons away from Quebec, Manitoba, Saskatchewan, Nova Scotia and Newfoundland in order to to give them to the more populated provinces of Ontario, B.C. and Alberta and keep the total number of MPs at 308.
The Liberals say the Conservatives' plan to add 30 seats to the Commons at an estimated extra cost of $18 million is unnecessary in tough economic times. Prime Minister Stephen Harper, Liberal House Leader Marc Garneau suggested, should listen to his old Reformer self and adopt a plan that redistributes seats without commiting to an endless expansion of the legislature.
"We think this is one option that could save money ... and stop a process that occurs every 10 years that adds more seats to the House of Commons," Garneau said.
The Liberals' suggestion is already drawing fire from the Conservative Government for pitting provinces against each other and FROM the Bloc Quebecois because Quebec would lose three seats under the plan, going from 75 to 72.
"We disagree with our political weight being lowered," Bloc MP Andre Bellavance told The Huffington Post Friday.
"We understood that the Liberals were against 30 new MPs because of the costs, and for us staying with 308 seats but maintaining our political weight in the House of Commons at 24.35 per cent, that's okay. But as soon ... as our political weight drops below 24 per cent, then that is unacceptable."
The Liberal plan would give Quebec 72 seats in a 308 member assembly, which would represent 23.38 per cent of the total. The province, according to Statistics Canada figures from July 2011, has an estimated 23.14 per cent of the country's population.
Garneau acknowledged Quebec would lose a bit of power under the Liberal plan, but he noted the province would be better served than under the Conservative Government's plan which will give it three extra seats but only 23.08 per cent of the MPs in the Commons.
Democratic Reform Minister Tim Uppal told The HuffPost in an email that the Liberals' flawed plan "picks winners and losers, takes seats away from many provinces and could potentially reopen Canada's constitutional debate."
"Unlike the Liberals, we won't pit one part of the country against another. We are governing for all Canadians," he added.
"We see this as something that can be done by the Parliament of Canada."
The constitutional guarantee that provinces cannot have less seats than their number of Senators, a measure that ensures Prince Edward Island retains four seats and that New Brunswick and Nova Scotia get 10 each and Newfoundland and Labrador six, would not be affected by the change.
NDP MP Jack Harris said he didn't think the Liberals' suggestion would be acceptable to the Canadian people.
"Decreasing seats for provinces, I think that is going to cause a lot of problems," he told reporters.
"If they really wanted to save money on our Parliamentary system, they would agree with the NDP... and support the notion of saving tens of millions of dollars every year by abolishing the Senate."
Like Huffington Post Canada's Ottawa Bureau Chief Althia Raj's reporter page on Facebook and follow her onTwitter for all the latest news from Parliament Hill.
althia.raj@huffingtonpost.com
Popular in the Community