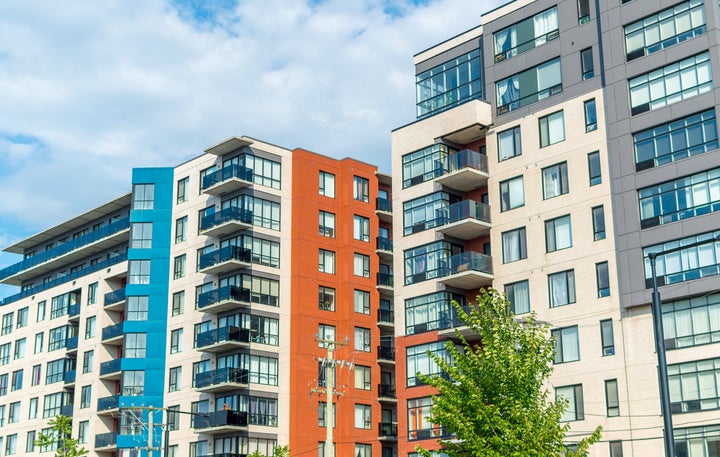 House prices down in Vancouver, up in Toronto
The Teranet-National Bank house price index clocked an increase of 0.5 per cent in May, the worst performance ever for the month in the history of the index that dates back to 2008. May usually sees strong upticks in housing prices. Compared to a year earlier, prices are up 0.7 per cent, the weakest showing since the last recession, National Bank of Canada economists wrote in a client note Wednesday. Prices are down from a year ago in:
Vancouver (-4.1 per cent)
Calgary (-3.2 per cent)
Winnipeg (-1.5 per cent)
Edmonton (-1.1 per cent)
Victoria (-0.4 per cent)
Ottawa-Gatineau (+6.1 per cent)
Montreal (+5.3 per cent)
Hamilton, Ont. (+5.1 per cent)
Toronto (+2.6 per cent)
Quebec City (+2.1 per cent)
Halifax (+2.1 per cent)
Despite the current weakness, economists Matthieu Arseneau and Kyle Dahms say they see signs of a bounceback. "Home sales increased for a third month in a row in May, rebounding close to their past 10-year average, a development which was made possible thanks to a booming labour market and a plunge in mortgage rates," they wrote.
Loonie spikes as Canadian inflation heats up
Consumer prices accelerated in May, rising 2.4 per cent from a year ago. It's the largest jump since last October, Statistics Canada said, and it's well above analysts' expectations of a 2.1-per-cent reading. All eight major components, including food, transportation and housing, saw increases in May. The news caused the Canadian dollar to jump, rising rapidly on Wednesday morning to above 74.9 cents U.S., from below 74.7 cents U.S. in earlier trading. Investors are betting the stronger-than-expected inflation is a sign that Canada is coming out of its economic slowdown. The country's economy barely grew in the final quarter of 2018 and first quarter of this year, but economists see a rebound in the second quarter.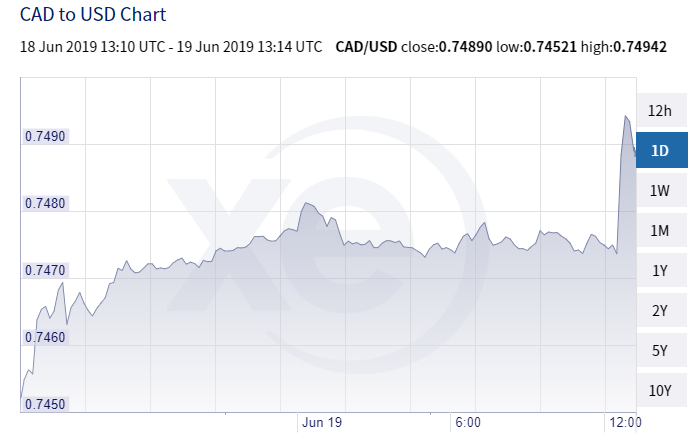 Hong Kong's political unrest could impact B.C.
Vancouver's housing market has been in the dumps this year, but the protests in Hong Kong could change that. Realtors in the city have noticed a sudden uptick in interest from buyers from Hong Kong, coinciding with mass protests over a controversial extradition bill, the Globe and Mail reports. Vancouver's market had been heavily influenced by mainland Chinese buyers, many of whom lost interest after the province introduced a foreign buyers' tax in 2016. But many buyers from Hong Kong are Canadian citizens; there are some 300,000 Canadian passport holders in the city. An influx of buyers looking to escape Hong Kong "certainly could be a bit of an upward force in housing prices here," UBC economist Tom Davidoff told Vancouver-based News 1130.
Human rights commissions vs. Facebook
The federal and Ontario human rights commissions have joined forces to ask Facebook to stop allowing discrimination in job ads on its platform. Companies looking to hire on the platform currently have the ability to "microtarget" ads so that they appear only to people in certain age groups. Those who see the ads are unaware they were targeted due to their age. Though Facebook has agreed to end the practice in the U.S., it still continues in Canada, CBC News reports. "We believe that steps should be taken to ensure that comparable additional safeguards are also implemented in Canada, in line with the Canadian federal and provincial human rights laws," Ontario commissioner Renu Mandhane and federal commissioner Marie-Claude Landry wrote in a letter to Facebook Canada's head of public policy.
U.S. sanctions could 'all but cripple' Turkey
The Trump administration is reportedly weighing economic sanctions against Turkey, in retaliation for Ankara's purchase of a Russian anti-missile system, the S-400. U.S. President Donald Trump is weighing three possible sanctions packages, one of which would "all but cripple" the Turkish economy, in the words of Bloomberg News, which cited "three people familiar with the matter." But the plan gaining the most traction would be a more moderate one, under which the Trump administration would use existing laws to stop Turkish companies from doing business with the U.S. if they do business with Russia. The conflict is a sign not only of Trump's willingness to expand trade conflicts, but of the declining state of U.S.-Turkish relations, two NATO allies that seem increasingly at odds with one another.