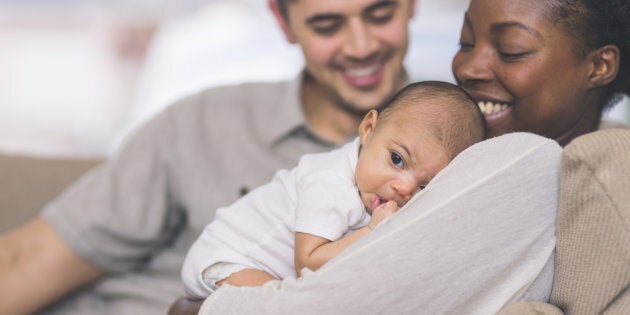 The soaring cost of housing in many parts of Canada is having some profound effects on the way we live. Young families are increasingly living in condos; it's become commonplace for parents to help buy their kids' homes; and a large share of Canadians are now carrying very high levels of debt.
Now we can add another impact to the list: fewer babies.
A new study from real estate site Zillow, looking at six years of house-price and birth-rate data in the U.S., has found a clear link between rising house prices and a falling pregnancy rate.
That could have meaningful consequences for Canada, particularly the Toronto and Vancouver areas, which have seen rapid house-price growth over the past decade.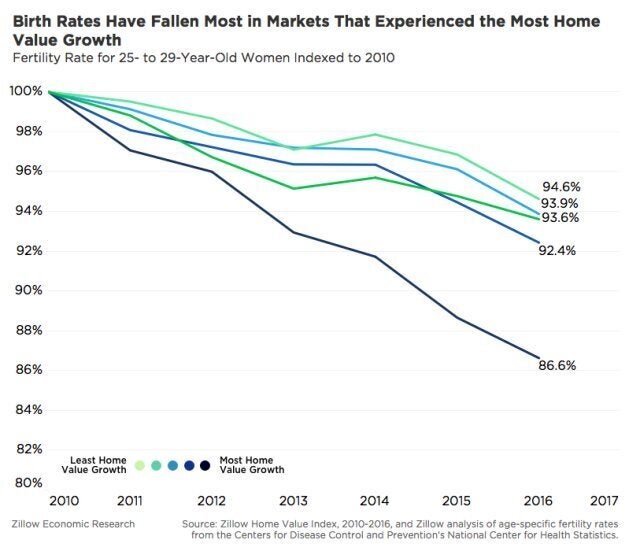 Zillow's model predicts that each additional 10-per-cent increase in house prices will result in a 1.5-per-cent decrease in the birth rate among women aged 25 to 29. (The study looked at that age group because it's the average age range for a first child in the U.S.).
"Raising a child is an expensive proposition, so it is little surprise that the most commonly given reason for delaying childbirth in a recent survey was the desire 'to be financially established' first, cited by 82 percent of respondents," the study noted.
Watch: Why strong economies spell bad news for Canadian mortgage rates (story continues below)
And indeed Statistics Canada's own data on fertility rates suggests something similar may already be happening in Canada as well.
Between 2012 and 2016, Ontario's birth rate fell by 5.8 per cent as house prices climbed in the Greater Toronto Area. By comparison, Quebec, which has seen much milder house price growth, saw a decline of 4.8 per cent, while Alberta's rate declined by 3.8 per cent.
But the outlier here is British Columbia, which, despite seeing rapid house price growth, saw its birth rate decline by only 2 per cent between 2012 and 2016. (It's worth noting, though, that B.C. and Ontario already had among the lowest birth rates in Canada.)
The study notes there are factors other than house prices that determine how many children people are having, not least cultural values and the cost of child care.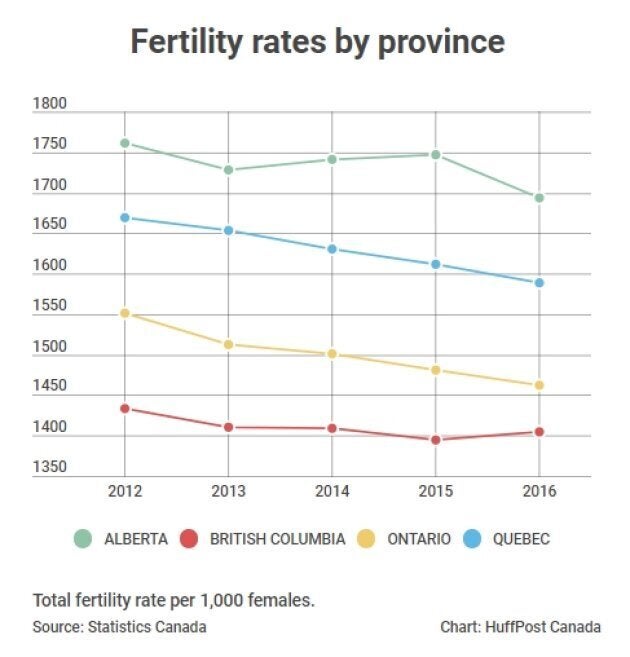 And indeed the Zillow survey notes that correlation in this case doesn't necessarily mean causation — there are a number of factors pulling down the birth rate, and house prices are just one.
"The big question about post-recession birth rates is whether millennials are simply delaying childbirth or actually reducing the total number of births over their lifetimes compared to previous generations," the study authors wrote.
There is evidence to suggest that people are just having children later in life. While the 25-to-29 age range has seen a notable drop in birth rates in recent years, there has been a small uptick in birth rates among women aged 30 to 39. But the overall birth rate in Canada continues to fall, to 1.5 children per woman in 2016, down from 1.6 children per woman in 2012.
The study also suggested another explanation for the birth rate decline — the regions with the highest house price growth also tend to have the highest-skilled, highest-paying jobs. So the people "clustering" in those areas may have enough money to pay for expensive homes, but may not be in their preferred position to have children before 30.
Either way, the data suggests that Toronto, Vancouver and other pricey markets may face a "baby bust" in the coming years. Canada's most dynamic cities may have to become even more dependent on immigration to keep the economy going.
There may be nothing wrong with that, per se, but as we look at the reality that many of Canada's largest cities are failing to create families, we may want to take a closer look at what the age of the million-dollar family home means for Canada's future. Will this still be a good place to raise a family in the coming years?