All the new headwinds facing Canada's homebuyers — from tough new mortgage "stress tests" and foreign buyers' taxes to rising interest rates — haven't stopped house prices from returning to growth.
The latest edition of the Teranet/National Bank house price index shows home prices have recovered from a slump that began in the middle of last year, and are now 2.9 per cent higher than they were a year ago.
Ten of the 11 cities measured by the index showed a rise in prices in June, with Winnipeg prices dropping one per cent during the month.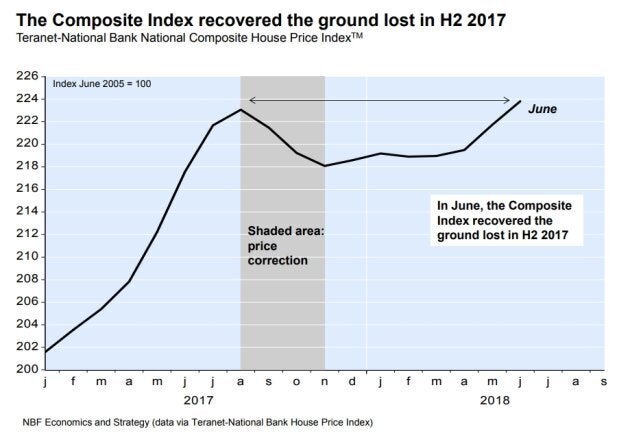 "Does this mean that the Canadian home resale market is about to enter into a new frenzy? No," National Bank economist Marc Pinsonneault wrote in a report accompanying the index Thursday.
"June's rise in the index, impressive at first sight, was in fact weak for this time of the year."
According to an analysis from Capital Economics, if seasonal differences were removed from the numbers, this would be the third-smallest June price hike in the past 14 years.
Watch: How much home can "peak millennials" afford in Canada? (Story continues below)
And not all markets have recovered entirely. The price index for Toronto shows prices there are still 2.8 per cent lower than a year ago, while in nearby Hamilton, prices are down 0.4 per cent on the year.
Vancouver, on the other hand, pulled up the national numbers with a 13.3-per-cent spike in its house price index over the past year.
"However, the market has taken a sharp turn for the worse in Vancouver," Capital Economics' senior Canada economist, Stephen Brown, wrote in a client note.
"Despite edging up in June, the sales-to-new listings ratio is close to its weakest in five years and suggests that house price inflation will plummet towards zero over the second half of 2018."
Pinsonneault noted that there is a large disparity in price growth in different types of housing. Condo prices in Toronto are up 7.8 per cent in a year, despite the overall price decline in that market. In Vancouver, condos are up 16.3 per cent.
Unlike the average sales prices reported by the Canadian Real Estate Association (CREA), the Teranet/National Bank house price index tracks repeat sales of homes over time, creating an "apples-to-apples" comparison of house prices.
CREA's numbers for June pegged the average house price in Canada at $496,000, down 6.4 per cent in a year. But that decline was largely due to fewer high-end homes selling, which dragged down the average price.
CREA's own apples-to-apples index of house prices suggested that comparable prices are up one per cent in the past year.