Canada one of seven countries at risk
Housing downturn could mean 'downward spiral' for economy
Condo boom may be driving up debt
Canada is a world leader in an area it may not want to be — household debt.
A new study from the McKinsey Global Institute finds Canada has seen the second-highest increase in household debt, relative to income, among developed countries since the Great Recession.
That places Canada behind only crisis-plagued Greece on this measurement, which looks at the growth in household debt between 2007 and 2014.
The report identifies Canada as one of seven countries vulnerable to a crisis caused by excessive consumer debt. The others are the Netherlands, South Korea, Sweden, Australia, Malaysia, and Thailand.
"A number of countries in northern Europe, as well as Canada and Australia, now have larger household debt ratios than existed in the United States or the United Kingdom at the peak of the credit bubble," the report said.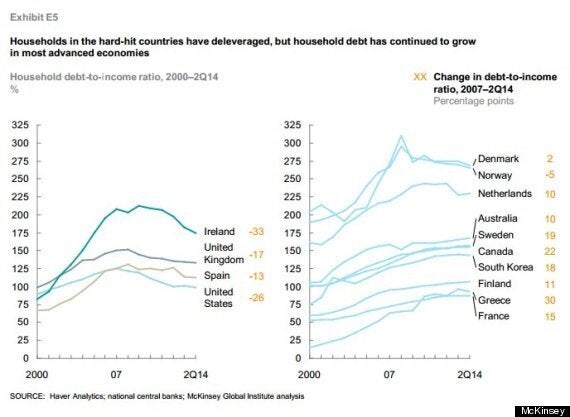 The report found household debt in Canada had risen to 155 per cent of income in 2014, up from 133 per cent seven years earlier. That's a slightly lower estimate than the Bank of Canada's, which estimates household debt at 162.6 per cent of income, a record high.
Only Greece saw a larger increase in household debt since the Great Recession, rising 30 percentage points. The U.S., by comparison, has seen household debt levels decline by 26 percentage points, relative to income, in that time. U.S. household debt levels have been largely falling since the country's housing bubble burst during the last recession.
However, though many countries haven't seen a debt run-up as large as Canada's, they still have considerably larger total household debt burdens. The winners on this front are Denmark and Norway, each with average household debt burdens above 250 per cent.
Large debt loads make economic downturns worse, the report argues, by causing a "downward spiral" of shrinking consumer spending and falling house prices.
"Compared with other households, highly leveraged ones are more sensitive to income shocks as a result of job losses, costly health problems, or increases in debt servicing costs," the report notes.
With oil prices down some 60 per cent over the past half a year, Canada faces the sort of economic headwinds that could trigger a housing market downturn.
But so far, the effect appears limited to the areas directly impacted by falling oil prices. Toronto's housing market has shown no signs of cooling, with prices up 4.9 per cent and sales up 6.1 per cent over the past year. That's despite numerous predictions that the market is headed for a slowdown this year.
But this sort of strong price growth is translating into levels of debt that ratings agencies are calling "unsustainable."
"To safely manage high levels of household debt, more flexible mortgage contracts, clearer personal bankruptcy rules, and stricter lending standards are needed," the McKinsey report urged.
Condo Boom Driving Up Debt?
The report also suggested that the condo boom in Toronto and Vancouver — the two cities in Canada still exhibiting strong price growth — may be linked to Canada's high household debt levels.
"Countries in which a large share of the population crowds into a small number of cities have higher real estate prices — and household debt — than countries with more dispersed urban development," the report says.
"Policy makers will therefore need to be particularly vigilant in monitoring debt growth and sustainability in global cities with high real estate prices."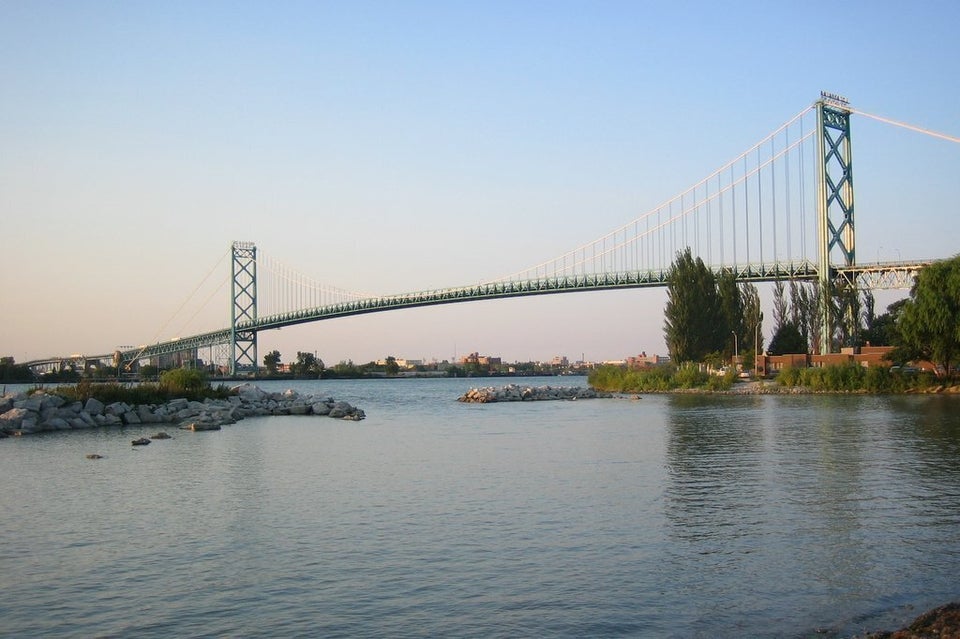 Canada's Most, Least Affordable Housing (2014)
Popular in the Community