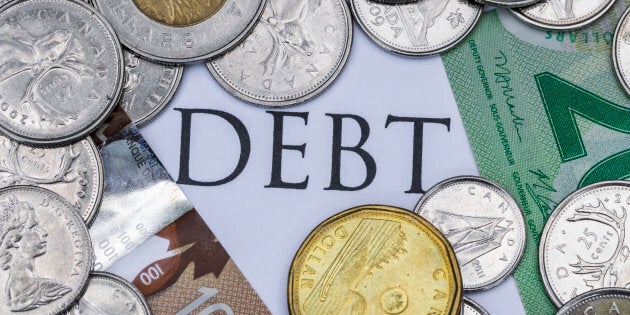 You can't say higher interest rates and tough new mortgage rules aren't having an effect on Canadian consumers.
In a sign that the great Canadian consumer debt frenzy is finally calming down, new Bank of Canada data shows household debt grew by 3.5 per cent over the past year.
While that may seem like a solid pace of growth, it is in fact the slowest debt growth Canadian consumers have seen in 35 years, according to Bank of Montreal chief economist Doug Porter.
Watch: Why strong economies spell bad news for Canadian mortgage borrowers (story continues below)
"The pronounced slowdown in Canadian household debt growth continues unabated, largely due to the cooler housing market (at least in Toronto and Vancouver)," Porter wrote in a client note this week.
The last time Canadians slowed down their borrowing this much, back in 1983, consumers were under pressure from interest rates like they are today. But rates were at much higher levels then, with the Bank of Canada's key lending rate peaking at around 21 per cent in the early 1980s, as the bank fought against persistent inflation in the economy.
Today's interest rates are much lower, but Canadians are carrying much more debt — $1.68 of it for every dollar of disposable income, making Canadians the most indebted people among G7 countries.
New mortgage rules, which shaved an estimated 21 per cent off the maximum mortgage borrowers can take, have also taken a bite out of the debt frenzy.
Mortgage growth in Canada slowed to a 3.2-per-cent pace in October, the weakest in 17 years, according to an analysis of Bank of Canada numbers at Better Dwelling.
The slowdown in credit suggests there won't be much upward pressure on Canadian house prices going forward, and it also suggests policymakers' moves to calm years of runaway housing market growth in some markets have had an effect.
"It took a long time for that vulnerability to accumulate and it's going to take some time for it to diminish."Bank of Canada deputy governor Carolyn Wilkins
The Bank of Canada noted last month that the new mortgage rules enacted at the start of 2018 have made borrowing in Canada less risky.
The share of new mortgages going to "deeply indebted borrowers" fell to 6 per cent in the second quarter of this year, from 20 per cent in late 2016, the BoC found. These are borrowers who have more than 4.5 times their income in debt.
They are considered to be the most at risk in case of a negative shock such as a loss of income or rising interest rates.
"It took a long time for that vulnerability to accumulate and it's going to take some time for it to diminish," bank deputy governor Carolyn Wilkins told reporters last month.
"What we were hoping to see would be a continuing improvement in the quality of the loans because what that does is, over time, put the economy on a more-solid footing to withstand whatever adverse developments that might occur."
Popular in the Community