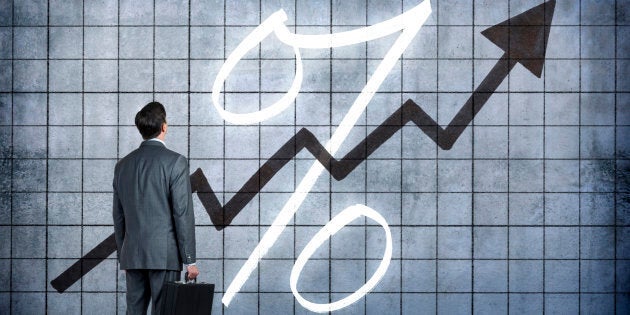 It seems like Canadian homebuyers just can't catch a break.
For years, housing affordability was being eroded by rapidly rising prices in many housing markets. That has come to an end in recent months, with a market slowdown setting in. Home resales were down 13.9 per cent in April, and the average price was 11.9 per cent lower than a year earlier, at $495,000.
For a while, it looked like the bright side of the slowdown would be that housing affordability would finally start to improve. And for a brief moment, it looked like that was happening.
But it was not to be. Because even as house price growth cools down, a new threat has come to stalk Canada's homebuyers: rising mortgage rates.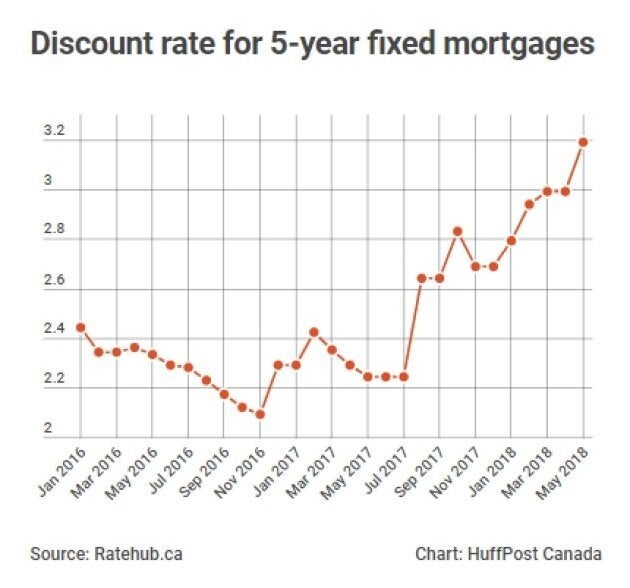 Those higher rates are causing affordability to worsen once again, with the mortgage payment on a representative home rising 1.2 percentage points in the first quarter of 2018, according to the latest housing affordability monitor from National Bank of Canada.
It's eroding particularly quickly in Vancouver, where mortgage payments were up 3.4 percentage points, thanks not only to higher rates but to continuing rising house prices. Mortgage payments were up 1.2 per cent in Toronto.
Watch: Why strong economies spell bad news for Canadian mortgage rates
"Since buyers can hardly lay out a higher share of their income on housing than these two markets already required, a decline of prices is conceivable over the next few quarters if rates rise as we expect," the National Bank economists wrote.
It now takes 80.3 per cent of an average household income to cover the mortgage on a representative home in Vancouver. In Toronto, it's 68.4 per cent.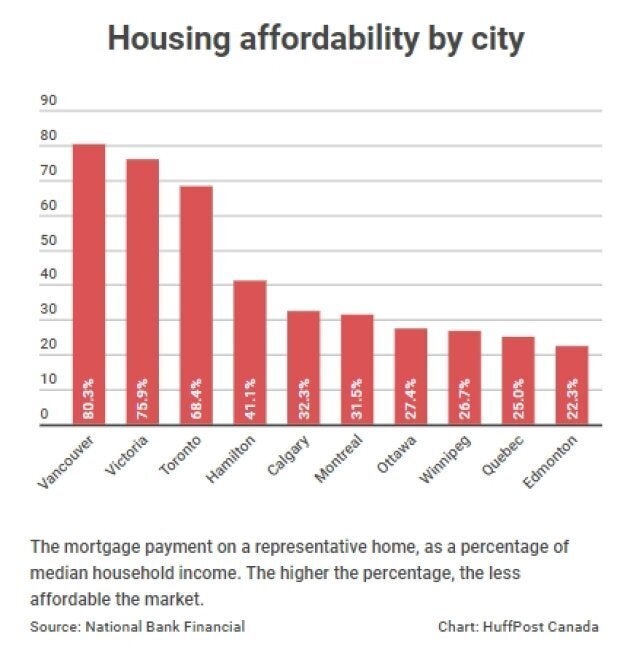 "Higher longer-term interest rates are creating a new environment in the Canadian mortgage market," Bank of Montreal senior economist Robert Kavcic wrote in a client note Thursday.
For the first time in 10 years, homeowners coming off five-year mortgage terms are seeing higher rates when they renew, Kavcic noted.
And that could change everything in the market. For years, lower mortgage costs were part of what drove the housing market upward. Homeowners renewing mortgages at lower rates were able to save more money and upgrade to a larger home more quickly than they would otherwise have been able to. That was part of what pushed up house prices in Canada in recent years.
With mortgages now becoming more expensive at renewal time, that trend could end.
If mortgage rates stay where they are, Kavcic estimates those renewing in the next few years will face a 0.5 percentage point increase to their mortgage rates — hardly enough to break most households' budgets.
But if five-year fixed-rate mortgage rates were to rise to around 4 per cent (entirely conceivable, if the Bank of Canada keeps hiking its key lending rate), it would mean a full percentage point hike at mortgage renewal time.
That would add $200 a month to the mortgage costs on a $500,000 property, Kavcic estimated.
"This is not a huge hit that will debilitate the economy, but it's clear that a decade of persistent mortgage renewal windfalls is behind us," he wrote.
But there may be some relief, at least for those willing to take on a variable-rate mortgage.
Faced with a decline in new mortgages since the "stress test" went into effect this year, lenders are now engaging in a mortgage war in the variable-rate market.
"Homeowners could be tempted to renew variable in order to counter otherwise higher monthly payments," Kavcic noted.
But in times of rising interest rates, variable-rate mortgages can be risky — borrowers could face considerably higher costs if interest rates were to rise significantly.
That may be one of the reasons banks are pushing them so aggressively these days — in effect, they offload the risk of rising interest rates from the lender to the borrower. In an age of rising interest rates, variable-rate mortgages could prove to be a trap.
So be careful out there in mortgage land. The temptation to go for the lowest rate is strong, but the reality is there may be no escaping higher borrowing costs ahead. Plan accordingly.