All the recent housing policy changes have slowed down home sales across Canada, but they've done virtually nothing, at least so far, to help affordability.
After improving slightly in the final three months of last year, home affordability worsened once again at the start of this year, according to Royal Bank of Canada, with housing costs hitting a "multi-decade high."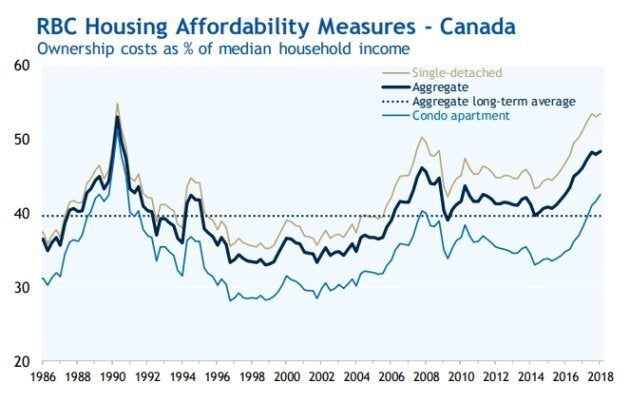 And it could worsen yet again next week, when the Bank of Canada is widely expected to raise interest rates for the fourth time in a year.
RBC's latest housing affordability report shows it now takes nearly half of an average pre-tax income -- 48.4 per cent -- to afford an average home in Canada. The increase in housing costs in the first quarter more than wiped out the improvement seen in the three months before.
The winning streak for housing affordability in Canada ended ... at just one quarter!RBC economists Craig Wright and Robert Hogue
In Vancouver, home ownership costs hit their highest level on record, yet again; it takes 87.8 per cent of an average income to afford an average home, which RBC describes as "crisis levels."
Things are only slightly better in Toronto (74.2 per cent) but the Toronto area was just one of two cities, along with Winnipeg, to see an improvement in affordability in the first quarter of this year.
"The main reason was that home prices fell enough in both markets to counteract the effect of higher interest rates," the report said.
In Vancouver, a rebound in house prices added to the pressure of rising interest rates, RBC noted.
But outside those two cities, "the weight of ownership costs generally remains in line with historical norms," the economists wrote.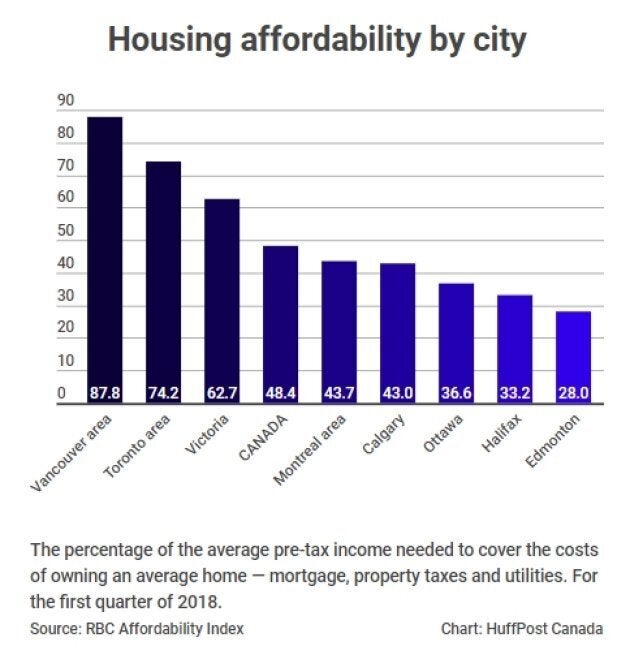 The RBC report comes as the Bank of Canada prepares for an interest rate decision next week. According to rate analysts at CIBC, the markets are pricing in a 90-per-cent chance that the central bank will raise interest rates next week, the fourth rate hike since July of last year.
A Bank of Canada rate hike would mean immediate mortgage rate increases on variable-rate mortgages, as well as on a number of other types of loans, including home equity lines of credit.
"The prospect of more interest rate hikes in the period ahead poses material risk of further affordability erosion in Canada," RBC said.
"The odds of this ultimately occurring will also depend on the degree to which household income increases."