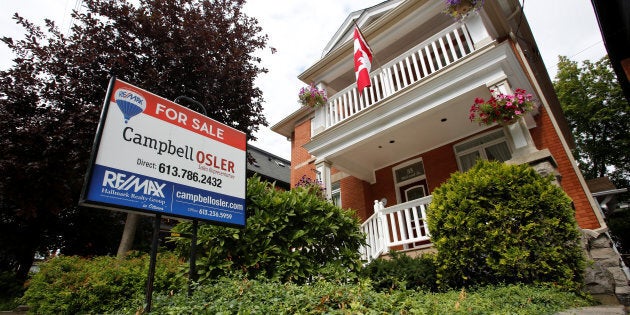 Good news, stressed-out, would-be homebuyers: You may not have to give up on your dream of owning a home in one of Canada's pricey cities just yet.
For the first time in nearly three years, housing affordability in Canada is actually improving.
The National Bank of Canada's home affordability measure fell 0.2 points in the fourth quarter of 2017, meaning that an average mortgage on a representative home was slightly cheaper than it was a quarter earlier.
That's the first time that has happened since the second quarter of 2015, the bank said in a client note Thursday.
Watch: $750,000 Toronto house just needs a little TLC
It's largely thanks to two phenomena:
"The countrywide fourth-quarter wage growth of 5.7 per cent annualized was the strongest in more than three years," National Bank economists Matthieu Arseneau and Kyle Dahms wrote.
They say this strong wage growth is going to have to keep going to keep affordability stable, because other factors are pushing housing costs upwards — namely, rising interest rates that have led to rising mortgage rates.
Mortgage rates have risen about 0.58 percentage points since the middle of 2017, Arseneau and Dahms said.
What's Going On In Housing?

Our weekly newsletter delivers the news and analysis you need on Canada's housing market. Sign up below and don't miss an issue.
"The most expensive markets such as Toronto and Vancouver are the most sensitive to interest rate hikes," they wrote.
"In Toronto, the rate rise combined with the tax on foreign purchases seems to have suppressed demand. Prices were down in Q4 and are likely to continue falling in 2018."
Vancouver, they say, is "another story." The city is less affordable today than at any other point since the early 1980s, having recovered solidly from the introduction of a foreign buyers' tax in 2016.
But the new provincial budget, tabled this week, increased the foreign buyers' tax to 20 per cent from 15 per cent, and introduced a speculators' tax on properties owned by people who don't live in British Columbia, assessed at two per cent of the home's value.
The National Bank economists say that "is likely to lower prices in the Vancouver market in 2018."
In other words, both Toronto and Vancouver have a good chance of becoming more affordable this year, assuming wages continue to grow.
And that may be the best news prospective homebuyers have gotten in quite a long time.
Popular in the Community