Federal and provincial governments have taken action to slow down the overheated housing markets around Toronto and Vancouver, but they may want to be careful not to overdo it.
That's because the housing boom was pretty much the only thing holding up Canada's economy in February.
The latest data from Statistics Canada shows the economy didn't grow at all that month, with GDP coming in flat. That's no surprise to economists, who had been expecting a bit of a slowdown after several months of expectations-beating growth. Many wrote in their client notes Friday that the economy is just "taking a breather."
But virtually all of the strength in February's numbers comes from industries related to the housing boom — construction, finance and insurance, and real estate. Had it not been for strength in those areas, the economy would have shrunk in February.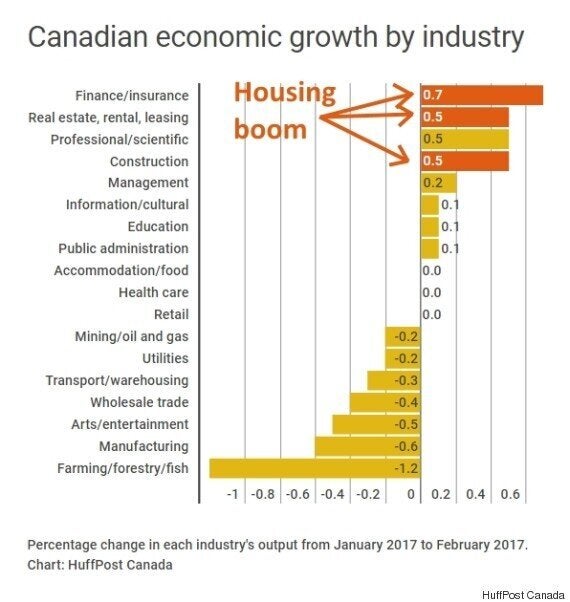 "Housing starts have had a remarkable recent run," CIBC economist Nick Exarhos wrote in a client note. "Residential investment is now poised to be a modest lift to GDP this year, from a drag we had forecast earlier on."
Meanwhile, overall business investment has been in the dumps since the oil price collapse began in 2014 — a key reason why the Bank of Canada remains worried about Canada's economic growth going forward. Business investment is the key driver of job growth.
A report last year from the International Institute for Sustainable Development urged Canada to reduce its reliance on both housing and oil, arguing the industries have put the economy on a "roller coaster."
The oil and gas sector has bounced back from its lows over the past year, with output up 6.4 per cent over the past year. But this sector was a drag on growth in February, declining 0.2 per cent.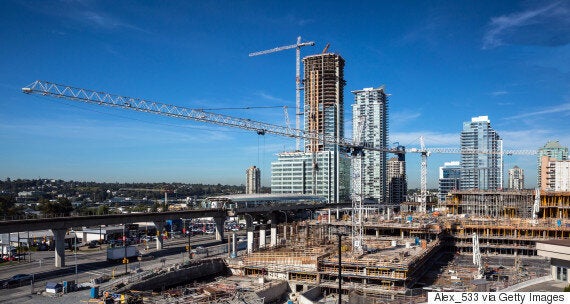 David Madani of Capital Economics noted that the Bank of Canada is concerned about the lack of balance in the country's economic growth.
"Until export-led growth backed up by business investment take over as the main growth drivers, policymakers will likely keep interest rates low," he wrote Friday.
Still, Canada's economy is likely to put in a strong showing for the first quarter of 2017 as a whole — thanks to very rapid growth at the end of last year and the start of this year.
"Even if March also comes in flat, growth in Q1 will register a hot 4-per-cent pace," Exarhos wrote.