Out of the frying pan, into the fire.
Just as Canada's economy is set to begin recovering from the oil crash, Capital Economics predicts it will be hit by a downturn in the housing market.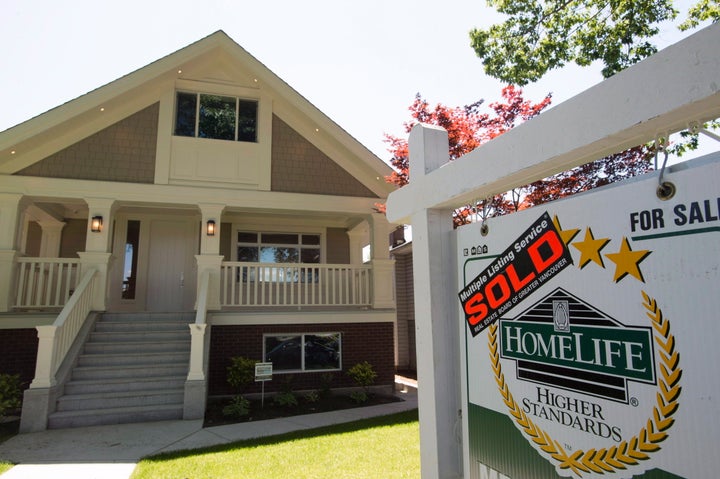 "Our bigger concern now is that the housing bubble will burst before the year is out," economists Paul Ashworth and David Madani wrote.
Canada's economy has been held down by a collapse in business investment — the key driver of job growth — primarily because of the collapse in oil prices.
Like some other forecasts, Capital Economics sees this investment slump coming to an end starting in the second half of this year. But just as business investment picks up, the country is likely to be walloped by a slide in house prices, the London, U.K.-based economic consultancy predicts.
House prices have been driven up not so much by foreign investors, but by low interest rates that have sent the amount of mortgage debt, relative to household incomes, to "ridiculous levels," the economists wrote.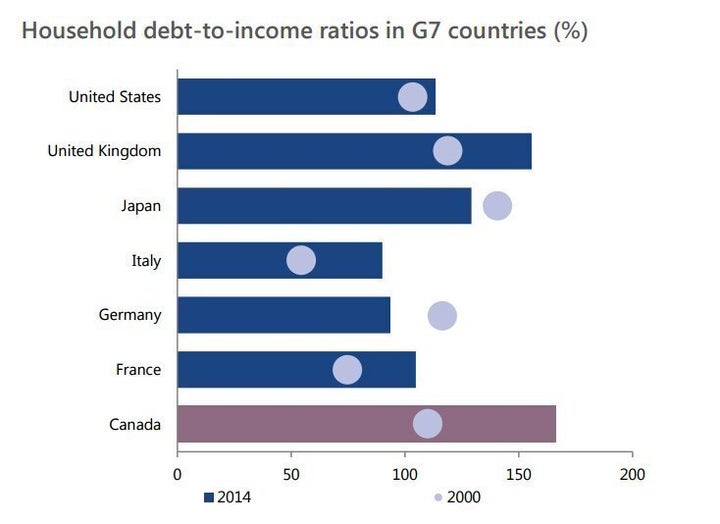 On household debt, Canada has gone from being middle of the pack to leading the G7. (Chart: PBO)
A downturn in the housing market would likely have a much bigger impact on Canada than a downturn in oil prices, because real estate and construction are a much larger part of the economy than oil -- and these industries have even outgrown oil since the start of the century.
According to Statistics Canada data, real estate and construction together account for 20 per cent of Canada's economy today, up from 17 per cent in 2000. Oil and gas extraction, meanwhile, accounts for 6 per cent of the economy today as it did back in 2000.
"When the bubble bursts, residential investment will fall sharply, as falling home sales hit real estate commissions and new construction," Capital Economics wrote.
But with house prices up 36 per cent in the past year in Vancouver and 16 per cent in Toronto, many other market observers are joining Capital Economics in its pessimistic assessments for Canadian residential real estate.
"When the bubble bursts, residential investment will fall sharply, as falling home sales hit real estate commissions and new construction."

— Capital Economics
The Bank of Montreal noted in a report earlier this month that mortgages continue to grow faster than household incomes, and it warned indirectly that home prices may be getting distorted by house flippers.
Canada's banking regulator, OSFI, made a telling move this week when it required Canada's smaller banks to "stress-test" their ability to survive a 50-per-cent decline in Vancouver house prices, and a 40-per-cent decline in Toronto house prices.
Capital Economics predicts the housing downturn will prompt the Bank of Canada to cut its key lending rate to 0.25 per cent next year, from 0.5 per cent.
The report sees Canada's economy growing 1.1 per cent this year and 1.1 per cent next year, a considerably lower forecast for 2017 than most others. Bank of Montreal, by contrast, is calling for 2 per cent economic growth next year.
CORRECTION: A previous version of this story included a photo that incorrectly identified Julie Dickson as the current Superintendent of Financial Institutions. In fact, Jeremy Rudin holds that position after Dickson's term ended in 2014.