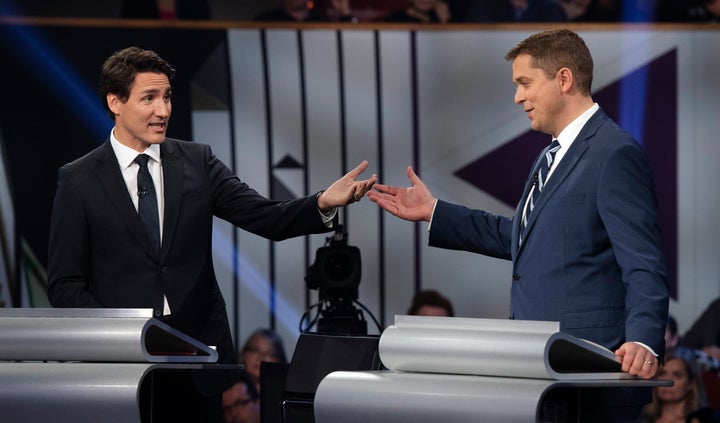 TORONTO ― Canada's largest political parties have signalled a significant shift in policies that, if implemented, will make the housing market riskier ― and a minority government is likely to be no help.
That's the key takeaway in a new report from Capital Economics, which estimates the campaign promises made by the Liberals and Conservatives would do little to address affordability, and would both result in higher house prices ― though the effect would be minimal.
But more worryingly, if these ideas prove popular, it could mean further waves of rule loosening that "could boost (economic) growth in the short term, (but) would make the economy even more vulnerable to a negative shock," wrote Capital's senior Canada economist, Stephen Brown.
Watch: The best places in Canada to buy a house for 2019. Story continues below.
And a minority government scenario ― which looks like a distinct possibility in recent polling ― might not stop governments from implementing risky policies, Brown argues. The last time Canada had a minority government, questionable lending practices exploded.
"The last blitz of looser lending restrictions, when the maximum term on insured mortgages was raised from 25 to 30, to 35 and then to 40 years within just nine months, occurred within the first 10 months of Canada's smallest ever minority government in 2006," Brown wrote.
"The shock of the global financial crisis caused an abrupt turn and lending restrictions have been gradually tightened since 2008. But household debt has continued to increase and, if this election does mark the start of a pronounced shift in attitudes toward lending restrictions, it will rise further."
Brown estimates the Liberal proposal to extend the still-new First-Time Homebuyer Incentive will mean that the average homebuyer in Canada will be able to afford 0.5 per cent more for a house than before, while the Conservatives' proposal to extend insured mortgages to a maximum of 30 years from 25 would boost purchasing power by 1.8 per cent.
Supply vs. demand
Both the Liberal and Conservative policies are positive for people currently looking to buy a house, by reducing their monthly payments. But affordability will likely be worse for those home-buyers who come later, Brown said.
"If you don't increase supply, house prices will rise to reflect the supply and demand situation," Brown said, noting that "both parties are focused on the demand side of the equation" right now.
By contrast, the NDP has focused on the "supply side" of the issue, and has promised the construction of 500,000 affordable rental housing units, starting with a $5-billion investment in the first 18 months of its program.
But another NDP proposal ― a rent relief supplement of $5,000 per year for low income households ― has come in for criticism, with some saying it could drive up rental rates.
Popular in the Community