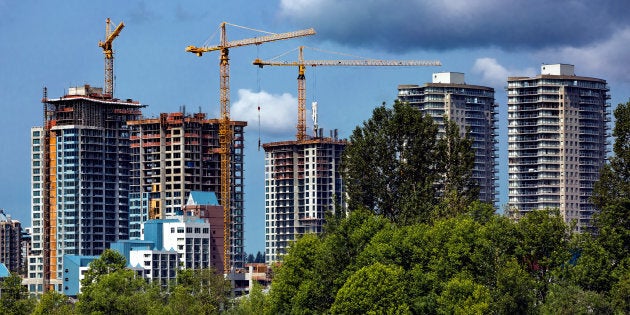 Canada's housing market slowdown, which began with a drop in sales, is now spreading to home construction.
Housing starts in Canada have fallen steeply in recent months as the country's developers react to a slowdown sales brought on by rising interest rates, tough new mortgage rules and historically poor levels of home affordability.
But the timing is wrong: Population growth has accelerated, and we may now not be seeing enough construction to keep up with demand.
The number of new housing starts fell to an annual rate of 188,700 in September, according to data released Tuesday by Canada Mortgage and Housing Corp. That's the lowest in nearly two years and a drop of 23 per cent since June, when the country clocked a rate of 245,000 housing starts, annualized.
"The slowdown in building has coincided with moves toward more restrictive mortgage rules and higher interest rates," CIBC economist Royce Mendes wrote in a client note.
The decline was led by steep drops in British Columbia and Alberta, where home construction starts have dropped by 43.3 per cent and 34.8 per cent, respectively. Central Canada bucked the trend, with housing starts up 21.3 per cent and 15.4 per cent respectively.
While it's common for this data to swing wildly from month to month, this slowdown comes as Canada's population is accelerating.
Recent estimates from Statistics Canada show the country's population grew by more than 518,000 over the past year, to 37.1 million. That's the fastest rate Canada has seen since the late 1980s, and the fastest rate of any G7 country.
"A level of 200,000 units should be viewed almost as a floor" for the number of homes Canada needs to build in a year, economists Doug Porter and Robert Kavcic wrote.
In other words, the current pace of 188,000 is below the levels needed. That could put renewed upward pressure on house prices and worsen housing affordability even further.
"The real challenge in the housing market will be supply rather than demand," Toronto Real Estate Board (TREB) president Garry Bhaura said in a statement last week.
Like many others in the industry, TREB is pushing for governments to loosen restrictions on home development, including faster building permit approvals and allowing for densification in low-rise neighbourhoods.
But in the short run, the slowdown in construction could continue. CIBC's Mendes predicts the impact of higher interest rates and tighter mortgage rules isn't going away for now.
"As these forces continue to weigh on the housing market, we see residential investment turning from a boost to a drag on (economic growth) in 2019," he wrote.
Popular in the Community