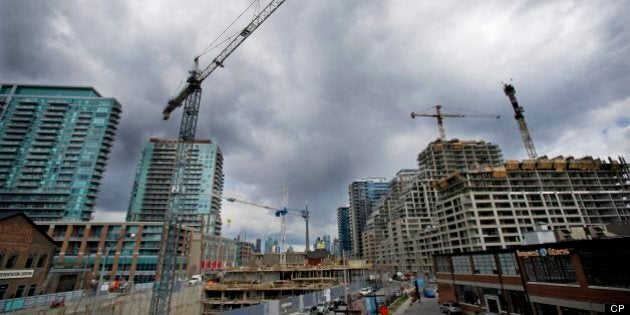 A large and unexpected jump in the number of housing starts across Canada in May has some worried about overbuilding in the housing market.
Housing starts ran at an annualized, seasonally adjusted pace of 200,178 in May, a sharp increase from the 175,000 rate seen in April, and a much larger increase than analysts had been forecasting.
That means Canada's economy is more vulnerable to a real estate slowdown than it otherwise would have been, CIBC chief economist Avery Shenfeld said.
Condo starts jumped 22.2 per cent in the month, while single family home construction grew at a much more modest three per cent.
Few expect the torrid pace of construction hiring and building starts to continue.
"May's sharp jump in the pace of new home construction is unlikely to be sustained. Indeed, slower price growth in the housing market could lead to lower homebuilding activity in the coming quarters," said economist Dina Ignjatovic, of TD Economics.
But Robert Kavcic, economist at BMO Capital Markets, argues the growing numbers show Canada's housing market has experienced a "soft landing" from a decade of rapid price growth, and is now returning to levels more in line with economic fundamentals.
"While the May tally could well provoke the bubble mongers, note that the six-month average now sits just below 183,000, consistent with underlying demographic demand," he wrote.