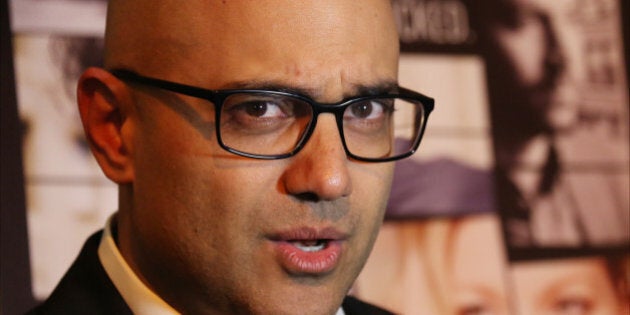 I wouldn't call myself a blogger.
In fact, as this is for Huffington Post, I'd have to say this is in fact my first REAL blog. I'd always had the opinion that they were a lot of work for a handful of views on my Facebook page. A blog is it just another self-serving, space/time eater in the digital haze that my life has become so I avoid them like the plague.
BUT... one day back in late 2012, this article from broadway.com, presented in a first person blog-like entry by novelist, actor, playwright and screenwriter Ayad Akhtar caught my attention.
I had spent the near part of a decade touring around Canada (with a few international stops in the UK and Off Broadway) with a show of mine called Hamlet (solo) (see the trailer here) so I was drawn to the headline alone. How did Hamlet inspire a Pakistani American artist (I'm of a South Asian/Irish background myself) to create a great role for one of the more known Indo American actors out there Aasif Mandvi
In hindsight one of the drivers to create a solo Hamlet was a response to the feeling that not only were the odds of me playing "The Dane" stacked because so few actors get to play the part, but also as a guy with the last name BHANEJA, the odds were even worse. In the intervening years I was in fact right, as few if any actors of colour played Hamlet on any of our major stages, which though unfortunate is not a surprise.
As I pored over the article I was struck by Ayad's keen understanding that there were almost no roles for a forty year old, mid career actor of South Asian origin, particularly one that did not call for an Indian accent and was a cool, hip and affluent member of society. On top of that it was NOT a Doctor named "RAJ" (that is probably the most common characteristic I've seen in my years of auditions in Toronto and Hollywood).
My wife Birgitte Solem and I flew down to New York to see the show at The Lincoln Centre where there was a growing "buzz" about the show. The buzz was not just in regards to the great central role of Amir, but all the roles and in fact the whole story in a strong production. In fact Birgitte plays the complex role of Emily in our production, a skilled visual artist and partner of Amir.
Our company Hope and Hell Theatre was soon to embark on a large co production of a musical I had written called Life, Death and The Blueswhich ended up on a sixteen month, six city tour of Canada but we knew, after sitting in the audience that night we had to find a way to do our own production in Toronto.
Ayad reminds me a bit of my father. His bald head and glasses give the picture of a quiet academic but underneath rages a fierce intellect, evident not only in his writing but in his interactions. Considering we were total strangers, he was gracious enough to not only meet up after the performance but offer to help in anyway he could to get our production on it's feet. The only problem was, even though he was the playwright, he ultimately didn't control the rights as the play had been acquired by the ARACA Group a company that has produced some of the biggest shows Broadway has seen in the last twenty years. That meant we were going to have to speak to them before anyone else.
I also asked him another important question. Granted there we so many parts of the Amir character I felt I could relate to there was one glaring issue. The character wrestles with his Pakistani/Indo American identity in a post 9/11 world in a way I found articulate and complex but when it came to Islam, I was raised somewhere between Atheist/Hindu and part time Catholic. I am not Muslim. He considered the question for a moment and then said, "What's important is that you understand the character and that you can do the part."
With that we began the long journey of not only acquiring the rights, which actually took over 30 months as we all waited for the Broadway run to get off the ground, but also finding the right partner to help present the Toronto premiere. We had never produced a project of this scale on our own and eventually we landed at the largest commercial theatre producer in Canada, Mirvish Productions, which at first glance may seem an unlikely partner for a straight play wrestling with everything from Islamophobia and anti-semitism to cultural appropriation and the state of contemporary art.
We found however a partner that would achieve two of our major goals, artistic freedom along and access to a huge theatre going audience. What we knew from the start is that we needed as many people as possible to see this production. While it is set in New York in late 2011 the play is as much about Toronto in mid 2016 as it was on the first night we saw it. In fact using Donald Trump and Republican Primaries as bell weather this play has seemingly become more and more relevant each day. Even our own federal election campaign seemed to open the door to a kind of permissible hatred of the "other" and one that specifically targeted Muslims around the discussion of the Niqab and Syrian Refugees.
As I write this, sitting five stories above King Street West in our downtown rehearsal hall, I think back to that moment I "clicked" and was let into the world and mind of Ayad Akhtar. Since that night we chatted in New York a few years ago his play Disgraced was not only nominated for a Tony Award but also won the Pulitzer Prize in 2013 and this season will be the most produced play in America. It has achieved a critical and box office success that very few plays ever reach and it's had a significant impact on our lives. Years of fundraising, planning, designing, negotiating, casting and now finally rehearsing have all come about because someone sat down in front of their laptop, like I am now and shared their "first person" experience.
I guess look for a future blog entry from me but in the meantime come see this extraordinary play, Disgraced, which begins performances April 3rd at The Panasonic Theatre in Toronto.
Maybe I am getting the hang of this...