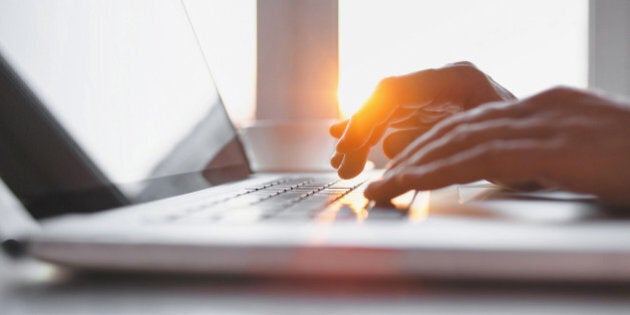 Two years ago today, an article I wrote on a whim was published on Huff Post Living Canada. It was an open letter to my fellow Canadians, a plea, asking for tolerance for my Muslim children in the wake of the Ottawa shooting.
Nearly 800 comments and over 23,000 Facebook 'likes' within a few days. Not what I was expecting. But I guess when you write the word 'Muslim' in the title, you get a bit of a response. (And I can thank the editorial team for that one).
This article flung me onto a totally unplanned path. I had only intended to have my say, to remind Canadians that we 'know better' than to judge an entire group of people based on the actions of a small few. And then I thought I was done. Until I received an email from CBC Radio asking for an interview on the Rick Cluff show the next morning.
OK, I thought. I'll do this one more thing. And then after the interview I received an invitation to speak at a Unitarian church.
And when that speaking engagement was done, there was an invitation to speak at another church.
Next thing I knew, less than a year after that talk I was standing on stage at the Today's Modern Women of Faith celebration of International Women's Day, encouraging other women to join me in co-creating a world in which our children can be healthy, happy and safe.
Since then I've continued to write with the intent to build bridges. It's what I've morphed into when I wasn't looking: a storytelling-bridge-builder of sorts.
I didn't mean for any of that to happen but I am so grateful I didn't resist what is obviously so needed.
I'm speaking up for our children, yours and mine. I don't care what religion you follow or even if you follow one at all. I do care that we come together in that common space of being human, that ground that is so much greater than our perceived differences.
I care that we meet there and work from there to teach our children to appreciate diversity and humanity. To foster their inherent empathy and to remind ourselves of the common thread that weaves through us.
Along this journey I have met other like-minded people; it's been inspiring and refreshing. I've come a long way from feeling alone in my hopes for the next generations, and I'm definitely taking each step with more conviction and purpose.
Two years ago, I sat on my couch and typed out an emotional letter, rather quickly, and submitted it to Huff Post Living Canada without any clue of what today would look like. I'm exhilarated by the idea of what the coming years will bring.
I look forward to connecting with more individuals and groups, augmenting existing programs and creating whatever is needed, sharing stories that help you see yourself in people you have never met, and doing what I can to smash this concept of 'other' - our greatest obstacle in building a more harmonious world.
I'd like to thank everyone who has given me an opportunity to share my words on the page and on the stage; you are part of this movement, too, and I'm honoured to work with you.
Follow HuffPost Canada Blogs on Facebook
Popular in the Community