 Alex Pauk has been for decades a strenuous supporter of new music in Canada, and for 30 years has been the conductor of Toronto's Esprit Orchestra, Canada's premiere ensemble for the performing of new music. Strenuous indeed, as the beads of sweat dripping from his face after last month's Esprit concert attest. His is a very physical conductor, having studied baton technique in Tokyo's Toho Gakuen School of Music, and he is passionate about the commissioning and performing of new works for the orchestra.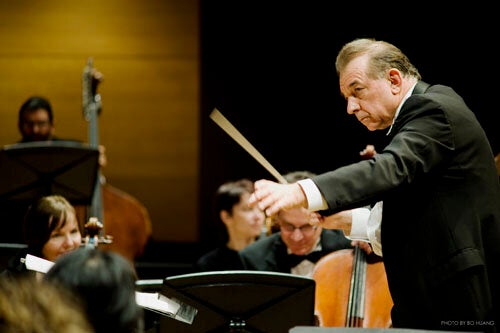 He had his start in new music as the founder of Array Music, a performing and composing group active in Toronto, which at first began to meet in his apartment. He soon had the ambition to start a new music orchestra. Through a stroke of good luck, Pauk's partner Alexina Louie sat beside an executive of Suncor, the oil company, at a gala event.
The Suncor executive was reflecting about his company's charitable giving; they were concerned they were not able to directly fund the creation of new works by artists. Louie immediately recommended he talk to Pauk, who convinced the executive that funding a new orchestra that would commission music was the best way to go. Armed with seed money from Suncor, Pauk launched Esprit, and for the last 30 years the orchestra has been commissioning and performing new works by Canadian composers.
I asked Pauk what was distinctive about Canadian music. "What is distinctive about Canadian music is that there is a sense of artistic freedom here," Pauk said, "Canadian music composition is not weighed down by centuries of history and slotted into certain pervasive schools of thought, such as in Europe where you have the Boulez school or the Stockhausen school."
Another distinctive element of Canadian music, according to Pauk, is that composers tend to blend diverse stylistic elements as desired or needed, everything from Romantic to minimalist -- and everything in between.
When he first started out, he chose his repertoire from an unlikely source: a score sale at a music store in Vancouver: "I went to Ward's music," says Pauk, "and they had all these oversized scores in the back that weren't selling. Of course they were scores by the likes of Stockhausen, which were simply being sold, especially not next to the scores of Beethoven and Mozart that were on sale in the front of the store. So the store owner sold all these great scores to me for next to nothing, and those were the scores I began to perform." Today, about 75 per cent of the works he performs with the orchestra are Canadian, and many of them are world premieres of music he has commissioned.
He chooses his repertoire for the orchestra by exposing himself to all kinds of new music, and he also receives scores in the mail and has musical relationships with composers, and those friendships sometimes stretch to decades. "There are certain composers, such as John Rea and Chris Paul Harman who I have such a long musical relationship with that I have seen their music mature over thirty years, from when they were just young composers to now when they are the established leaders of Canadian music."
With new music, it can be an intense process, which sometimes includes a mad dash to the concert. "There is a work I am performing in concert in two weeks, and I just received the final score from the composer today by email. By tomorrow I should have a printed copy on my desk, and then we have to rehearse it with the orchestra. But once a score comes in, there is an intensity and energy that comes forth," says Pauk.
One of the bright young stars of Canadian music is composer Zosha Di Castri, whose work Pauk will conduct in Esprit's March 28, 2013 concert. When he first heard her music, he thought something really remarkable was happening in her work, so he immediately programmed an orchestral work of hers. Since her Esprit performance, Di Casti has been chosen by the music publisher Boosey and Hawkes for their New Voices program, which is a collaboration with Michael Tilson Thomas to nurture new musical voices. The New Voices program will commission two new works from Di Castri, to be performed by the San Francisco Symphony.
Pauk's affinity for composition carries over into his choice of repertoire for concerts. "Every concert, and even every season, I view as compositions on to themselves. There is a certain ebb and flow to the pieces I choose for each concert, and the concerts often have themes. The last concert, the Tuning of the World, had an R. Murray Schafer piece that related to sound ecology, an Alexina Louie piece that related to the cosmos and a Iannis Xenakis work that related to whale sounds."
The Esprit Orchestra's next concert, on Nov 18 2012, will feature four works. The first is a work commissioned by Esprit and written by composer Chris Paul Harman, entitled Cilla, which is based on the 1960's pop star Cilla Black's music. Harman's composition superimposes Black's music, which will be played over a stereo system, with orchestral music.
There is also a newly commissioned work by Bruce Mather, which is a microtonal piece. Performing the work there will be a group of five instruments which will be microtonally tuned, meaning the notes they play will be tuned to be in between the standard tones you hear in music. These five instrumentalists will be accompanied by the rest of the orchestra which will be tuned in the traditional manner. It is a compositional concept the Mather has honed for years
The showpiece of the next concert will be a composition by Pauk entitled Musiques immergées. It is made up of three components: recordings of nature, including water, birds, fire and other natural phenomena; an electro-acoustic track made up of an assortment of artificially created sounds; and music that the orchestra will perform live.
These three audio streams will move in and out during the course of the work, so that one emerges and another disappears, hence the title Musiques immergées. Alongside the music, there will be projections of photos by the photographer Edward Burtynsky. Says Pauk:
"Over the years I have been interested in Burtynsky's work, which looks at humanity's relationship to nature," says Pauk. "So when I was putting together this work that related to natural sound as well as human produced sounds, I thought Burtynsky's work was a great fit.

We approached Burtynsky's staff about collaborating, and they said they didn't just want it to be a slide show, so they recommended we bring in the experimental film maker John Price. Price took Burtynsky's work, along with some of his own film and produced the visual element you will see on the screens as the music plays."
The last piece on the next concert's repertoire will be Concerto For Flute and Orchestra by Marc-Andre Dalvabie, performed by soloist Robert Aitken, Canada's legendary flutist of contemporary music.
Does Pauk have any advice for aspiring conductors? "I say go out and get some friends together who are musicians and just conduct a work. There are many academic training programs as well, and another way in is to go and watch performances. Today there are so many performances you can watch online, it is a great gift. But most of all, get some friends together and conduct whatever you can, that is the best experience you can have to start."
Esprit Orchestra's next concert is entitled "Exquisite Vibrations" and will take place Sunday Nov 18, 2012, at Koerner Hall in Toronto, Canada. For more information or to order tickets, please visit http://www.espritorchestra.com/