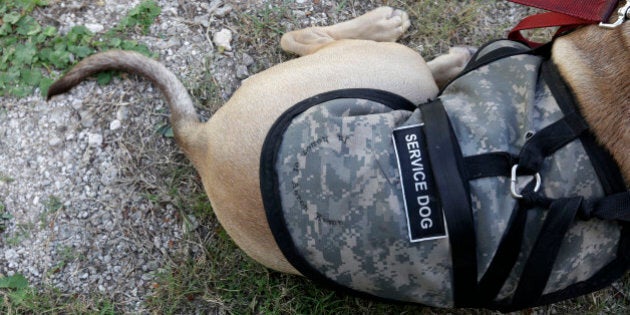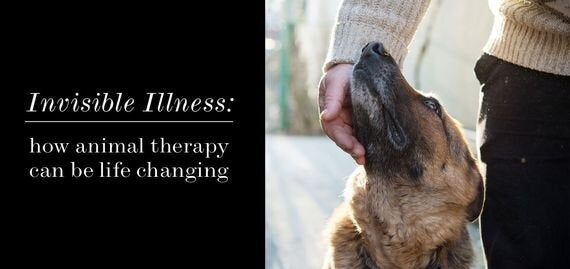 "I've had veterans who have called me and said, 'I just wanted to let you know my dog just saved my life. I had my gun out. I was going to end my life, and my dog got between me and my gun, so I'm still here'."
It's calls like this one, from a veteran suffering from Post-Traumatic Stress Disorder (PTSD), that make Elizabeth Baker's job as director of the Thames Centre Service Dogs impossibly gratifying. "The rewards are infinite," she says.
Baker's centre provides dog services for people with varying medical issues, particularly those suffering from psychiatric disorders.
While physical disabilities like blindness more obviously demonstrate the need for a service dog, the animals can be trained to serve a host of people with invisible illnesses as well.
These service dogs learn how to respond to mental health issues including PTSD and social anxiety; detect silent conditions like irregular heartbeats or blood sugar levels; and provide emotional support for victims of sexual abuse.
However, given that many of these conditions do not have the characteristics of a physical disability, owners are sometimes left feeling discriminated against (Get Leashed Magazine readers may already be familiar with Diane's story).
In 2014, Alberta soldier, Sgt. Shirley Jew, was asked to pay the pet fee upon boarding an Air Canada flight with her pug-schnauzer-terrier. An airline staff member told Jew that her condition, PTSD, was not counted among its disabilities requiring a service dog.
"I never thought I would be treated like a third-class citizen like I was with them. It was a slap in the face," Jew told the Canadian Press. She boarded a different flight for her trip.
Air Canada later refunded Jew's ticket and issued a statement in apology for what they called a "misunderstanding."
Capt. Jason Haag, a U.S. Marine Corps veteran, experienced a similar incident in 2015 with his dog, Axel. Haag, his wife, and Axel were trying to board an American Airlines flight to return home after attending the 2015 American Humane Association Hero Dog Awards, where Axel won the top prize in the service dog category.
Despite the fact that Haag had registered his dog with the airline's disabilities department and had no issues on the flight to Los Angeles, his dog was denied boarding on the way back and the trio were stranded for another night.
The airline questioned the veteran's medical needs. Haag told ABC News that an airline representative's first question to him was "Is that a real service dog?"
"He can take me out of anxiety attacks, he can pull me out of flashbacks...my dog is my lifeline," Haag told ABC News.
And it's a feeling shared by many, Baker said.
"The dog also negates the need for first responders to have to respond when someone who's having a PTSD break or social anxiety disassociate episode...because the rescue's already right there," Baker explained.
People may also be tempted to judge service dogs by the cookie-cutter idea of their size and breed, but not all service dogs are large black Labradors.
Baker explains that certain breeds cater towards specific needs. Large breed dogs can assist with mobility for owners suffering from things like dizzy spells from their medication, and of course those with eyesight issues.
"The small breeds can be just as much of a service dog as the large ones. I have two small breed dogs that are trained for medical alert rescue," she said. The dogs are trained to alert the owner prior to an episode for conditions like diabetes and epilepsy.
And service animals aren't limited to just dogs. Equine Facilitated Counselling, or horse therapy, is another form of therapy serving a host of mental health issues.
One of the most common ways that these animals serve their clients is through deep pressure therapy, Baker said.
"Whether it's the dog leaning against the person, or lying across their lap, or lying across their feet...as long as there's pressure being provided against some part of the client's body, that helps the client feel grounded and comforted," she said.
Service dogs can also wake clients up during a nightmare or climb into their beds to provide comfort when they sense their owner is going into a night terror episode. For people with anxiety issues the dogs are trained to turn on lights and clear a room of any strangers.
Victims of sexual abuse, including children who are testifying of their assault in court, can be helped by the presence of a service dog. In fact, Baker said that it often makes it easier for children giving disclosure of their assault to police because they focus on the dog's presence.
Baker has also seen a teenage client grow from being someone whose anxiety got in the way of going to school, into a university graduate who walked their service dog across the stage when receiving their diploma.
No matter what the animal or disability, visible or invisible, Baker stresses one thing for anyone approaching a service animal: Do. Not. Pet. It.
"You can distract the dog from doing its job by asking to pet the dog...That could cost the individual their life."
And that's what it comes down to. No matter the breed, or how big they are, or how much someone thinks they "look" like a service dog, we ought to respect the fact that these dog are there to help their owners get on with day-to-day life.
In the same vein, you should not question a service dog on the leash of a person with an invisible condition. There is a spectrum of dogs out there trained to serve a spectrum of serious illnesses and these owners should not have to disclose details of their medical condition just to satisfy skeptics and the narrow expectation of what a service dog looks like.
Follow HuffPost Canada Blogs on Facebook
Popular in the Community