In Canada, many pregnant moms have the excitement of tracking their baby's development in the womb week-by-week. With joy, they might tell their friends that "his spine is fully formed now" or "she has fingernails this week!"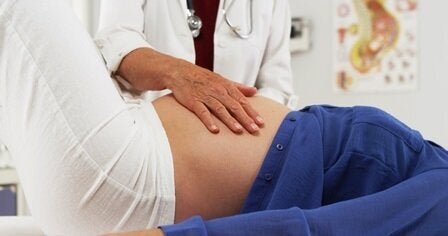 In Canada, women are able to go for prenatal checkups throughout their pregnancies. Stock photo
This is something I took for granted. That, and the regular medical checkups with my family doctor throughout both of my pregnancies. I remember feeling safe and cared for, as the doctor measured, weighed, asked questions and gave advice.
In many parts of the world, this scenario is completely different. I think about Ireen in Zambia, who went into labour long before her little one was ready to be born. Ireen's last weeks of pregnancy were filled, not with eager anticipation, but with headaches, diarrhea, chills - and fear. Her symptoms began at seven months gestation, and continued for weeks.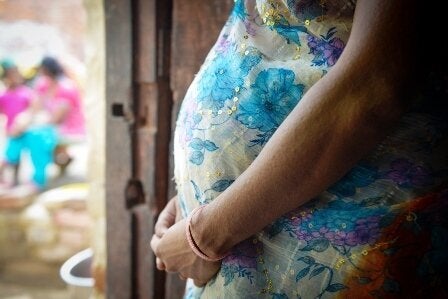 Without access to even the most basic medical care and advice, many women around the world don't recognize when their babies could be in trouble. World Vision photo
I would like to say that the story ended well -- but it didn't. Eventually, Ireen was rushed to the closest medical clinic. It had been too far away to visit on foot during the pregnancy, so Ireen had received no prenatal care. Friends had told Ireen the symptoms she was feeling were normal pregnancy side effects.
It turned out that the side effects were anything but normal. They were the symptoms of malaria, as Ireen's body battled to fight the disease which had invaded her system. The child inside her was also struggling for life.
"When I arrived I was straight away taken to the labour ward where I delivered a still-born baby," Ireen recounts. At this point, medical staff told Ireen that she had severe malaria, which had also affected her child.
Lottery of life and death
Here in Canada, many moms have the option of eliminating risks that could cause their baby to be born too soon.
But like Ireen, an increasing number of moms in developing countries aren't reaching full term pregnancies, and their preemies often face a lifetime of health struggles, if they survive at all. Complications from preterm birth are now the single greatest cause of mortality for children under five. Every year, an estimated 15 million babies are born preterm, and this number is rising. Preterm births are one of the world's most pressing social, cultural and public health challenges.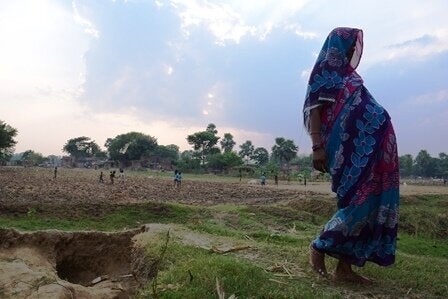 Here are a few of the risk factors that can lead to a pre-term birth:
Pre-gestational diabetes (something that's caught in checkups here in Canada)
Infection such as HIV, malaria, and conditions as simple and easily treated as a urinary tract infections
Malnutrition causing iron deficiency and anemia in moms
Pregnancies occurring too close together, before the mom's body can fully recover
The good news is proper nutrition and healthcare before, between and during pregnancies will help mothers deliver babies on time. In Zambia, Ireen and her three children are living proof. After surviving the malaria, Ireen was able to carry and deliver three babies -- on time and without complications. Ireen, now pregnant once again, regularly visits a local clinic to ensure that she and her child are healthy.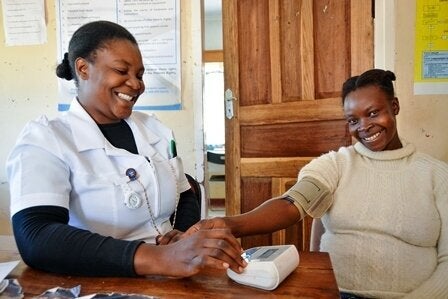 Ireen (right) has her blood pressure checked, as part of a routine prenatal checkup. She now has three healthy children. World Vision photo
And when babies are born too soon, cost-effective, practical solutions exist to help them survive and thrive. For example, a leading low-cost technique called 'Kangaroo Mother Care' involves swaddling a baby against an adult's chest (usually the mother's) for an extended period. This skin-to-skin contact provides warmth, the opportunity for frequent breastfeeding, protection from infection, stimulation, safety and love.
World Vision has joined Plan International Canada, Save the Children, the Government of Canada and Johnson & Johnson in a new partnership called Born On Time. Together, they will be working to improve newborn survival rates, with a focus on preventing preterm births in Bangladesh, Ethiopia and Mali.
Learn more about preterm birth and this new initiative by visiting Born on Time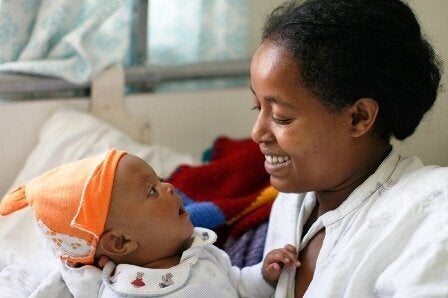 Follow HuffPost Canada Blogs on Facebook