Last March, I found myself evaluating a health clinic in northern Liberia. The visit came a day after Canadians were alarmed by reports of a potential case of Ebola haemorrhagic fever in Saskatchewan. The case eventually tested negative for Ebola, but not before the news caused panic in Canada. The day of our visit, 15-20 Guineans had crossed the border to access medical treatment at the same clinic -- situated just 10-minute drive away from Guinea and the source of West Africa's on-going outbreak of Ebola. Groups such as those we encountered were a daily occurrence before porous land borders were closed to try to contain the current epidemic. Due largely to help from health development projects like the one I was evaluating, the medical services these Guineans could access in Liberia were superior to those available for them at home.
Sadly, since I was last in Liberia, Ebola has spread through the country and Liberia's health systems are said to be collapsing. The virus has reached as far as Lagos - Africa's most populous city and a major transport hub. The spread of Ebola to North America is said to be "inevitable." I do not want to fuel already-widespread anxieties of a global Ebola epidemic. By all accounts, Canada's health systems are strong enough to prevent an outbreak within Canadian borders. But in addition to the devastating loss of life, fear of Ebola is closing borders, shutting down trade, and seriously damaging local and national economies in affected regions. As cases spread, so to will the effects of the virus. The lesson for Canada is clear: in a progressively interconnected world, events in small and relatively unknown countries - such as Liberia - can have potentially significant effects in Canada.
But as Liberians and other West Africans bravely struggle to contain Ebola, Canada's foreign engagements are shifting away from they types of initiatives that could help prevent such an epidemic. Working with countries like Liberia to strengthen health systems, as well as the systems of governance, security, and education that support health provision, does not seem to be in Canada's interests any longer. According to the Government of Canada, our national interests are best served by promoting investment and trade in Africa. This ideology has been reduced to the naïve platitude: 'trade not aid.' Specifically, the government is hoping to "accelerate economic growth in ways that bring benefits to all citizens... [and] build self-sufficient communities in which individuals and families can prosper." The assumption is that economic growth must be prioritized if Africans are to help themselves rather than relying on foreign aid.
Yet the Liberian case serves as a distressing counterpoint to Canada's approach to international development in Africa. Liberia has averaged seven per cent growth over the last decade, due largely to its abundant natural resources. The country's reserves of iron ore, timber, gold, diamonds, and hydropower, are exactly the types investment industries that Canadian investors are targeting. But as in many other fast-growing countries, growth in Liberia has not yielded inclusive development. Tellingly, 85 per cent of Liberians are without a job in the formal sector and 63.8 per cent of the population lives below a dollar a day.
Health projects like the one I was evaluating are part of a different approach to international development - one that prioritizes human returns over economic returns. The intervention was a multi-million dollar effort - implemented by Save the Children and funded by the United Kingdom - to strengthen and expand community services in rural communities. Projects like these are working with the Government of Liberia to rebuild a health infrastructure that was all but flattened by fourteen years of intermittent civil war. Approximately 95 per cent of health facilities were destroyed or rendered non-functional. Since the conflict ended, hospitals, health centres, and clinics have been rebuilt, expanded, and equipped. Health professionals have also been trained, and management and data systems have been improved. In the process, health indicators have slowly been improving as well. For instance, last available figures indicate that, since 2004, life expectancy at birth has increased from 54.1 years to 60.2 years, maternal mortality has fallen from 880 deaths per 100,000 live births to 640, and infant mortality has also decreased from 90.4 deaths per 1,000 live births to 58.6.
But Liberia still relies heavily on international help in the provision of health services. The government contribution to total health expenditures, estimated at 16.8 per cent, is one of the lowest in the world, and about 80 per cent of the health services are provided by non-governmental organizations. At the time of my evaluation, fears that Ebola would spread made it a popular topic of discussion. In a conversation with the head health administrator for one of one Liberia's largest counties, I inquired if the country's medical system could handle the spread of the virus. His answer, serves as a portent of the dire situation the country finds itself in today: "despite improvements [in Liberia's health systems], these are still too fragile, and don't have the capacity to deal with an outbreak of a problem like Ebola" Without continued international support, it unlikely they will reach that capacity. No amount of resource extraction is going to sufficiently develop the country's health system to the point it can adequately meet the needs of its population, let alone contain the spreading epidemic of Ebola.
If implemented in a fair and transparent manner, trade and investment are important for Africa. But history has proven time and time again that human development is not a necessary corollary of economic development, especially in an economy driven by the unequal gains of resource extraction. Part of the problem is that investment concentrated in extractive sectors brings few jobs. Another problem is that contracts and accounts of taxes and revenue generated by extractive concessions are often untransparent and unlawful. An audit of Liberian mining contracts signed between the middle of 2009 and the end of 2011, found that 62 of the 68 concessions ratified by Liberia's parliament had not complied with laws and regulations. Few Liberians forget that one of the underlying reasons that originally contributed to Liberia's civil wars was the unequal distribution of Liberia's wealth of natural resources, which did not benefit society as a whole, but served to create inequalities and resentment. Suspicions of state institutions continue to this day. So deep is the distrust that many Liberians actually believe that Ebola is a government conspiracy, invented to attract foreign aid.
The Government of Canada must take these realities into account and reappraise its current strategy for international development - both in Africa, and globally. In health care, prevention is more efficient than treatment. Investing in the health system of a country like Liberia helps ensure that it is strong enough to tackle global health concerns like Ebola before they arise. This also helps to ensure that Liberians live longer healthier lives, which will ultimately allow them to fully participate in the economic opportunities that the Government of Canada is looking to create. 'Trade and aid' should not be mutually exclusive. Is it not in our interests as Canadians - no, is it not inherent to our Canadian values -- that our government envisions a world that is not just prosperous -- but also secure, educated, free, and healthy? Put simply, Liberia's interests should be Canada's interests as well.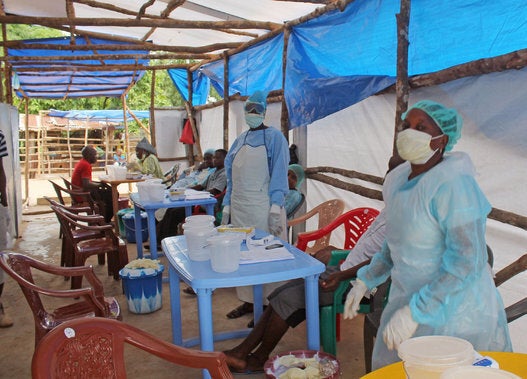 Ebola Outbreak
Popular in the Community