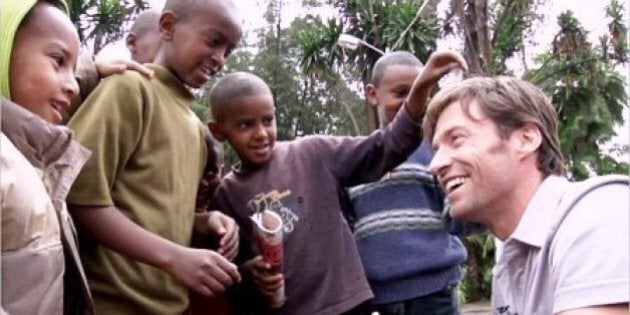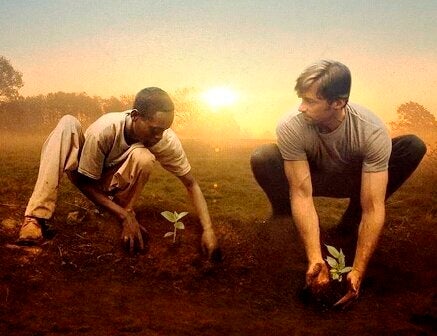 The new Hugh Jackman documentary "Dukale's Dream" is a great way to explore the idea of global fairness with children.
"That's just so unfair," moaned my adolescent son last Sunday night. He had just received a last-minute sleepover invitation, the night before starting a busy week-long camp. Motivated solely by the wish to ruin my son's life, I had uttered the dreaded word "no."
Kids' demands for fairness can be the ultimate challenge for any tired adult, especially when they can't see how all the pieces fit together. But their inherent sense of justice can also be a real gift, especially if we can show them how fairness can change the world.
It's perhaps why both of my boys, aged 13 and 10, so enjoyed the Hugh Jackman documentary Dukale's Dream at a Toronto screening last week. (It was released on iTunes this week.)
Real-life adventure packed with meaning
You may wonder if a documentary about fair trade coffee is fare for children -- especially in the season of summer blockbusters. It definitely helped that this real-life adventure was about Hugh Jackman, the Australian actor who plays the superhero Wolverine in the immensely popular X-men movie series.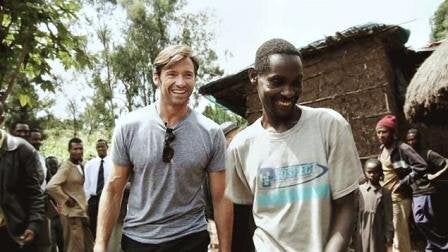 All photos courtesy of The 7th Floor
That connection to Wolverine was critical in getting my kids' bums in the seats. But it was the story itself that kept them rapt throughout. Dukale's Dream is about a young coffee farmer in Ethiopia who battles discouragement, injustice and the elements to give his children the chance to go to school. Jackman travels to Ethiopia to work alongside Dukale, learning what goes into growing the coffee that we take for granted each morning.
The fact that Dukale was born into extreme poverty is, as Jackman points out, so completely unfair. Just a roll of the cosmic dice. My sons hadn't thought of it that way before. They were excited to see that Dukale has been able to expand his small farm, teach other farmers and send his children to school, all because of something called "fair trade." The idea that Dukale should work so hard just to be "ripped off" by those of us here would have been unendurable for them.
Filled with ways to learn
The film held endless points of fascination for my boys, like watching the interaction between Jackman and Ethiopian children who recognized him as Wolverine. The whole theatre cracked up as a child in Addis Ababa gestured to show long nails coming from his hands, to make the connection with Jackman. In that moment, the world seemed so small, and so wonderfully close.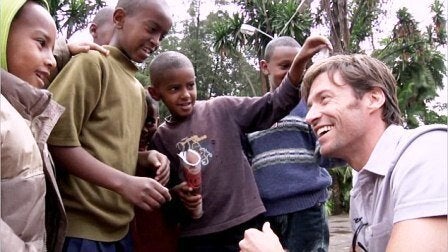 The scientific side of my boys was fascinated by the methane stove World Vision had provided to Dukale. They loved watching Wolverine shoveling diluted animal manure into a pipe leading to the stove, to be converted so simply and beautifully into a clean, safe gas for cooking in the house. The smoke-filled huts nearby, with coughing children, seemed so unjust by comparison.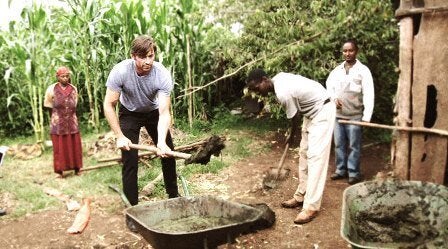 Like most Canadian kids, my boys are growing up with the environment in mind - another example of fairness raised in the film. In a world where Canadians contribute daily to the destruction of the planet's environment, Dukale's footprint is precisely zero. Part of the deal for when we buy fair trade coffee is the guarantee that we're supporting shade-dependent crops. In choosing to farm coffee, Dukale has picked a crop that requires tall trees to shade his plants. Dukale and his community swear off cutting down these trees for firewood, committing to using other sources of fuel.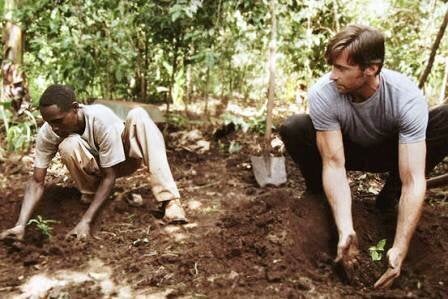 Most of all, my boys were blown away that an actor from a cool movie series cared enough about poor coffee farmers in Ethiopia that he became a highly vocal advocate for sustainable development. And he didn't stop there - three years after working with Dukale on that first visit, Jackman still didn't feel he'd done enough to help. Jackman launched his own company, Laughing Man coffee, featuring a brand called "Dukale's Dream". You'll have to watch to see what Dukale felt about that!
Exploring fairness and unfairness
"I am illiterate, but my children are going to school," says Dukale near the end of the documentary. I asked my younger son what that phrase meant to him. "The first part is so unfair," he said. "Everyone should be able to go to school. But the second part, about Dukale's children going to school, makes it a whole lot fairer. I guess that's why they call it fair trade."
Here are six ways to explore fair trade with your kids this summer:
Watch Dukale's Dream, now available for download on iTunes. Ask your kids what they saw that was unfair. What became more "fair" by the end? How did it get that way?
Do what Hugh Jackman does in the film and ask merchants in your neighborhood whether they sell fair trade products. We tried a couple of coffee shops last week, and the kids were so excited to find some. (They were proportionately outraged to find that some chains they've trusted don't have any!)
Show your kids the official Fairtrade Canada symbol online, and visit the site describing what other products are available fair trade. There may be quite a few surprises there!
Do a fair trade scavenger hunt with your kids in your neighborhood or local grocery store. Have them use their phones or a camera to photograph everything they can find in an hour.
Turn your garage sale into a Fair Garage Sale, using the money raised to help farmers like Dukale with supplies from the World Vision Gift Catalogue.
Sit with your kids to write an e-mail to a company that they would like to see trading fairly with farmers. It may be a coffee chain that has yet to get onboard, or the company making their favorite chocolate bar or candy. Encourage them to use their own words. It could be the beginning of a lifetime of advocacy.
Visit the Dukale's Dream site
Learn more about advocating for fair labour practices through World Vision Canada