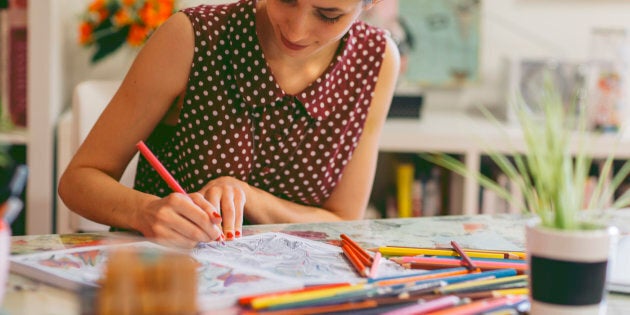 Many students notice that the creativity they once had diminishes as they begin post-secondary education. It seems our schools of higher learning teach students to follow the rules, learn, memorize and repeat, conform, and measure their performance by taking standardized tests. Creativity is squeezed out as the pressure to excel on exams becomes the driving force. This, however, is counterintuitive to future demands in the workforce and the mental health and wellness of our students.
A 2010 IBM study, as reported in the Newsweek article "Creativity is the New Black", reported that not only will creativity play a critical role in the future success of a corporation, but creativity is also regarded as a core competency for those in a leadership role. Unfortunately, education is killing the creativity of our students and leaving many of them anxiety-ridden and stressed out. What are we doing to improve the mental health and wellness of our students?
Tapping into your creativity for improved mental health and wellness
I wanted to share with you the many positive benefits creative expression has in maintaining wellness, whether through art, music, reading, writing, crafts, colouring, knitting, sewing, pottery, gardening, or dancing. Creative expression can:
Reduce stress and anxiety
Increase positive emotions
Decrease depressive symptoms
Reduce distress and negative emotions
Boost the immune system
Increase self-esteem and feelings of accomplishment
Improve concentration and focus
Increase happiness
How does creativity improve mental health and wellness?
The average person has 60,000 thoughts per day and 95% of them are exactly the same, day in and day out (Cleveland Clinic). Immersing yourself in a creative activity produces an almost meditative state where your mind is so engrossed in what you're doing that you temporarily forget all of your troubles and worries. The goal is no different from meditation, mindfulness, or yoga: in order to find calm, peace, and happiness in one's life, the focus needs to be on one's inner self (not external stimuli). This can be achieved only by becoming disciplined in an activity (eg. creativity) that will naturally lessen the importance and therefore impact of those thousands of thoughts we experience everyday.
Neuroscientists have been studying many forms of creativity and finding that activities like cooking, drawing, photography, art, music, cake decorating and even doing crossword puzzles are beneficial to your health. When we are being creative, our brains release dopamine, which is a natural anti-depressant. Creativity usually takes concentration and it can lead to the feeling of a natural high. Participating in creative activities may even help to alleviate depression.
The latest trend in stress relief is the adult colouring book
Adult colouring books are all the rage. They're so popular now that there are even monthly colouring clubs. They're inexpensive, fun, remind us of childhood, require no particular skill and they provide instant relaxation. They've become so mainstream that they can be purchased everywhere from Amazon to dollar stores.
Research shows that creative practices improve depression, anxiety and coping skills while enhancing quality of life and significantly reducing stress – all vital for mental health and wellness. And the beauty of creativity is that anyone can practice it – why not start today?
Are we doing enough to encourage our students to exercise their creativity?
Popular in the Community