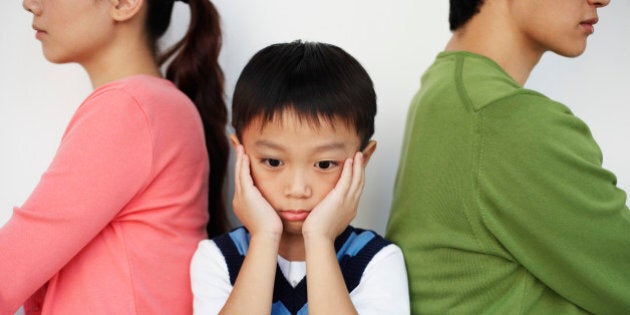 One of the first social skills that we are taught in life is how to share. We have to share with our siblings, with our friends, our classmates and eventually our colleagues. Sharing is one of those basic life skills that we're taught from day one.
In our lifetime we share so many things and people; but what happens when those people are suddenly your children? How do you share them with someone with whom you used to share your life and dreams?
I didn't arrive at these suggestions or practices easily, but with some work, I did arrive at them. Like everyone, I'm still a work in progress too. Here are 5 points to hopefully make the sharing a little easier:
1.Look at what you give instead of what you've taken away. Change your thinking and begin to see this as an opportunity to give your kids an enhanced childhood. They can and should experience different things with each of you. Perhaps your ex takes them to a family cottage or he blends a family and gives your children more siblings or a family pet? Or perhaps you do too. When encouraged by you, your children's world has opened up to more than they otherwise would have received, and their circle of love has expanded to include so many more people.
It's tough for me to sometimes hear about the adventures or experiences that my children have without me, but it's not a bad thing. The lesson here is, let your children embrace all that they can experience because this is their life and their journey. You're merely there to guide, teach, support and cheer them on.
2.Flexibility. Here's something that your children will have to learn early on. We all have our own way of doing things and while you and your ex had presumably done things a certain way when you were married, those old routines and rules tend to bend and alter from home to home.
When I got divorced, my ex and I had vowed that in the spirit of consistency, we wanted to maintain the same household rules. While this is ideal in theory, I have learned that things often don't work out as we may have expected. Bedtimes are different, screen time rules vary from home to home, homework regimens are different and household chores and behaviour expectations vary. When the divorce was fresher and my children came back home, I often felt that I had to detox them from their dad's rules and get them back to our household code of conduct.
Is this frustrating as a parent? Absolutely! This detox process is not easy, particularly with young children. However, I needed to learn to be flexible in order to teach my children to master it. My children will not explode if they're bound to different rules and routines than the ones I had set forth for them.
I'm not referring to anything that puts our children's health and safety in danger, but it's not actually the end of the world if my children have a few veggie-free meals in front of the tv. I've had to learn to say, "well, you're not at Daddy's house now..." It takes time and much patience, but kids do learn to adapt to two sets of rules and so must you.
3.Tolerance and Respect. Often times we are met with blended family situations from one or both parents, where the house rules and expectations are that much more different. The more people we add to our children's lives, the more they're going to need to be tolerant and understanding. Teaching our kids to navigate through situations where compromise and tolerance are necessary is a valuable life skill.
4.Co-Parenting Decisions. If you share custody, then inevitably you're going to have to make some joint decisions regarding your children. This process doesn't always run smoothly for the happiest of married couples so trying to co-parent with your ex can certainly be tricky. I'm not sure that advice helps here...we all know that we should keep what's best for our kids at the forefront of our mind and decision making but what if we don't agree on what actually is best? I'm still sorting through this, but for the most part I'm very lucky that my ex and I are pretty good at this. We generally tend to be on the same page with most of the major things like which schools and camps to send them to and we're fairly cohesive with respect to extra curriculars. We're also fairly proficient at presenting a united front when major disciplinary matters need to be dealt with. The best suggestions that I can offer here are as follows:
a)Keep the emotion and the past out of it. This is about your child NOW and moving forward, and has nothing to do with anything that may have happened.
b)The art of negotiation. Listen to your ex and hear them out. Then be sure to present your position in a professional and non-confrontational way.
Hopefully this will alleviate some of the potential triggers for conflict. It may not always work, but if nothing else, at least these strategies may calm an otherwise volatile situation. Keep in mind too, that you both want what's best for your child and you both doing what you feel is best.
5.Look at your child as a whole. Your children are a part of you and have a life with you. They also share a life with your ex. You're both a part of their childhood, and irrespective of how much or little time you spend with your kids (which I guarantee will be less as they grow), your job remains the same. Parent them. Teach them. Guide them. Support them. Listen to them. Accept them. Love them. Sharing your children doesn't translate to dividing them. Sharing them means that you share your love, pride and concern for them.
You shared your children before your divorce; the landscape was just different. Change your landscape but keep your gardening tools because you still both have a duty to grow healthy, well-adjusted, well-balanced and self-confident souls.
Follow HuffPost Canada Blogs on Facebook
Popular in the Community