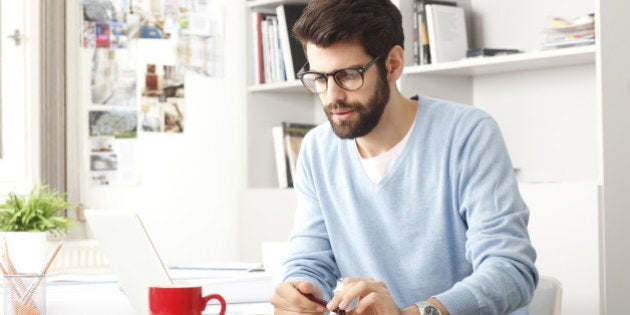 Canada's small business landscape, which accounts for roughly 98 per cent of our employer businesses, has seen a notable shift in the last few years. What's driving this change? Technology. As we move away from the notion of the "mom and pop" shop down the street, technology's advancements are redefining the country's entrepreneurial experience. Change, however, is rarely without its challenges.
More than half of Canadian small business owners (55 per cent) are running their companies from their mobile devices with the added advantage of speed, agility and flexibility. Resources at a startup are often limited, so the core team is typically managing multiple aspects of the business. Coupled with the new pace of operations, time is seldom on everyone's side.
Nevertheless, there is no reason for entrepreneurs to skim over the crucial elements of running a business... yet, many do. Some things are too important to overlook.
Three in five Canadian entrepreneurs (62 per cent) launch their businesses without a plan. Looking specifically at millennials, this number jumps to 69 per cent. Now combine that with the fact that the majority (58 per cent) of small business owners start with less than $5,000.
First things first: What's your business plan? Not having a roadmap, in addition to managing and stretching modest funds, makes it far too easy for things to go off course and could be a recipe for entrepreneurial failure.
Your first step should always be to map things out, and while this might seem overwhelming, it doesn't have to be a time-consuming or painful practice. Our team developed a simple free tool that can get you started in a few minutes and it will help you become poised for success.
When you articulate your business goals and the actions needed to achieve them, you'll gain the clarity you need to identify any holes so you can patch them up before they become irreparable. Then you'll have a living, breathing document on hand that can guide you as your business grows. You'll also increase your chances of securing investors, which are instrumental in getting many companies off the ground. While your pitch may capture their attention, your business plan is the first thing they'll ask for and if it doesn't hold up to scrutiny, they're not going to invest a dime.
So don't shoot yourself in the foot -- taking small steps to plan ahead can have a big impact down the line.
Everyone should be financially literate. I've said this before, but this is especially important for entrepreneurs. The longevity of your business relies heavily on you understanding the numbers, so make sure you have a solid grasp of financial management fundamentals.
The good news? You don't have to go it alone. Develop a close relationship with an accountant or bookkeeper at the onset of your operations so you always have a professional in your corner to guide you along the way. In fact, one U.S. study suggests that 89 per cent of small businesses say they are more successful with an accountant, and if you're looking for one, Intuit can help. Another important aid is the right financial management software, which can give you strategic insights into the inner workings of your business. Intuit offers cloud-based QuickBooks Online, which makes staying on top of your finances easy no matter where you choose to work.
In a few words: Failing to plan means planning to fail. When you make the time to educate yourself and prepare appropriately, you'll find it that much easier to stay ahead in this fast-paced, ever-changing environment.