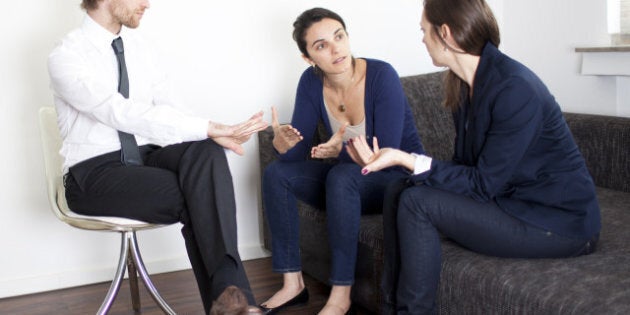 Several years ago my daughter Charlotte, who has autism, was invited to a princess party. All the other five-year-old girls were renting princess costumes, getting their hair done, wearing make-up. But she refused to be a princess -- it's just not her. So Charlotte chose to go to the princess party as a scary dragon with a long tail and giant claws. She announced her arrival at the party with a roar, "I'm going to eat all the princesses!"
She didn't hang out with the other girls in their tiaras, but she chatted to the grown-ups for hours about dinosaurs. She didn't want her face painted and she ate all the cupcakes. She had a great time. She was alone in the way she looked and behaved, but she found a way to fit into the party that worked for everyone else, too.
As Charlotte has informed me, "everyone has a little bit of autism." I know what she means. As a local general manager with public relations agency Hill+Knowlton Strategies, I have some employees who, like Charlotte, don't always follow the rules. They know far more about their areas of expertise than I ever will. They are quirky, brilliant and often bored by small talk and mediocrity. As in all professional services firms, people are our assets. Our clients' challenges mean we need to hire people who have diverse ways of approaching problems. I love working with these people, but it isn't always intuitive.
One member of my team recently went through the Belbin character profile. Her report stated: "Possibly a difficult person to supervise. So do not attempt it." We laughed, but it's quite true. What my eight-year-old daughter teaches me every day is how to manage these sometimes "unmanageable" experts (and it's still a work-in-progress):
Being introverted, quirky or thinking differently doesn't mean you don't work well in a team. Not everyone has to be the compelling media trainer holding the attention of CEOs. One of our best strategists turned his office into a virtual cave with light sabers and candles, and usually keeps his door closed. That's how he works best. But when he emerges, he collaborates with the team well, and when he speaks, people listen.
When someone comes in with ideas, put away your highly analytical brain. Charlotte has an ability to make me rethink everything. I've learned to stop dismissing her ideas upfront based on my preconceived notions. When you hear ideas, ask questions rather than offering an opinion right away. Don't try and sound smart for the sake of it. Doing these things may change what you hear. Listen to every idea even if it doesn't seem like a fit. Taking a risk may be exactly what you need for resolution of a problem.
Forced learning does not work. Find out what's going to motivate every staff member personally; they may each need a different approach. Not everyone learns the same way.
Trying to motivate through false enthusiasm doesn't work, either. Charlotte calls me out when I'm not interested in something. Similarly, my colleagues know when I'm not being genuine. Don't fake enthusiasm. A leader needs to be passionate about her work. If you're not, you should find another job.
Be patient and focus. Charlotte can take five minutes to speak a sentence if she knows I'm not listening. Maintain eye contact. Drop everything else. Give colleagues the time and attention they deserve. Move conversations away from your desk where email can distract you.
Let people take risks. For years, I would whisper the right responses in Charlotte's ear. I wouldn't let her do anything on her own. It took a wise dentist to tell me I didn't need to stay with Charlotte during the appointment, to let me see how independent she was. The key to a staff member finding his strengths may lie with you knowing when to back off.
Be the utmost advocate for your employees. No one else will. I fight for Charlotte's rights and respect every day. Advocate for your employees and teach them to support each other.
Know your employees' strengths. Spend time getting to know the strengths and character of each team member. Someone who isn't good at writing may be a brilliant merger and acquisition strategist. A client may not like a member of your team, but that person could be exactly the right personality match for a different client
Be open-minded when recruiting. The interview process can rule out people who could contribute meaningfully. Charlotte would be happy in a career developing computer games for 16 hours a day, and not talking to another living soul. Rethink your questions and try to see past your expectations.
Someone insinuated to me that evolution will get rid of autism. I think that perhaps evolution will rule out the rest of us. We're encouraged too much towards mediocrity by being "all-rounders." Charlotte cannot ride a bike, swim or throw a ball. But by age five she could describe how medieval musical instruments are made and would talk all day about our solar system.
I may be in the minority, but I'm not into the idea of all-rounders being representative of humanity's highest form of being. That's why I've spent 13 years at a company that embraces boldness and diversity, and is not afraid to take risks.
Charlotte's diagnostic assessment of autism was made based as much on what she could do as what she could not. That nuance was lost on me until recently. Before Charlotte, I categorized people into those who got it, and those who didn't. The dazzling full spectrum of talents and creativity was invisible to me. Charlotte's unique way of thinking about life has made me realize that not everyone sees things the way you expect them to, and that has opened me up to a much richer perspective in my management responsibilities.