It's been ten months since wildfires wiped out so much for so many in Fort McMurray and the surrounding region. When I talk with people in the area, I increasingly hear hope and optimism, but I also continue to hear of ongoing struggles.
Some families tell me they are still waiting restlessly, living in a limbo of boxes and suitcases in temporary accommodation while their rebuild plans are finalized, or insurance claims are settled. Seniors, who lost a lifetime of mementos, are now facing the additional emotional loss of long-time friends who aren't moving back to the community. And I've heard from frustrated trappers who want to return to their traditional way of life before the fires disrupted the forested area.
When people talk about disasters, many focus on the earliest terrifying moments -- images of families in Alberta fleeing the wildfires, and wading through chest-high water from flooded homes in High River, or the rubble and wreckage where homes once stood in the days following the earthquake in Nepal. The often misunderstood reality is that the initial days, weeks and even months after a destructive event are just the start of a long, painful recovery.
This is a critical point of fact as we are increasingly being asked why the Canadian Red Cross doesn't spend donations faster and why funds are still in reserve years after a catastrophe has left the headlines.
The reason for this is simple, if not stark.
In 2016, the United Nations Development Programme found that failing to recover adequately from a disaster can result in secondary disasters. When recovery is poorly funded, a country or region can continue to suffer long after the catastrophic event is over, and people may find themselves more vulnerable than before. If relief organizations fail to reserve portions of donated dollars for the full lifecycle of a disaster, the challenges will only worsen for those who are affected over the long term.
As a disaster relief specialist who has been in the traumatic fray of catastrophes here and abroad, I know that we naturally want to do everything we can in the immediate aftermath of a tragedy, and I entirely sympathize with the urge to dispense precious dollars to affected individuals as soon as possible. We all want to help now and see the horrible images of suffering on the nightly news go away.
And significant dollars do get dispersed to families, individuals and organizations in need in those intense first days and weeks. But I also know that picking up the pieces of a disrupted life, destroyed home or ruined community unfolds in irregular cycles and takes years.
With the 2016 Alberta wildfires specifically, researchers from MacEwan University in Edmonton observed: "The full impact of disasters isn't something you can see right away." Although they estimate the Fort McMurray area fires will cost $8.86 billion, including direct and indirect costs like mental health and environmental losses, they warn these costs will continue to change for a decade.
Certainly, this mirrors my experience after the 2011 fires in northern Alberta, the southern Alberta floods in 2013, Typhoon Haiyan in the Philippines, and the Lac-Mégantic train derailment tragedy both that same year, where I know many people and communities are still struggling to recover years later.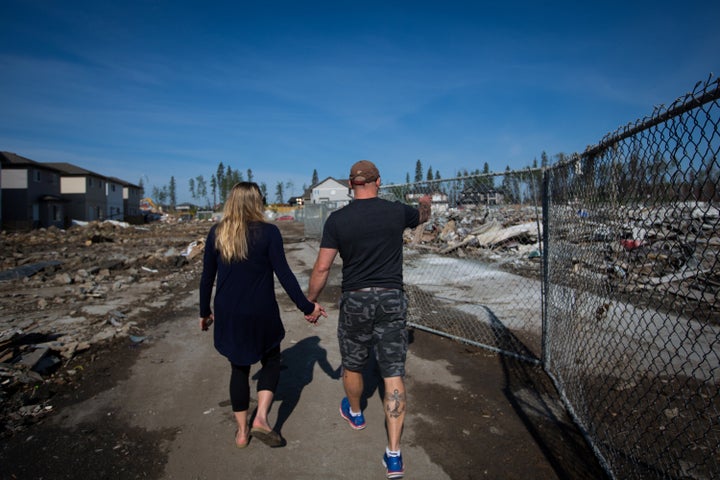 For instance, I met a gentleman with a disability in Slave Lake, who continued to need assistance years after losing his home in the northern Alberta wildfires of 2011, most recently to make his bathroom accessible.
I've talked with an indigenous family who lived in temporary housing for three years after the southern Alberta floods, waiting until their community's new playground was constructed to choose a nearby building site that would be good for their children's wellbeing.
And I know of a woman who needed mental health support services almost three years after these same floods, while she was paying a mortgage to keep her connection to her deceased mother's uninhabitable home.
Given the unprecedented generosity of Canadians during the peak of the wildfires in the Fort McMurray area and the outpouring of support for other catastrophes here in Canada and abroad, it's more important than ever to understand that money is still being put to powerful use long after the event has left the headlines.
To this end, we can make some general assumptions about the lifecycle of a catastrophe based on the body of evidence and experience to date. We at the Canadian Red Cross plot the cycle as follows: immediate emergency assistance; re-entry, recovery and livelihood support; community health; longer-term disaster preparedness and resiliency initiatives. And critically important, we don't believe in telling people or communities how long their lifecycle or recovery should take, because circumstances are always unique. It must be a collaborative and deliberate process with the affected community.
Ultimately, there is not a time limit on rebuilding lives.
Follow HuffPost Canada Blogs on Facebook