When Paola Nunez Valdez first came to Canada, she endured the taunts of bullies who targeted her darker skin and lack of English speaking skills.
But she showed them all when she became the first woman of Latin heritage to be named Miss Universe Canada on Saturday.
Check out some photos of Paola Nunez Valdez, Miss Universe Canada 2015: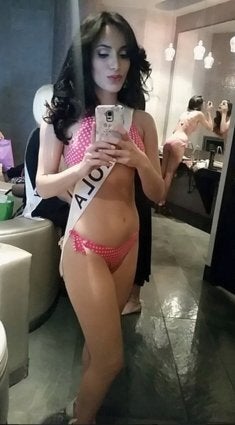 Miss Universe 2015 Paola Nunez Valdez
Valdez, 24, was born in Santiago, Dominican Republic and moved to Canada when she was 10 years old, said a biography on the competition's website.
She grew up in a musical family, learning to dance at six years old and appearing on television just one year later.
Once in Canada, Valdez was insulted by fellow students at St. Jane Frances elementary school in North York, largely due to her language skills.
It was so bad that she hid in a school washroom just to escape it.
"I didn't understand why I was being bullied because I thought I was normal," she told The Toronto Sun. "Because I don't speak the same language? Because I dress differently? Maybe to them I look different because I come from another country?"
Valdez eventually overcame the students' taunts. By the time she made it to high school, she was a member of student council, she played sports and she captained her school's dance team to a number of titles.
She is currently studying accounting at Humber College and she eventually hopes to run her own restaurant. Though she also dreams of being a professional dancer or TV host.
But now that she's been crowned Miss Universe Canada, she'll also represent her country at an international pageant set to take place later this year.
We can only hope to rise up from bullying the way she has.
Popular in the Community