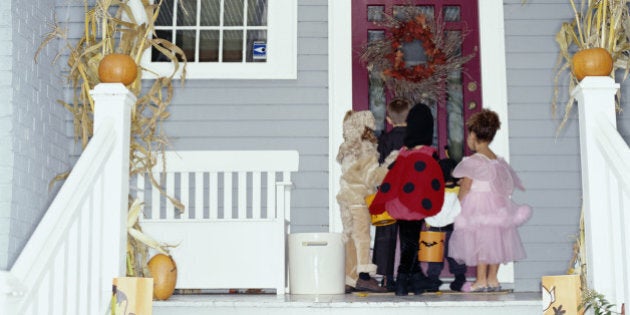 In reality, Halloween produces more boos, eeks, screeches and ding dongs than we should tolerate. From the toxic candy, to the phthalate-laced costumes and the insane amount of waste generated, it's challenging to consider it good, clean fun. Thankfully there are a few things we can do to make sure our kids don't hate us, and our neighbours, family and friends don't ridicule us (although some of us may have gotten used to this by now).
The inspiration for Reverse Trick-or-Treating rests on the belief that the simple act of one person saying to another "There's a problem. There's a solution. Let's do something," can be very powerful. And if a child says this to an adult -- it's doubly powerful. Further, Equal Exchange, creator of this original program, believes that such acts will demonstrate to the large corporations, and to public officials, that people are paying attention, people care, and they want action.
To avoid toxic sugar, genetically modified ingredients and other dangerous ingredients, I personally bribe my children by offering them their own entire cake (with ingredients that satisfy my standards and their taste buds), or tub of Luna and Larry's Coconut Bliss ice cream BEFORE we head out. It fills them up and makes them feel like they've indulged in a way they don't get to other days. Then we go door to door and REVERSE trick or treat. That's right, instead of taking candy, we GIVE a piece of organic, fair-trade, and nut-free candy or chocolate. We find it's also helpful to hand people an explanation of what we're are doing so they might not be spooked themselves. You never know, they just might come to realize that what they are doing is toxic, and join us next year.
I know many people already practice switch-witchery, which is the act of trick or treating, and then trading your kids their bag of toxic junk for a toy or something else. Although this can be an effective strategy to prevent your children from scarfing down sugar and chemicals, by taking the treats you are still supporting the companies that make them. We must stop this. It's the simple rules of supply and demand.
Furthermore, if you have old costumes, reuse them! And if you do not, then make your own. And please, stay away from all of those toxic face paints, and check the labels on all makeup, hairsprays, nailpolish etc. Do you remember dressing as a ballet dancer or a hockey player? Of course, and it's easy. How can you justify putting on an off-gassing, store-bought, made-in-China, phthalate-laced, over-packaged mask by choice?
And the same as you do in your everyday life, remember to bring a strong reusable bag, and your own bottled water (a.k.a.: a safe reusable bottle filled up with tap water). If it's chilly where you live, fill an insulated mug to keep you warm while you're out. As a great bonus, when you have water, you can clean off your kids hands, or dirty, scraped knees and keep going.
Now THAT is taking care of yourself, your neighbourhood and your community at large.
Happy, healthy Halloween!
Popular in the Community