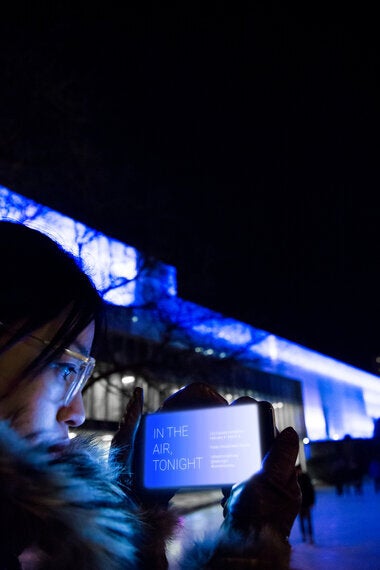 Walking past the Ryerson School of Image Arts and Ryerson Image Centre this February you will notice a building lighting up the night sky with flashing, ambient light. You would be forgiven for thinking this might be a "Hotline Bling" meme. This ambient light flashes blue, red, and white and is part of a reactive architecture installation called "In the Air, Tonight" raising awareness and money for issues surrounding homelessness in Toronto. Observers are able to control the colour of the Ryerson School of Image Arts and Ryerson Image Centre building using their smartphones by tweeting the hashtag "homelessness" or making a donation to a local non-profit. Using social networks to impact architecture is a compelling way to see digital conversations about social issues create a real world beacon of change.
Over the past decade, Canada has seen a proliferation of high quality, thoughtful research on homelessness. We now know that homelessness is caused by a combination of individual and systemic factors from unemployment and disability, to lack of coordinated services and a hostile housing market. While the solutions to homelessness are complex, the cause is simple: a lack of affordable housing.
The Canadian Observatory on Homelessness in their report "The State of Homelessness in Canada 2014" offers a thoughtful and rigorous plan to end homelessness, which is comprised of two complementary strategies: an affordable housing strategy between the provincial and federal governments, and tax credits and rent subsidies to increase the accessibility of housing.
The second strategy is to prioritize particularly vulnerable subsets of the homeless population - namely people with psychiatric disabilities and First Nations people - whose needs are not currently being met.
In the past 5-years, strong thought and policy leadership has emerged around homelessness by the Canadian Observatory on Homelessness, the Canadian Alliance to end Homelessness, and the Mental Health Commission of Canada's At Home/Chez Soi project. Yet, even though there is positive change being made at a research and policy level, there exists a concerning trend of criminalization of homelessness at a municipal level in Canada. The practice of "ticketing" people for panhandling or sleeping outside observed in Vancouver, Montreal, Abbotsford, and other cities reveals a discriminatory attitude towards people who are without shelter. Additionally, a Toronto campaign for the charity Raising the Roof used an empty storefront to announce plans for a fictitious shelter and subsequently incited strong reactions of outrage and disgust from community members.
What's at stake in these instances are ideas about who has a right to public space, whose needs should be prioritized, and who we collectively understand to be community members. People living with psychiatric disabilities are over represented in the homeless population and have a long history of being segregated from community life. Criminalizing homelessness is a way of marking who belongs to the community and who has the right to occupy public space.
The In the Air, Tonight installation turns the Ryerson School of Image Arts and Ryerson Image Centre building into a reactive LED beacon activated by the twitter hashtag "homelessness" or a donation to the Supporting Transitions and Recovery (STAR) Learning Centre - a program of St. Michael' hospital providing services to people experiencing homelessness. Tweets turn the building from blue to red while donations turn the building from blue to white. In the face of pervasive social stigma and exclusion directed towards people who lack shelter the installation gives viewers the opportunity to display empathy and sense of political urgency to issues surrounding homelessness. Participating in the exhibit is simple, either head to 33 Gould street with a smart phone, tweet using the hashtag homelessness, or head to the project website to see a live feed of the installation. Ryerson is located in a neighborhood with a high density of shelters and services for people experiencing homelessness. The physical location of the installation and public participation sends a signal to the neighborhood acknowledging community members who are often ignored or avoided.
The third installment of In The Air, Tonight has expanded to include photos of the downtown posted to twitter taken by people with lived experience of homelessness. These photos show a different view of the downtown, giving different perspectives on the familiar and the experience of people who have been homeless and who have used shelters. The photos have been captured as part of a photovoice project with the STAR Learning Centre. As part of St. Michael's Mental Health and Addictions Service, the STAR Learning Centre offers a safe and welcoming environment and a range of free classes from skills training to arts-based recreation aimed at supporting people as they make the transition to permanent housing and well-being. Funds raised on In the Air, Tonight's generosity page during this year's project will help support STAR in their efforts to continue assisting individuals dealing with homelessness.
In the Air, Tonight runs from February 4th to March 4th and can be viewed at the Ryerson School of Image Arts and Ryerson Image Centre Building at 33 Gould Street or online at www.intheaironight.org and www.twitter.com/itatonight.