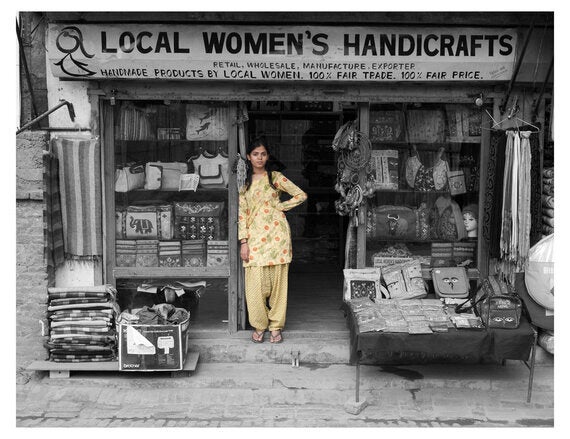 "Courage is not the absence of fear, but the triumph over it," said Nelson Mandela. Nasreen Sheikh is, undoubtedly, one of the most courageous people I have ever met. She is a social entrepreneur living in Nepal and is subverting the typical role of a woman in her society. She is changing the lives of dozens of women in Nepal and has a goal to help hundreds more. This is Nasreen's story.
At 23 years of age, Nasreen Sheikh radically redefines what it means to be a Nepali woman. She is a Sunni Muslim living in a predominately Hindu community and is the founder of a fair-trade sewing collective called Local Women's Handicrafts, based in the country's capital of Kathmandu. The company sells bags, scarves, wallets and shirts; and only employs women from disadvantaged backgrounds. The business focuses on empowering and educating women with the intent to change the cultural and social norms in Nepal.
Nasreen describes Local Women's Handicrafts as: "A mission to bring hope to human beings. It is a way for us to express our individuality and share our creativity with the world. LWH strongly supports freedom, self-reliance, liberation, and we provide an environment to grow, nurture and refine a skill. We teach independence and innovation, and believe that allowing individuals to find their voice is a vital part of building self-esteem."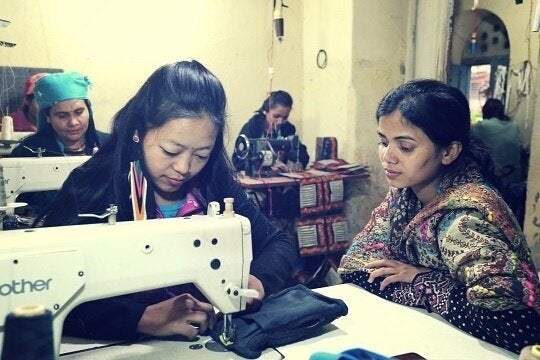 Nasreen is an outlier in her community. Typically, most Nepali girls marry between the ages of 15 and 18, become financially dependent on their older husbands, and move to a solely domestic role in the household. The last time I visited Nasreen was in June 2012 when she was 21, and although her family was quite unhappy that their daughter was unmarried they appeared to be doing their best to support Local Women's Handicrafts.
The pressure to have a married daughter began to increase with each year Nasreen remained single however, and in 2014, Nasreen's parents decided that they had to take action. Nasreen's mother went to her home village, Rajura, and arranged for Nasreen to be married to a local man. In many Nepali villages, getting married means that the female will no longer be able to work and that her husband's rights will supersede her own. For Nasreen, this arranged marriage would have meant the end of Local Women's Handicrafts.
"I didn't have permission to talk to the man my family wanted me to marry or even meet him in advance. This made me devastated and I was almost ready to give in, but my friends encouraged me to be strong. I decided that I was going to cancel this forced marriage" she said.
Nasreen decided to run away. She took the pieces that she could save from Local Women's Handicrafts and went into hiding. At times she stayed at the homes of women who were supporting her and other times she stayed with her American teacher who had encouraged her to pursue her MBA in 2012. Nasreen said that the scariest part of running away was knowing that her family could not run away from the humiliation that would follow them.
"My parents had arranged everything to make the marriage happen, and if the villagers found out that I refused the marriage, the next threat goes to my family's reputation. Sometimes they make disobedient families roam through the whole village for a public shaming and make other villagers spit on them. This is to set an example, so that no one can ever try to break societal rules again. I have seen this in the village happening on other issues. As far as I know, no girl has ever cancelled or refused a marriage before me."
For a period of time Nasreen had to give the women working for Local Women's Handicrafts sewing machines so that they could continue to work from home. Nasreen tried several possible new spaces to host her business but each time the landlords found out that Nasreen was employing women from lower economic statuses they created problems for her in an effort to force her out of business. "The more we suffered, the harder we worked and refused to give up" she says. "Financially, I took on debt when I had problems with marriage, as I had to hide away from my family and the shop and make certain payments. But I was empowered after cancelling the marriage. I began to be confident in myself and had the feeling that nothing could stop me. In just a few short months we were increasing once again rapidly."
Nasreen has now set her sights on building a large shelter that will not only host the Local Women's Handicrafts shop and factory but will also offer a sanctuary with beds for the women employees. An international friend helped Nasreen secure a piece of land just 20 minutes outside of Kathmandu where she has now begun to turn her dreams into a reality. "With a solid foundation of our own, we will be free to develop and move forward. If we have our own sustainable place within which to live I would also be able to help more women. At the moment I can only support so many. If we had a home with access to a garden and water and rooms to sleep I could take in a woman in-need immediately," she says.
How much will the project cost? Approximately $55,000 USD; no small change for an entrepreneur who barely breaks even with 22 women currently employed. And so Nasreen, along with an American business-owner, Roger Ramsaur, have started an Indiegogo page where they are raising funds to pay for this one-of-a-kind building. A $10 donation to Local Women's Handicrafts will employ a labourer to work on the building site for one day. A $25 donation will buy three bags of cement. And a $100 donation will pay for the steel to build a pillar for the new building.
If successful, the new Local Women's Handicrafts building will be the first educational workplace with an attached shelter in Nepal. The risk is significant but Nasreen has overcome great challenges in her life and her courage is unshakeable. "Understand me" she says, "And let the world know that girls have the right to live and to choose their own path. I want to create a community where we will not have any boundaries." And with enough support, Nasreen just might be able to make this boundless community a reality.
To learn more about the giving opportunities and to support Nasreen visit her Indiegogo page here.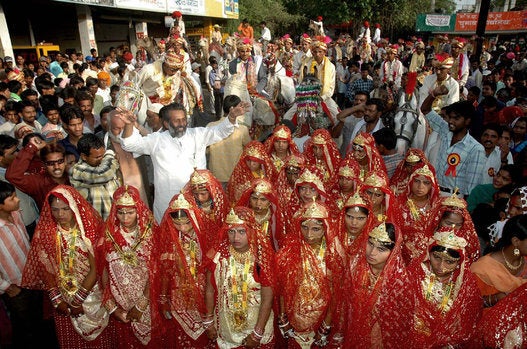 Forced Marriage
Popular in the Community