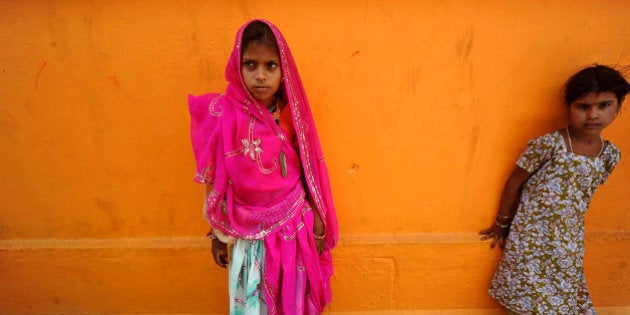 by: Craig and Marc Kielburger
In a developing community, a child willingly skipping class is nigh unthinkable; education is a resource more precious than gold. So when the students filed in to see Khady's empty seat, it was a gaping void that could not be ignored. The 12-year-old had been pulled from school by her father.
She was to be married the next day.
Child marriage is a centuries-old tradition in the small village an hour outside Dakar, Senegal. Marrying off a young daughter is valued as a way of strengthening ties between families. But this time, something was different. An outsider had people in Khady's community seeing child marriage from the perspective of the child brides.
Khady's absence would not be treated lightly.
For Canadians, child marriage and female genital cutting (FGC) are abhorrent practices. But they are also deeply-rooted cultural traditions in communities that practice them. And so we struggle constantly with how to end these practices and empower women and girls, without being patronizing Westerners ramming our values down others' throats.
After living and working in Africa for almost four decades, Molly Melching learned to listen and understand cultural differences that in turn helped her change minds. Her organization, Tostan, has swayed more than 6,400 communities in eight African nations to abandon harmful cultural practices like FGC and child marriage. Melching has won the Conrad N. Hilton Humanitarian Prize in 2007 and a Skoll Foundation Award for Social Entrepreneurship in 2010. There is a book about Melching's amazing life story: However Long the Night (HarperOne, 2013).
From the moment she stepped off the plane in Dakar in 1974 as an exchange student from the University of Illinois, Melching's life has been a lesson in the power of listening and cultural understanding to bring positive change. She told us her story recently at the Skoll World Forum in Oxford, U.K.
Volunteering with street kids in Dakar during her studies, she discovered students were being excluded by Senegal's education system. Classes were taught in French rather than Wolof -- the native language. Teachers used western methods -- rote learning from books. "Imagine your first day of school, and you can't understand a word the teacher is saying. And you don't even know what a book is because you've never seen one before."
So Melching launched an alternative school program using elements of Senegalese culture, such as music and dance, to make education fun and engaging for students. She scrounged books written in Wolof, and even worked with her students to produce their own textbooks.
Eventually Melching moved to a small village outside Dakar. She learned the hard way to listen and find out what people really want before diving into development projects. Once, she planted a community garden, to have no one show up to work it. Heartbroken, she asked why the community rejected the garden. "That's not how we do things," she was told. Families wanted their own individual gardens to sow and be proud of.
The experience taught Melching that she could not simply walk into communities and tell people what they need and what they must do. People know what they need, they have their own goals, and their own way of doing things. So Melching now creates bespoke educational materials and programs designed to assist communities and achieve the goals they set for themselves, such as better community health. In that context, communities learn about issues like women's rights -- including child marriage and FGC -- and how they affect those goals. Child marriage and FGC negatively impact the health of girls, which in turn impacts the health of the community.
There is no shaming, or moral condemnation of the community's traditions and culture.
"If you handled this the North American way, for example if you told a girl to run away from her family if they try FGC, it wouldn't work. You're asking her to reject her family," Melching argued. "How would you feel if someone walked in and started telling you how to live your life?"
Seeing the issues framed this way -- in harmony with, not opposition to their own culture and goals, community opinion on child marriage and FGC quickly change.
After working with Melching, attitudes to child marriage in Khady's community shifted dramatically.
When Khady was pulled from class, community leaders held an emergency meeting late into the night. The next morning, they marched en masse -- surrounded by dozens of community women waving placards -- to Khady's house. Her father was working out of the country so they got him on the phone. Child marriage was no longer in line with the goals of their village, they explained. Her father relented, the wedding was called off, and Khady is back in school.
It's proof that it is possible to create positive change without being cultural bullies.
Craig and Marc Kielburger are co-founders of international charity and educational partner, Free The Children. Its youth empowerment event, We Day, is in 11 cities across North America this year, inspiring more than 160,000 attendees from over 4,000 schools. For more information, visit www.weday.com.
Popular in the Community