When the first bomb went off, I turned to my wife and said: "It sounds like the the grandstand just collapsed." Twelve seconds -- that's all it took for us to realize our lives would never be the same again. Everything was happening so quickly, but there was this strange feeling that the chaos was unfolding in slow motion. With the second explosion, huge plumes of smoke burst into the air, and drifted over the buildings on Boylston.
Almost immediately there was a sea of panic-stricken runners and their families trying to flee the destruction, but the barriers along the marathon route funnelled everyone onto the adjacent streets. Sirens from the first responders echoed through the narrow streets, and that's when I grabbed my wife and scrambled through the crowd to the nearest T-station. My only thought was getting us out of there in one piece.
But I've gotten ahead of myself. Let me tell you what brought me to the streets of Boston last year to compete in the prestigious Boston marathon. I didn't intentionally set out to become a long distance runner, but rather running "found me" -- or what I now believe -- running "saved me."
I was brought up in a very physically abusive household, and that continued until my mother left when I was nine years old. Everything started to spiral out of control in my early teens and continued through my early 30s. I struggled with alcohol and drug addiction which seemed to dovetail nicely with a diagnosis of manic depression, for which I was heavily medicated. I'll spare you the pathetic details, but it all came to a head when I became suicidal and my drinking spun out of control.
This was the point I came to what I call a "crux moment." Whenever crux moments appear in my life, they are steeped in fear, uncertainty and self-doubt. I always know I'm at a crux moment when the fluttering of butterflies in my stomach turns into a full-blown stampede. My fingertips tingle, and I'm almost incapacitated by fear. I was faced with the decision to deal with my addiction issues or lose my wife and young son to the ravages of self-destructive behaviour.
When I entered a treatment program for drug/alcohol addiction, I felt beaten, pessimistic and like I had burned every bridge of trust I had. I needed a new outlet to not only get physically healthy but also psychologically grounded.
In one of my 12-step meetings, I met two other men who were just starting to train for a fall marathon, and I asked if I could join them on their long run each week. Over the period of the next four months, we grew to depend on one another, and we started to rebuild those bridges of trust as we demonstrated to family and friends that we could set a goal and keep on track week after week.
Each of us crossed the finish line of that fall marathon, and we all managed to meet the qualifying standard of the Boston marathon. What I didn't know at the time was that running would evolve into a spiritual practice in my life. Running tends to quiet my mind and it gives me space to process whatever challenges or excitements greet me throughout my day.
It would be dishonest of me to say that my life continued on an upward "rosy" trajectory. In fact, there have been countless times throughout the past 16 years when I've been desperate for a drink or a drug to numb what I was feeling inside. The only constant in my life that has kept me sober and somewhat sane has been running. I've been blessed to have the opportunity to travel all over the world to different races, and I have now completed 75 marathons and quite a few ultra marathons as well.
I believe in immutable laws, those things in our lives that are unchanging over time and act as our "default position" to guide our thoughts, actions and feelings. I would never wish addiction or depression on anyone, but if you are able to breathe through it and come out the other side, you can not deny that you are governed by the immutable law of "resiliency." I try to think of adversity not as an obstacle in my path, but a stepping stone to catapult me to further growth.
This brings me to three weeks before last year's Boston marathon. I had reached another crux moment in my life, a secret that I had buried deep inside -- an overwhelming feeling of shame that had inevitably been an underlying factor in my life-long battles with addiction and depression, had finally come to the surface and needed to be set free.
I somehow mustered the inner strength to do what I thought I would never do -- I disclosed to my family and friends that I was a survivor of childhood sexual abuse. The moment those words came out, I started get that "voice" back that had been taken away from me at such a young age.
With the euphoria of releasing that burdensome secret came a disarming crisis of self identity. I tried to explain this to my wife by saying: Imagine living in the same house for 35 years, and one day waking up and discovering there was a room in the house you never knew existed. You'd be excited by the discovery, but a little uncertain about what to do with or in this newfound space. I signed up for a treatment program that specializes in working with adult male survivors of childhood sexual abuse that was set to begin the week after I returned from the Boston marathon.
Halfway through the Boston marathon, I broke down in tears and was taken into a medical tent. All the emotions percolating up since the disclosure became too much to handle. I begged the medical team to let me back on the course, and thankfully, I went on to finish the race.
I had just gotten out of the shower and had headed out back to grab a bite to eat with my wife when the first bomb went off one block away. The day after the Boston Marathon I was an absolute total wreck -- I was incapacitated by PTSD which was only compounded by having disclosed the childhood sexual abuse a few weeks before the marathon.
Fast forward to today, and the man you see before you has worked hard to free himself from the shame of the abuse. Part of my healing process to come to terms with the abuse in my childhood has involved "going back" to that young boy who was "left behind" and to bring him forward into a place of safety where he has a "voice" and can thrive.
I've come to realize that although there are troubling things from your past that are better left behind, there are others that you just need to "carry forward with you in your life" -- This is why I've decided to return to the Boston marathon this April and to use it as an opportunity to raise funds for The Gatehouse, a treatment centre that offers support to survivors of childhood sexual abuse here in Toronto.
I've been granted special permission from the race director to run a Double Boston Marathon this year. I will arrive at the finish line at 4 a.m. on race day and then run the 42.2 km to the official start of the race in Hopkinton, where I will turn around and complete the 42.2 km Boston marathon with the rest of the runners.
One direction will symbolize going back to that place in my childhood, and to that place in last year's race where the trauma lies; and the second direction is to carry those events forward with me in my life, so that I can thrive, not merely survive.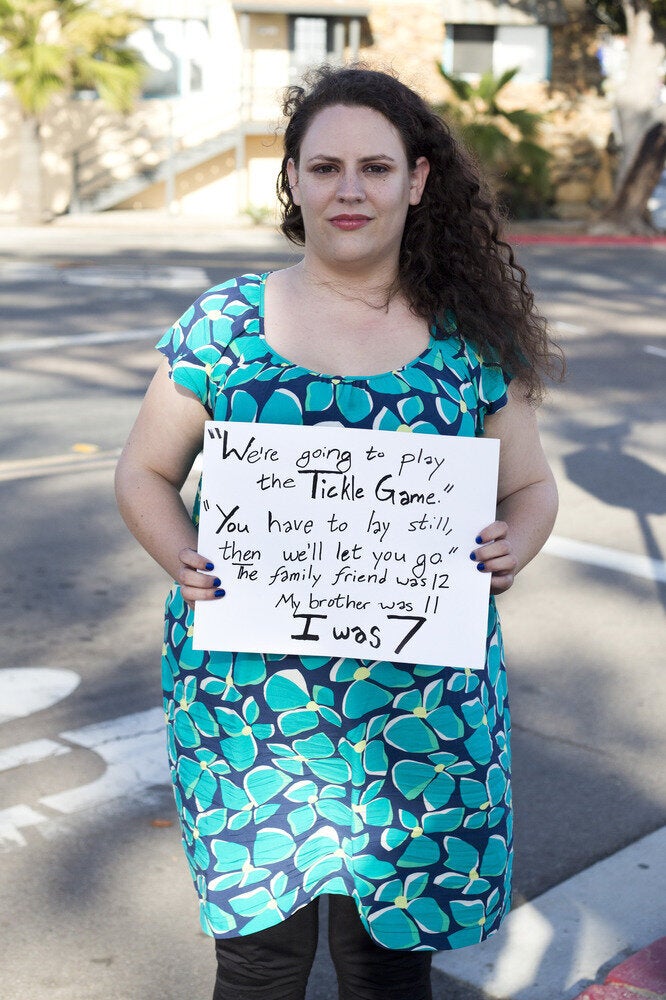 40 Powerful Images Of Surviving Sexual Assault
Popular in the Community