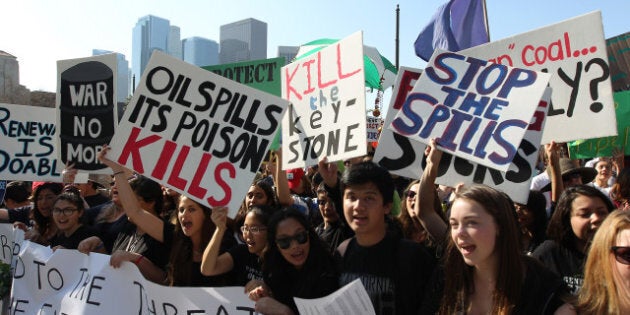 With over $400 billion held by the endowments of the largest 500 schools in North America, divestment has the power to move a lot of potential resources from dirty energy to building a sustainable and just energy economy.
But that's not the only reason we're seeing the rise of one of the largest and fastest growing student-led environmental movements in decades.
At a recent convergence in Swathmore, Pensylvania student leaders declared,"Divestment is a tactic, justice is the goal." In other words, while the main tactic of this movement appears to be an economic one, the goals of this movement go far deeper.
As a student at Concordia University in Montreal, I spent a lot of my free time organizing around climate change and taking action against extreme extraction. Alongside other students and community members, we organized film screenings, community dinners, workshops and public actions about the then-'shelved' Line 9 tar sands pipeline project.
I wrote a weekly column for the school paper about the issues, was arrested in the House of Commons, and much more, but for all of our efforts, I still felt that up against governments and some of the world's largest and wealthiest corporations we were up against unfathomable odds.
Blog continues after slideshow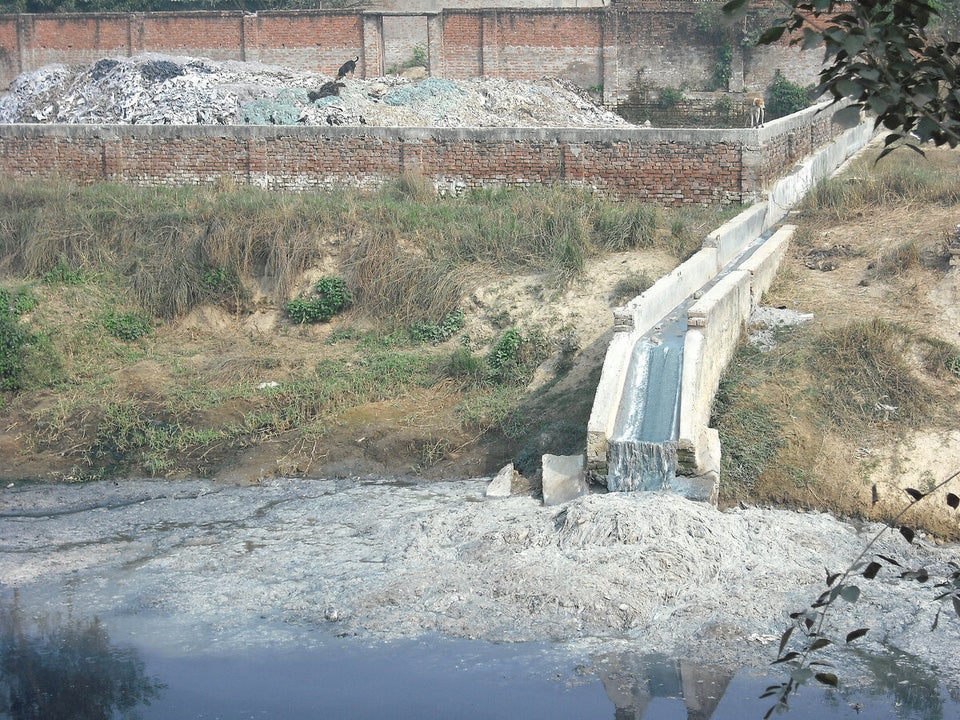 Top 10 Toxic Industries
Divestment is changing that. Positioned as centres of social and technological innovation, what happens on campuses ripples across our society. Campus divestment may not be working with enough financial resources to drastically impact the bottom line of the fossil fuel industry, but they hold enough social capital to take away the one thing that corporations can't buy -- their reputation.
In other words, Canada's fossil fuel reserves add up to nearly 20 per cent of the carbon budget of the entire world. Within this, the tar sands alone are on track to grow three times the size that the International Energy Agency calls the maximum demand and supply for the same warming limit.
When we say that justice is the goal we mean more than simply limiting the parts per million that we emit; whether or not we stop the fossil fuel industry from breaking the carbon bank has real implications for people around the globe.
Extreme weather, desertification, drought, deforestation, species loss, and the countless more climate disruptions these emissions are driving mean hunger, lack of water access, displacement and worsening impacts on people around the world. Typically, these are the people least responsible for historical climate emissions.
Canada has been lucky enough to be narrowly missed by extreme weather like Hurricane Sandy, but over the past decade the impacts of our warming world have been no walk in the park. Flooding and shifting precipitation patterns have left farmers fields drowned or cooked, Hurricanes like Irene have cost East Coast communities billions, unseasonal storms have damaged homes and cost people hundreds of thousands of dollars, the mountain pine beetle and wildfires have left the British Columbia forestry industry gutted -- and these are just a few examples.
The reason we are calling for divestment does not end at the impact of rising mercury. The extraction of the fossil fuels that, left unchecked, will emit more than five times our carbon budget often violate the basic rights of people, endangering their lives and livelihoods.
In Appalachia, mountain coal removal mining is blasting coal dust into the air and lungs of surrounding communities. Fracking for oil and gas shale is endangering the water of communities from Nova Scotia to Fort Nelson. The tar sands continue to be one of the largest sacrifice zones on our planet.
Just this week, a Suncor tailings facility leaked a still unknown quantity of toxic waste water into the Athabasca river, the same body of water that communities like Fort Chipewyan have pointed to as evidence of for the toxification of the land that Indigenous peoples in the area depend on for their traditional way of life.
Universities across Canada are heavily invested in companies like Suncor -- for example, the University of Ottawa has nearly $6 million in Suncor stocks. My own alma matter, Concordia, has nearly $12 million invested in oil, gas and pipelines like the Enbridge, KinderMorgan and Pacific Trails pipelines being proposed at the core of B.C.'s carbon corridor.
Students calling for divestment are calling not just for their schools to start walking their talk on sustainability, but also to respect the rights of communities across Canada and around the world. When we say that justice is the goal, we are using the social capital of our campuses to support the rights of people to say no to un-checked fossil fuel expansion that will destroy communities and cook the planet.
Along with the need to divest from fossil fuels to preserve the health of people and the planet, divestment may also be necessary for economic justice. A recent report from the Canadian Center for Policy Alternatives makes the case that Canada's investment structure, which heavily favours high carbon investments in projects like the tar sands, is not just endangering the planet, but the financial security of Canadian investments.
According to the report, as climate action by governments and the private sector increases, much of Canada's fossil fuel reserves -- especially coal and bitumen -- are going to become stranded assets, or "unburnable carbon." With only a $50 social cost on carbon factored in, Canadian fossil fuel companies will be holding over $800 billion in carbon liabilities.
More simply put, a recent HSBC report claims that major oil companies could see their market value drop by up to two thirds, a frightening prospect for the stability of pension funds, especially in a climate of economic uncertainty.
Back on campus, not divesting from fossil fuels now could mean significant economic shortfalls for campus endowments, limiting access to education for future students.
Divestment is just one tactic in the climate fight. But just like during the student-led campaign to divest from companies complicit in South African Apartheid, others have followed. Already two cities in the United States are reviewing divestment, Seattle and San Francisco, along with a number of public funds and faith institutions.
As students and youth, we know what's at stake if we don't act swiftly to move away from fossil fuels and build a sustainable world today -- after all we will inherit the mistakes being made today.
Can we do what needs to be done in the time we have? I don't know, but I do know that the consequences for inaction, the results of bankrolling climate change and the justice denied by allowing fossil fuel corporations to bust Canada's carbon bank are costs that none of us should be willing to bear.