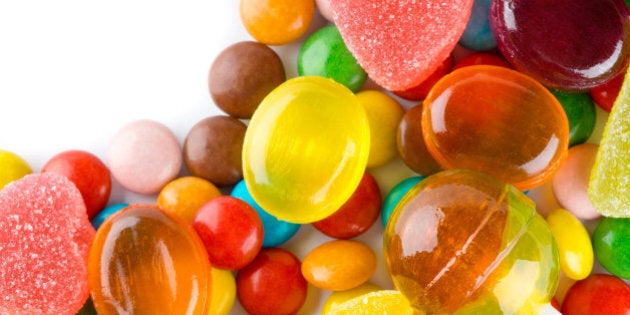 Halloween is one of my favourite holidays, filled with all sorts of fun -- from creative costumes, spooky stories, pumpkin carvings and amazing decorations, to something just about every kid loves... CANDY! Not only is the magic of receiving free candy just by saying three simple words one of the most exciting and best parts of Halloween, it's also a great way to get to know your neighbours and other members of your community.
Candy can also have a darker side for parents who are trying to keep their kids as healthy as possible, or protect them from allergic reactions by restricting what candy their kids can have. Imagine how the kid feels when they have a food allergy and can't have candy -- seeing other kids reaping the benefits of their trick-or-treating, dumping out their huge bags of candy and sorting through what they got -- it's both sad and frustrating. The day after Halloween is especially hard. Everyone brings their entire stash of candy to school and parades around the halls bragging about how much they are going to eat.
Never Fear, The Candy Witch is Here!
When I was younger, my parents didn't let me eat loads of candy like other kids. Plus, I wanted to watch out for my own health and allergies. So I tried to avoid a lot of the junk food that I received on Halloween. I would still go trick-or-treating for the fun of it, but I would never taste the sugary treats.
Of course I still wanted candy, so one Halloween, I asked my mom if there was any way she could find some healthy candy and chocolate. My mom immediately went to work. Not only did she find better candy and treat options, but she talked with some of our neighbours and together they prepared these special Healthy Halloween loot bags -- both for me as well as for the other kids in our neighbourhood who were suffering from food allergies.
The best gift of all that Halloween was when my mom told me the story of the "Candy Witch."
You know how kids put milk and cookies out for Santa Claus at Christmas? Or put a tooth under their pillow for the Tooth Fairy to take away and replace with money the next morning? That's how the Candy Witch works: you leave all of your candy and junk food outside of your front door. In the morning it's all gone... and in its place, you are rewarded with a gift.
I was very young at the time, and I remember feeling the same excitement as I did for Christmas morning... thinking about the Candy Witch and wondering when she might be tiptoeing up to our door. Mom said she was very small, with a very big appetite, and a sickly green complexion. Her teeth were almost all gone. The ones that were left had a yellow tint, and were rotting away because of how much sugar she had eaten. Most importantly, mom told me that I had to trade ALL of the candy, or the Candy Witch wouldn't accept the deal and I might not get a gift. To me, this was a great trade off, because honestly, I preferred getting a gift! In the morning, I jumped out of bed and sure enough, there outside my front door was the present. From that year on, the Candy Witch turned Halloween into a great experience and really helped me to not feel left out.
The Candy Witch Is Needed Now More Than Ever
As I've grown older and think about Halloween now, I realize it isn't the same any more. The candy that used to be filled with basic sugary ingredients is now filled with far more scary things, including pesticides, additives, food colourings, preservatives and unlabelled GMOs.
Every time a kid goes up to a door and says "Trick or Treat," people are unknowingly giving them candy that could potentially harm them. Some of the unhealthy ingredients are labelled, but not GMOs. In fact most adults and children are unknowingly eating GMO-filled candy because they don't know what a GMO is, or how to avoid it.
For those who are not familiar, GMO stands for "genetically modified organisms." A GMO is a type of agricultural crop that has been genetically engineered with the DNA of completely unrelated species forced into their cells -- including DNA from bacteria, viruses, and animals.
The reason crops are genetically engineered is to get the crop to do something unique that it would not normally be able to do in nature--such as produce its own internal insecticide to kill bugs that try to eat the crop, or to continue to grow and live when the crop is sprayed with pesticides.
Not surprisingly, GMOs are developed by the world's biggest chemical companies.
The main crops being genetically engineered include corn, soy, canola and sugar beets. These crops are turned into ingredients that are used in the processed food you find on your grocery store shelves - including popular Halloween candy from brands like Nestle, Hershey's, Godiva, and more. Other manufacturers using GMO ingredients in their processed food include General Mills, Kraft, Pepsi, Coca Cola, Dole, Del Monte, Campbell's, Smucker's, and a long list of brands you find on every aisle of your grocery store shelves.
If you are like millions of Canadians who had no idea that GMOs were inside your food, it's because of these same manufacturers. Together, they have been using their profits to fight (and so far to defeat) GMO labelling in the U.S., spending tens of millions of dollars to prevent the public from having the right to know what's inside their food.
In fact, Canada and the USA are the only two developed countries that don't label GMOs...as of 2014, GM ingredients are labeled, restricted or banned in 64 other countries, including the entire European Union, Japan, Russia and even China.
Without labelling, public health agencies cannot identify, track, and address the potential health effects from GMO foods.
Why Worry about GMOs at Halloween?
First of all, because most of the ingredients in today's candy are made from GMOs.
Secondly, GMOs have never had any long-term, human health studies. Neither Health Canada nor the FDA do any testing whatsoever for the safety of GMOs. However, multiple animal studies have shown organ damage, gastrointestinal and immune system disorders, accelerated aging, and infertility when on a GMO diet.
Is it a coincidence that these same health problems have increased after GMOs were introduced in 1996? Americans have one of the worst health records in the first world; food allergies have skyrocketed, and other health issues including autism, reproductive disorders, digestive problems, and diabetes are on the rise. You know what else has been on the rise since then? Fertility clinics and people suffering from allergies. I just wonder, is there a connection? The American Academy of Environmental Medicine seems to think so... they urge doctors to prescribe non-GMO diets for all their patients.
Here's what I know: as a kid myself, we need the most healthy, clean, free of pesticides, nourishing foods possible as we are growing. Sadly, this does not include the usual types of candy given out at Halloween. It seems the Candy Witch has a lot more scary stuff to carry away these days. But the Candy Witch can be our inspiration...
5 Steps to Avoid GMOs... starting with the Candy Witch
This Halloween, I'd like to ask kids and their parents to consider taking the following five steps for a healthier Halloween (and beyond).
Step 1: Make the Candy Witch a new tradition in your home. Begin exchanging unhealthy candy for a fun, useful gift.
Step 2: Avoid purchasing candy that contains the following top 10 GMO ingredients:
1. Sugar (GMO sugar beets)
2. High fructose corn syrup (GMO corn)
3. Corn starch (GMO corn)
4. Soy lecithin (GMO soy)
6. Modified food starch (GMO corn)
7. Fructose, dextrose, glucose (GMO corn)
8. Cottonseed oil (GMO cotton)
9. Canola oil (GMO canola)
10. "Other" ingredients (isolates, isoflavones, food starch, and vegetable oil)
Step 3: Help educate your community about the risks of GMOs...print out educational flyers that you can hand to parents or put into treat bags.
Step 4: Let the whole neighbourhood know how you feel about GMOs. Print out a sign and post it in your window or front door: "Non-GMO Candy Here". A lot of your neighbours will appreciate the fact that you made the extra effort of finding safe and fun treats to eat.
Step 5: After Halloween is over, apply the same awareness to everything in your grocery cart. Look for products that have the Non-GMO Project certification on their label, and/or where possible, choose organic (because certified organic products cannot intentionally include any GMO ingredients or unnatural pesticides).
I would love to see all of us working together to preserve the spirit of our holiday traditions for a long time. I also hope that all the food manufacturers will gain the wisdom, honesty and motivation to protect their young consumers from foods that have not been properly tested for safety. Until they are proven safe, GMOs need to be labelled as demanded by 93 per cent of the population. That way, we can all have the freedom to decide if we want to eat GMOs or not.
The Candy Witch has waited a long year, and is very hungry! Shhhh...don't tell anyone my costume will be Mother Nature. Stay safe and Happy Halloween!