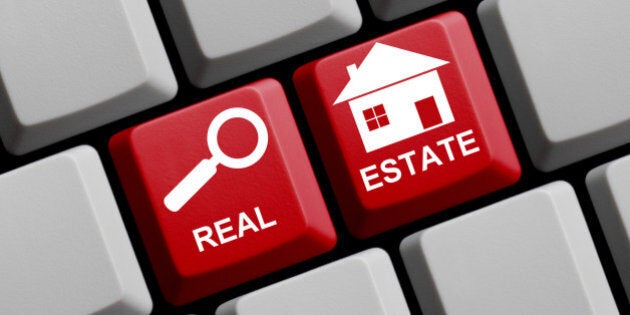 Over the past decade, companies and industries globally have seen a dramatic shift in disruptive technology and digital media. According to Internet Live Stats, around 40 per cent of the world population has an Internet connection today. In 1995, it was less than one per cent.
The number of Internet users has increased tenfold from 1999 to 2013. The first billion was reached in 2005. The second billion in 2010. The third billion in 2014. The chart and table below show the number of global internet users per year since 1993: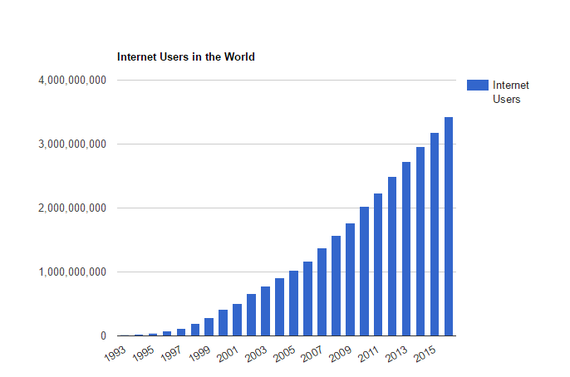 Over the past decade, the real estate industry has been seeing a fundamental transformation in technology and digital media as well, with TechCrunch recently writing that the apartment industry is now the hot new sector. With almost all home-buyers and renters today starting their searches online, real estate search websites and apartment finders such Canadian based apartment finder and real estate marketing website RentSeeker.ca and Zillow.com, Apartments.com, and Realtor.com in the U.S., have been seeing a lot of investor demand and acquisitions.
Additional opportunities and companies that have launched continue to support the growth in real estate marketing and technology, such as web-based property management software firm, Property Vista, which offers landlords cloud-based applications such as online application forms, credit checks, and lead management solutions. Renters can now even pay rent online using debit or credit cards with companies like PayQuad.
With over 90 per cent of renters and home-buyers starting their research and property search online, realtors, property managements firms and REIT's are now spending most of their marketing budgets on digital and web-based advertising tools and features which provide for an increased return on investment (ROI). Besides listing properties on the web using real estate finders, these websites also offers realtors and landlords digital real estate marketing tools like property videos, custom real estate websites, 3-D floor plans, and social media marketing.
In 2012, The National Association of Realtors and Google did a joint study and provided a report titled "Consumer and Market Trends in Real Estate" to better understand the evolving role of digital media in the consumer home search and apartment finder experience.
The report highlighted key points such as how 51 per cent of home-buyers and renters are using videos to research properties and area amenities. Renters and buyers are also using Google Places reviews and property address searches to review a property and management company prior to buying or renting.
Here is a snapshot from the report showing some interesting, informative and compelling stats showing how home-buyers and renters are using videos in their research process.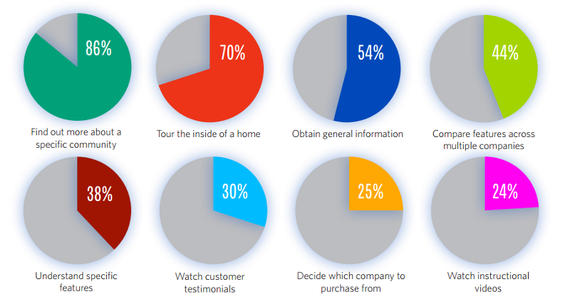 Real Estate owners and managers have also been utilizing popular social media networks to promote brand awareness, engage with residents, advertise promotions, and generate leads and website traffic. While social media is a term that is used very loosely referring to many social media networks which almost everyone has heard of like Facebook, Twitter, Pinterest, Instagram, YouTube, Snapchat, LinkedIn, etc., the truth is each social media network each has their own great features that work in their own unique way and style. For example, Facebook is a fantastic tool to post news, engage with residents, post contests, etc. and by using Facebook advertising by boosting posts and using their geo-targeted tools, you can drive a lot of website traffic to a very specific audience.
Twitter is incredible tool to use as a micro-blog, which companies can use to provide news, property updates, and create polls, and Twitter while Twitter also offers advertising, based on it's core function, it tends to be less valuable than Facebook or Google advertising. Other social networks like LinkedIn are great to use for posting job opportunities and corporate updates, and Pinterest is great for showcasing property photos, each social channel has some value, and while it's worthwhile to be on as many as possible, having a corporate marketing strategy is always a great start to help you determine your goals and objectives and will allow you to choose the right channels that fit your strategy.
The real estate industry has been going through a revolution and those changes and trends are pointing to high growth rates and opportunities for the companies servicing this space. Traditional methods of connecting buyers and renters with property owners and landlords has now fundamentally changed to digital media and technology, and real estate owners and managers that have not adopted these changes, should get started, as the saying goes "better late then never."
RentSeeker.ca is Canada's Leading Apartment Finder and Real Estate Marketing Company Servicing Canada's Largest Landlords, Property Management Firms, and REIT's. For more information, visit www.RentSeeker.ca or contact us at Hello@RentSeeker.ca.
Follow HuffPost Canada Blogs on Facebook